Great Creekwood Land- Part 2 Joyland
---
Carrying on with my mini park road trip, after leaving Pleasurewood Hills just after 3:30pm, we headed on our way to Great Yarmouth. But before experiencing the wonders of the Pleasure Beach [not the Blackpool one], we first headed to Joyland, which is a tiny park just a bit further up the sea front from the Pleasure Beach. The park is so tiny you walk around it in less than a minute, however we were there to experience some interesting new rides [and creds].
The entrance to Joyland, for a park so tiny, it's quite visiually stunning actually and can be seen from quite a fair distance from where the park is positioned.
The main ride we were here to experience was the Tyrolean Tubtwist, which is the last operating Virginia Reel in the world.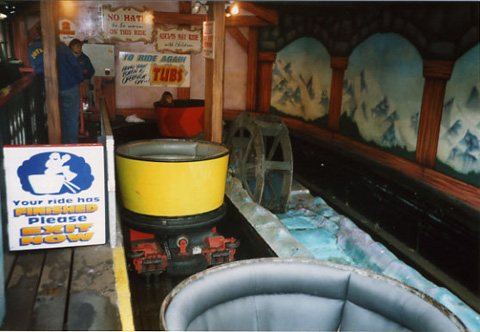 Somewhat I forgot to take many pictures of this ride [or the whole park as a matter] so I'll here's pics of the ride [sources Joyland Brookes & Bannister.org].
The Tubtwist is a loverly little ride, whilst it's not a top 10 breaker for most, it's a very enjoyable addition and does quite a bit of spinning too [not too much to become nauseating though], the fact I've now ridden the world's last Virginia Reel makes me feel very happy.
What else does the park have to offer then?
Why the Spook Express Of Course! This is a small kids coaster which is positioned on the upper story of the park's central buildings.
The ride is quite good for a kids coaster actually retaining a good pace throughout the ride through it's twists and corners through some tunnels and like objects too, plus two laps [Yay]. The coaster reminded me a lot of Legoland's smaller Dragon coaster, which shouldn't be a surprise since the same company built both rides [WGH Transporation]. This is my third cred from them which leaves just the coasters at Greenwood Forest & Fantasy Island left to do [I'm not in a hurry so far].
The third and final ride we managed to do was the Snails ride, which has been a long debate for enthusiasts for years on is it a coaster or just a unique scenic ride?
I would say it is just about a coaster, but why am I classifying it as a coaster [aside from getting more coaster count]?
The ride's drop that are seen throughout the ride use quite a lot of gravitational force and very rollercoaster like. One could argue why aren't some Ghost Train's classed as Roller Coasters? The thing with ghost train drops is they are usually very small and there is usually just one, whilst here there is several drops and I would say big enough to justify this ride as being a coaster [just].
It's a very interesting ride and definitely wins points for uniqueness here.
After doing these three rides, we left the park and headed to Yarmouth in what had been a flyby visit lasting just over 30 minutes really just to get experience these interesting rides and gain the creds. Joyland is a very interesting tiny park and is probably the smallest compact park I've seen yet features so many in such tiny space that makes even Thorpe Park look like Alton Towers in size.
For £1 per ride,it's a park that is definitely worth a quick visit if you're in the area [if for the Tubtwist alone]. I would advise you don't need a lot of time at all and can be done within half an hour if you visit due to the park's size and the fact it is mostly aimed at young families.
Aside from the three coaster,ish rides we did, there are a couple more rides adults can go on [despite being a kids park] which included this random Jetcar ride thingy at the bottom of the building structure and Neptunes Kingdom which is a small dark ride I believe which was very hidden away [so hidden no POVs of the ride can be found on Youtube]. We didn't experience either of these rides due to lack of time and getting to the Pleasure Beach, where Part 3 of this report shall continue.