JoshC. goes to America - Hersheypark
---
I finally did it: I finally went to America for some creds. Before my trip at the start of June, I'd only done European parks, so it was hugely exciting.

Before getting to it, here's a setting the scene sorta dealy.

This trip had been a long time in the works. Early plans can be traced back to March 2021, which was going to be a Cedar Point + others trip. But that fell through. Still wanting to go out to the States for some creds, I looked at other possible ideas. I could do Orlando / California or similar, but not being a big Disney fan, their draws were weak, and I didn't really have a clue where to start with booking that sort of trip. Resorting to the easier-for-me-to-plan road trip, I quickly honed in towards flying to Philadelphia, and then hitting up some of the big parks there.

The plan was to fly into Philly, have a day to get accustomed to the country, then do Hersheypark, Kings Dominion, Busch Gardens Williamsburg, Six Flags America, Knoebels and Dorney (in one day) and Six Flags Great Adventure. There were some long journey times between the parks, but heyho, I've done long drives and was fine, so I'm sure this'll be fine.

The build up to the trip was...hectic. The day after I landed, I was moving flat (for a new job I started last week). My mum is also in the process of moving flat, so I'd been helping her out too. I had finished my temp job only a couple of days before flying out too, which didn't give me much time to generally sort out everything in life.

But anyway, I made my way to Heathrow bright and early...and headed to the wrong terminal. My flight was from Terminal 3...I got off the free shuttle bus at Terminal 2. D'oh! Fortunately, it's only a short walk between the terminals, and soon enough I was checked in and in a long security line. Small spoilers: the security queue was one of the longest of the trip! But soon enough, I was on the plane and ready for the 7-8hr flight.

Long haul flying was fine for me. Wasn't quite sure how I'd find it, but my American Airlines flight was comfortable, the food was acceptable, and I was able to pass the time by watching Stranger Things 4. Soon enough, I'd landed in Philadelphia.

And oh boy, it was hot. Midday local time and it was 35C (oops, I'm in America now, that's....95F). I'm not someone who particularly enjoys the heat (another reason why I was unsure about doing a trip to Orlando). But hey, I'd manage, America has aircon in most places, and I'd adjust soon enough...

I collected my hire car no problems. This was actually the first time I'd ever hired a car, and my first time driving on "the other side" of the road. On top of that, it was my first time driving an automatic, and only the third different car I'd ever driven since passing my test 4 years ago. So just a few firsts. I took my time to get used to it before heading off to a nearby-ish Walmart to get some drinks and snacks. This 20 minute drive to Walmart didn't serve me well though. Driving wasn't difficult, but I made the odd little mistake and just didn't feel wholly comfortable whilst driving. I guess that's understandable and to be expected within context, but still, it played on my mind a bit.

I carried on to my first motel of the trip and arrived in one piece. Woo, much success. But I still didn't get that comfortable feeling with driving. My excitement and elation for the trip and parks ahead turned to one of worry. "How on earth will I manage all the driving to come feeling like this?". Of course, I was hot, bothered and tired. And then thoughts came flooding into my head..."If I feel like this now, how will I feel after 8 hours outside at a park, then having to do a 1.5-2hr drive?", "How will I manage that for a week straight?", "I'm not sure if I can do this". I'm, err, not the most confident person, and I think this whole thought process shows that.

I tried to cast these thoughts to one side and had a spot of dinner from a lovely little restaurant just opposite the motel I was at. But these thoughts played on my mind still. I tried looking at all the drives I had for the next couple of days to try and ease my concerns, but that did little to help me. The first two parks were to be Hersheypark and Kings Dominion, and they weren't a short distance apart. Knoebels and Dorney, parks much closer to Hersheypark, were shut the day after my Hershey trip, so I couldn't change the order to do shorter drives before doing longer drives.

In the end, I got inside my head so much that I changed the trip a bit more dramatically. I hadn't booked park tickets due to my lack of organisation. Most of the motels/hotels I booked were free to cancel until 23:59 the day before arrival. So I wasn't going to lose any money.
Gone were Kings Dominion, Busch and SFA, the three parks which were a huge drive away.
The one motel I couldn't cancel was one which was between Dorney and SFGAd.
So the trip changed into:
Hersheypark: 2 days
Knoebels
Free day
Dorney
SFGAd

It made the trip feel less daunting with the driving. It did take out a big chunk of creds, and I was particularly looking forward to Busch / Pantheon. But ultimately, in the moment, I just didn't feel I could do it. In hindsight, it all feels a bit stupid. I'm sure everything would have been fine. I got more used-to and comfortable with driving quick enough. Maybe I should have planned the trip better to build up to longer drives? Maybe I should tried hiring a car on a smaller like (like my recent Hamburg one, where I changed my mind late on about driving too)? Maybe I should have gotten out of my own head / slept on it? Maybe I should have booked everything earlier to force me to do these things? Whatever I should have done, it's done now.
And now onto Day 1, which was my first day at Hersheypark...
It was June 1st, and again it was hot. The drive from my motel to Hersheypark was about an hour, so I set off in good time. I passed Dutch Wonderland en route - a park which was closed on that day, but I made a note that I could possibly do it on my free day if I wanted. The drive to Hershey wasn't without stress, with my phone losing internet connection just before I was due to go on Route 283, making me very nervous I was going the wrong way. Fortunately, I rolled up at 10ish - huzzah, I was finally at my first American park!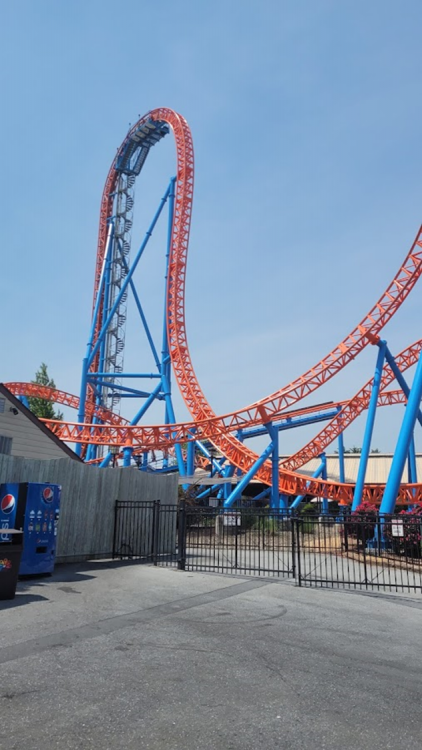 An Intamin multi inversion coaster with a vertical lift and beyond vertical drop - it's either going to be amazing, or bloody dreadful right?

It was at this point I learnt to not trust the Hersheypark app too much. The app does give queue times for all the rides, but it said Fahrenheit was only 5 minutes, despite it clearly being more. I hesitated a guess at around 20 minutes, and an update came from soon enough advertising 15 minutes. Ended up taking a nice, round 40 minutes. Ooft. Thank goodness for the misters in the queue line though - they were a godsend!

I'll channel my inner MattN now...how was the ride? Well, it wasn't amazing, but it wasn't bloody dreadful. It fell firmly into the "good" category. The layout is surprisingly fun, and the airtime towards the end of the ride took me by surprise. The cobra roll was extremely "vibrate-y", but not in a rough way, which was...odd. I wasn't a fan of the clunky restraints though. So it was definitely good, but this was also something that really needed a reride at some point to determine just how good.
I returned to Hersheypark the next day. It was another hot one, of course, but it was a bit more overcast. I did a strange thing, and arrived at the park even earlier than yesterday though. Why, you ask? Well, to visit Chocolate World of course!

I decided to try out a feature with the park's app, HPGO, which you can link up with the ride. Basically, it's a free wristband with a QR code. You can use it to load up photos, Fastpass things and all of that. But you can also scan it just before you board Cupfusion, and it then sends your score and on ride photo to the app for free.