Seeing The Point: Creek goes to the USA- Part 2- All The Mall Things
---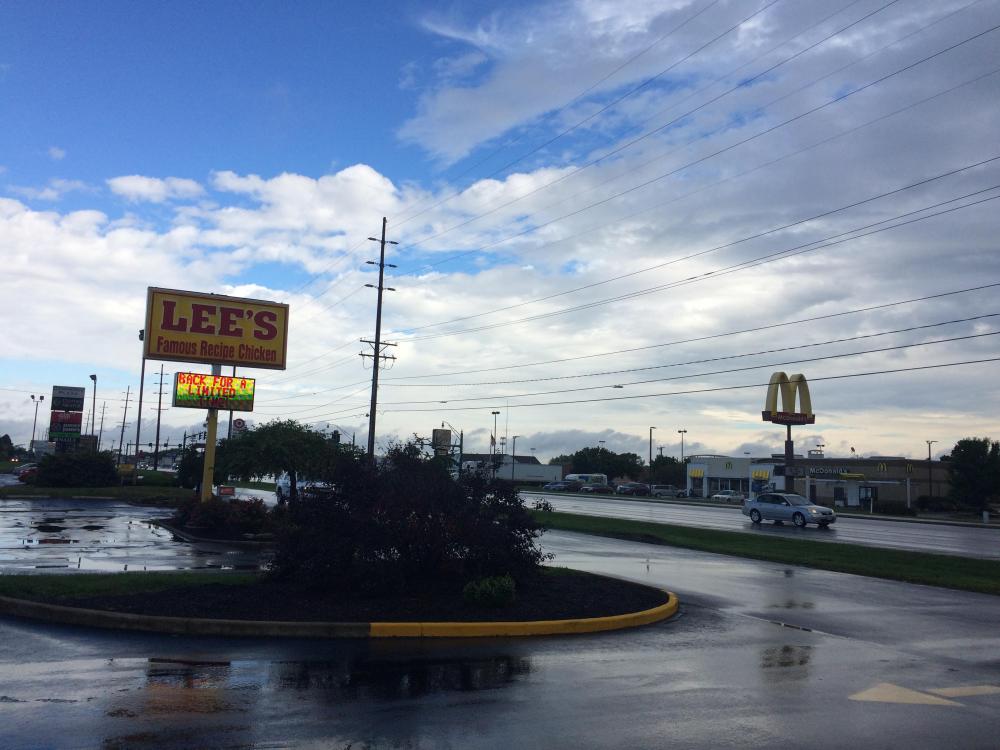 Welcome Back (if you didn't get bored last time). 
Previously, I left you with a Cliff hanger on whether we managed to get on Top Thrill Dragster. I'm afraid this is going to be a bit of a disappointment, because we didn't return to the park. On the second day (at least). 
Day 2- A Pointless Day
Although our hotel package included park tickets, these were only valid for three days, so at least one of our days was to be away from the park. 
With adverse weather forecasted (and CP having a reputation for closing everything in storms), Tuesday was going to be our non park day. 
Ohio is generally less touristy than other American states/cities such as Orlando, New York and Los Angelies. The only major attraction where we were staying was Cedar Point, but there would be other things to do. 
One of the first place we visited was Wendy's. This fast food outlet is quite popular in America and quite a few outlets exist as a result. They haven't existed in the U.K. now for quite a number of years. 
I went for a Chicken Burger meal, which turned out to be remarkably delicious (more than I was expecting). This medium is bigger than a U.K. large indefinitely. 
When we finished up, we headed to the Sandusky Mall. The crazy thing about Malls are they a very American concept, however they seem to be a dying breed these days (largely due to people buying online more). Quite a few have closed up in the last few years. 
Sandusky Mall is quite small (by American standards), but offered an adequate selection of stores. It was also considerably cleaner than your typical U.K. shopping place. There were quite a few stores there's from J.C Penney and TJ Maxx. 
To say they had a lot of Harry Potter products would be an understatement. 
Later on, we found a smallish horror themed entertainment complex which included a scare maze as part of it's lineup. Not too bad maze at all, with a decent length and selection of interactive features and theming. Reminded me of a longer version of Creepy Cottage.
Afterwards, we grabbed some Dunkin Donuts (which were ok), we had a little drive around to see what else was here. A fairly impressive water park and a derelict Toys R Us, were some of those sights. 
We had a short break back at the hotel, before heading out to Pizza Hut. The garlic bread was delicious, however I'm unsure on my choice of Pizza.
Maybe I didn't choose wisely.
Day 3- Back In The Park,
The third day away and we returned back to the park. 
That morning, it was time to give a US McDonald's breakfast ago. The Mc Muffin was nice but I prefer the hash browns back home. 
After the National anthem, we headed straight back to SV where we had a ride on the back. Even more amazing than the last time, the forces on this ride were insane.
This time, we generally did some re-rides but also went on some of the smaller things too. Millennium was just as amazing on the front row, Rougarou remained an impressive floor-less and Magnum was actually enjoyable. Like really enjoyable that I liked this a lot more.
On our last visit Top Thrill Dragster had been closed, due to launch cable replacements. However thankfully, it was now back up and running. 
We managed two goes on this, including one on the front. That launch is certainly  impressive! It really does shoot you out of that station with tonnes of acceleration for sure. The views uptop are great too. TTD is probably my favourite accelerator coaster (not launch coaster) and much better than Red Force. Sure it's just a one trick pony, but that doesn't detract anything from the ride and what's it is trying to achieve! Five train operation though is very efficient!
The difference between something like Stealth and TDD compared to something like Taron and Maverick is, rather than delivering a palette of elements, its main intention is to purely just reach key speed and height quickly and efficiently. 
Some of the other rides we tried included the S&S shot towers, including my first downwards launch one. Both were definitely amongst the better ones around, but I definitely preferred the one with the downwards launch.
We also did the park's railway which was great. A long scenic route and traditional steam, featuring a great number of skeleton animatronics too. 
There was also a park museum which was both charming and interesting to look around. I love parks that have pride in their past, present and future and is something more parks should do!
We also had another ride on Vengeance, after waiting a while following several shutdowns. We set at the front this time!
That evening we went to the TGI Friday's in Cedar Point's Hotel Breakers. The portions were definitely bigger and offered more richly packed burgers. Despite this, I may still prefer the U.K. one, but that may be because I'm more familiar with them here.
We also explored the boardwalk area of Cedar Point shores. Everything was lovely, apart from the bugs, which there were billions of!
Day Four- Returning to Shores
Thursday would mark our third and final visit to the park through our hotel deal (Or Would It!)!
Back to Steel Vengeance we go, followed by another round on Maverick! Operations were definitely slower this time round, which was a pain, but it was still a great ride. Most operations were very good though, least whilst I was there. 
We returned to the Smoke House again, this time opting for some Brisket Beef which was delicious. We also snuck in another Magnum ride somewhere in the middle. This is definitely a ride I've enjoyed the more I've ridden it!
Whilst Doyle went wind sailing, Matt Wise and I tried out the water park Cedar Point Shores. They had quite a interesting selection of slides, including a racing body slide with enclosed parts amongst a raft slide with a steep drop! 
One of the craziest rides they had there were those slides where you stand up and then you plummet through a trap door into tie slide below! Honestly one mad but enjoyable ride, and perhaps one of my favourites there. And yes, I did say the 'Wrong Lever' speech during my ride, however to not much effect I'm afraid!
Not a bad water park at all I say and definitely one of the better ones I have visited. My only complaints are the lack of changing facilities (which there wasn't enough of) and the Lazy River being closed!
Now back in the park, we went on some of the other attractions around the Boardwalk side including Max Air and the Wind Seeker. Max Air was great fun, it packed it's forces and is probably my second favourite afterburner ride after Loki. Can't say I was a massive fan of the Wind Seeker. Whilst I didn't hate it, I just found the whole experience overwhelming with strong gusts blowing around whilst at the top. Maybe it's me!
We revisited Wicked Twister and Gate Keeper once, Swarm has some better elements , but Gate Keeper for is still the better coaster. Raptor was revisited and retains it's place as my second favourite invert (of four (I need to go on more)). 
Valravn was revisited before indulging in the park's gift shops. I don't know if it's me but I just didn't enjoy this coaster as much as the other major ones here. I certainly enjoyed it more on my second time but it still seems to just lack something. The second half of the ride is probably better IMHO. 
The last ride of the day would be Steel Vengeance (shock horror), where we were trying for a night ride! The park closed at 8pm each day we were out there, but it didn't get dark until around 9pm earliest. Those poor SV staff!
This time we went for the back again and it certainly disappoint. Not to mention it was just about dark enough to be classed as a night ride! 
The whole area looks pretty during the night!
That night it was Five Guys Night, where we ordered so close to closing, we had to exit through a fire escape (not the first time I did that on this trip)! Five Guys was ok, but a little bit disappointing, not because the food was bad but it was exactly like the U.K. ones (which is believed to be a direct import). 
Least it's probably better value for money and they have full fat coke (which may well be ditched in the U.K. thanks to Jamie Oliver)! 
Day Five- The Final Surprise
Friday marked the final day of the trip after 5.5 days. Once we checked out, we were stuck between doing mini golf and other small things or another  third to half day at the park. We chose the latter!
We paid at the hotel reception (which was more than we'd like but could've been worse). Off we went!
We headed once again for SV one last time, before getting a few things done. Woodstock Express was one of the last creds to get at the park and I can safely say it's a very enjoyable young family coaster. That isn't sarcasm. I promise! We also did Pipe Scream, which is a fun family flat but is definitely not a coaster!
We grabbed an ice cream/smoothie from one of those 'choose your own toppings' places. Mine was delicious, but given one of the machines exploded contents over me during dispensing was annoying to say the least!
During consumption, we noticed the 'soon to be removed' Witches Wheel Ride suddenly and strangely lower back to ground earlier than normal. Suddenly we noticed the lack of audio and realised the park had experienced a power cut!
Annoying to say the least, but it was interesting to see how quiet and different the park felt in those few moments. It was amazing how relaxed a lot of guests seemed to be about it, whereas back home they would be up in arms! 
Around an hour later everything was getting back and running, so we went on Sky Hawk again first and then did the park's Rapids. This thing was crazy, wet and wild! They have waterfalls that almost cover your whole body!
The boats were large although strangely they weren't running many. They have spotters here too!
We headed over to Gemini Red, where we lost again but least we got the cred! It may not be the best coaster out there but it's definitely a fun ride and seems quirky in a number of ways!
Our last ride (as random it is) was to be Iron Dragon, which was a little better than our first go but still nothing spectacular. One day I hope to ride Ninja, Vortex and/or Bat, hopefully all three. 
Corkscrew was our last ride of the trip, followed by another ice cream/ smoothie before returning to the car and departing Cedar Point once and for all. On this visit anyway!
A visit to Wendy's marked the last States meal. We returned the hire car immediately after and took the bus to the terminal. Security and departures was generally hassle free time round. For two of at least. Poor Doyle.
We boarded plane one (of two) thankfully to no delays and probably the nicest of our flights. Our flight back was perhaps the worst but it was still acceptable!
The Ending Point:
Some say Cedar Point is the holy grail of theme parks! Not only is it arguably one of the best in the world but boasts many of the best coasters in the world!
For me, Cedar Point is currently my second favourite park (number one amusement park), largely down to it's vast impressive collection of rides (especially coasters), amongst mostly very good operations and their park seems generally well kept. Most areas look immaculate and it seems they jet wash the paths frequently! 
One must remember that CP is a completely different type of park than say Disney or Efteling. It's not trying to create immersive lands and attractions, but deliver generally impressive rides. This isn't to say they don't have places of charm. The western areas around Professor Delbert's and near Steel Vengeanve are beautiful. 
If thrilling, tall and fast white knuckle rides this is definitely the park for you! If you are more into immersive experience attractions over rides with impressive layouts, it's definitely still a park worth seeing though as there's plenty to see and discover here!
Although fairly short, this trip to America was highly enjoyable, not just as Cedar Point is concerned, but everything from the food to cultural differences. Who knows when I'll go state side again? Maybe 2-3 years hopefully if things go to plan.
One things for sure, I won't be forgetting this adventure anytime soon!
**Walks off into sunset**