Nemesis Inferno 10th Birthday Celebration ERT Event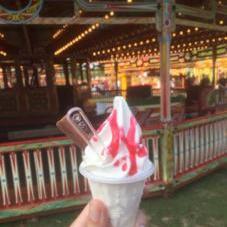 Entry posted by P J ·
1,679 views
It's been a long time coming, but then you have been getting a lot of trips recently

However FINALLY the Trip report Part 1 of 5 for the Nemesis Inferno ERT event has come to hit a web page near you! On our 7th Adventure of the year - I wonder what new stories will come about and old stories that make a slight return......
THORPE PARK know we hold events so they have so kindly made a sign for us for a meeting point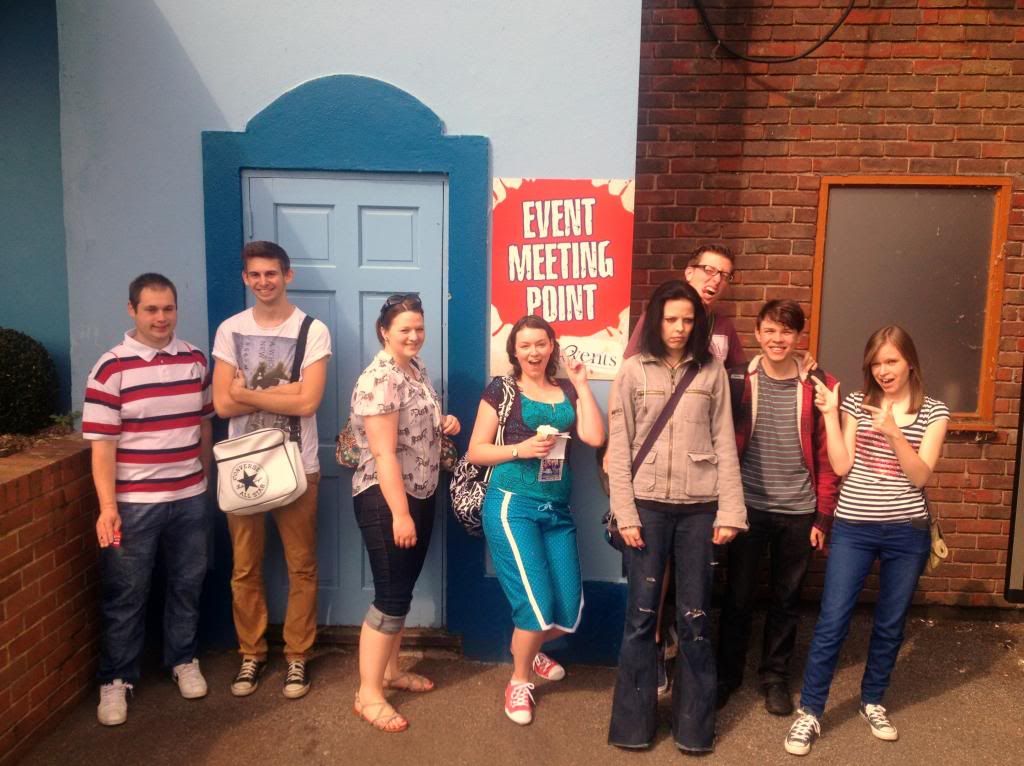 To Start this event off J.S217 would like to say Hi

We start off this story with some fun socialising in the Colossus queue line, Michelle laughs whilst Mer's neck curves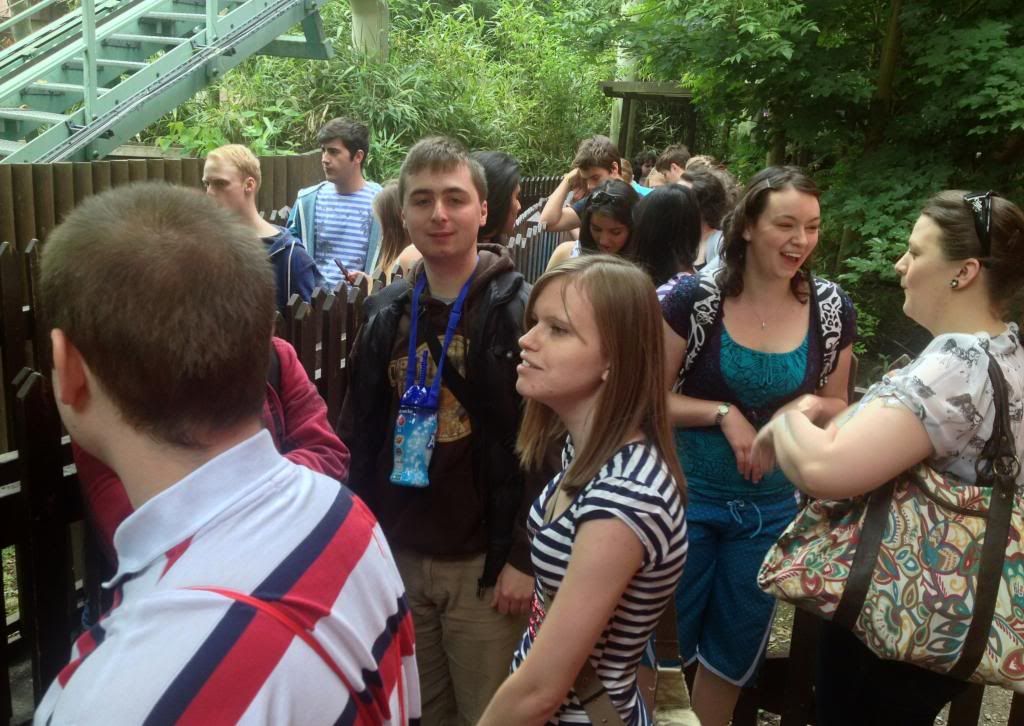 When we see Slammer is actually open - Naturally we go to ride it - EC! has a wonderful tongue you know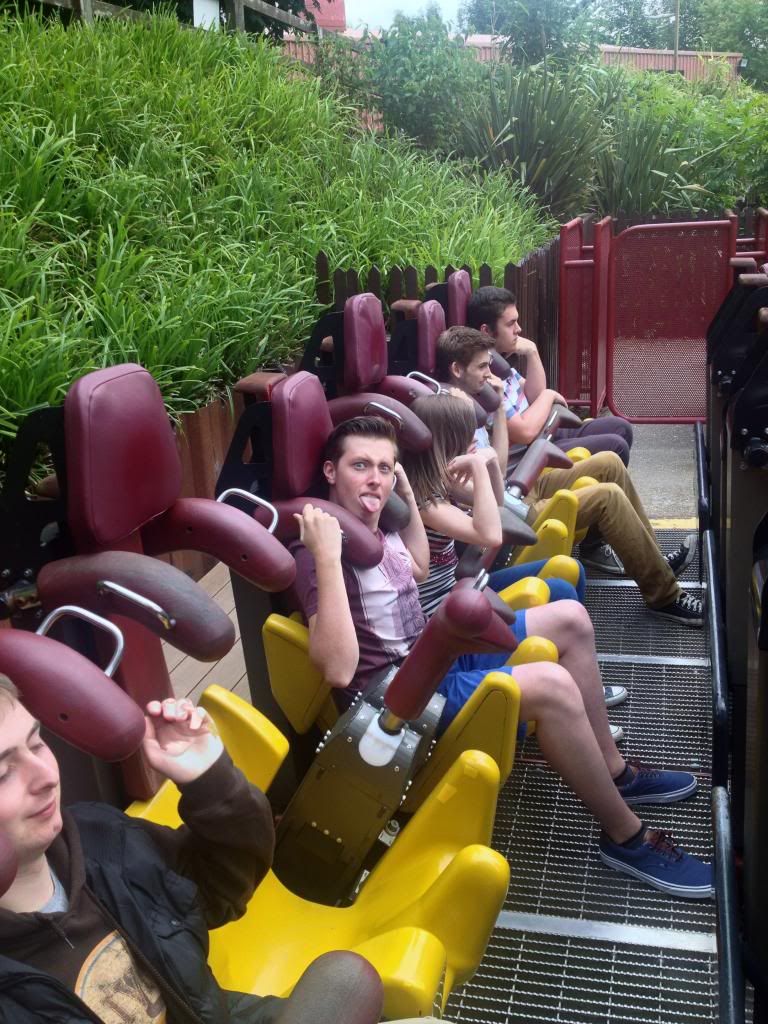 After Han30's ingenious invention

at Legoland, she shows off her new range of colours she is bringing out.
Sarah, Michelle & Peaj seem happy to take the first drop on Loggers Leap

However Han30 is distraught her invention is starting to turn into a mini paraglider

The group containing J.S217 & KingNemesis make a huge splash - Big enough to make a wave come overboard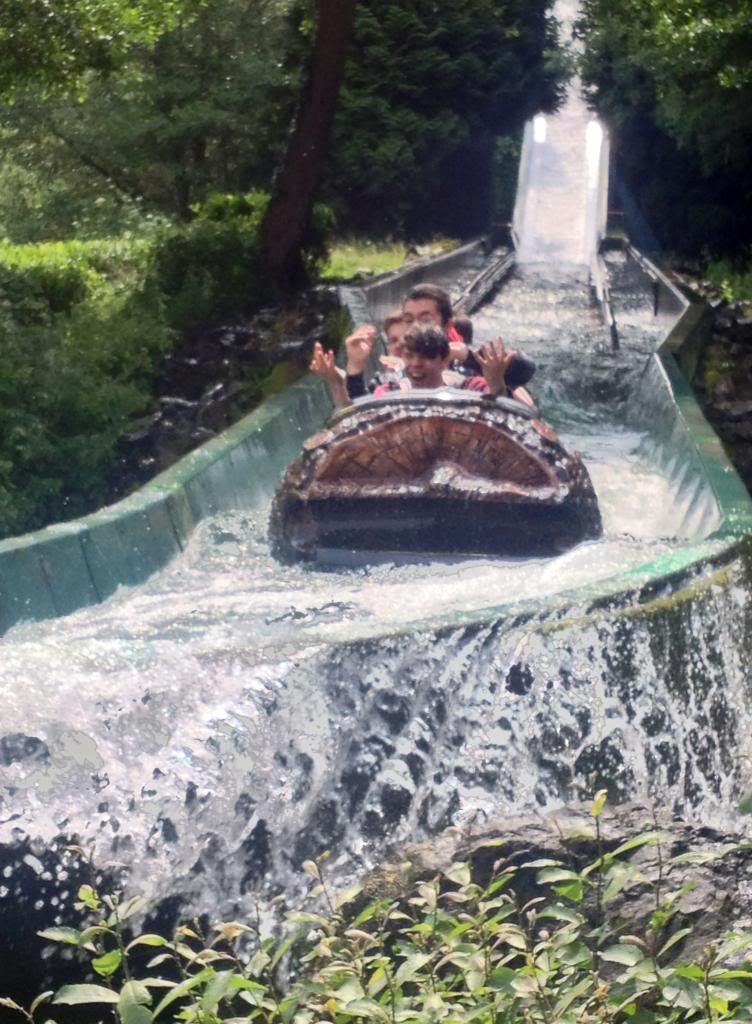 In the Saw queueline - Stretchy is deep in thought

whilst EC! starts to enjoy the first bit of sun we have had this year.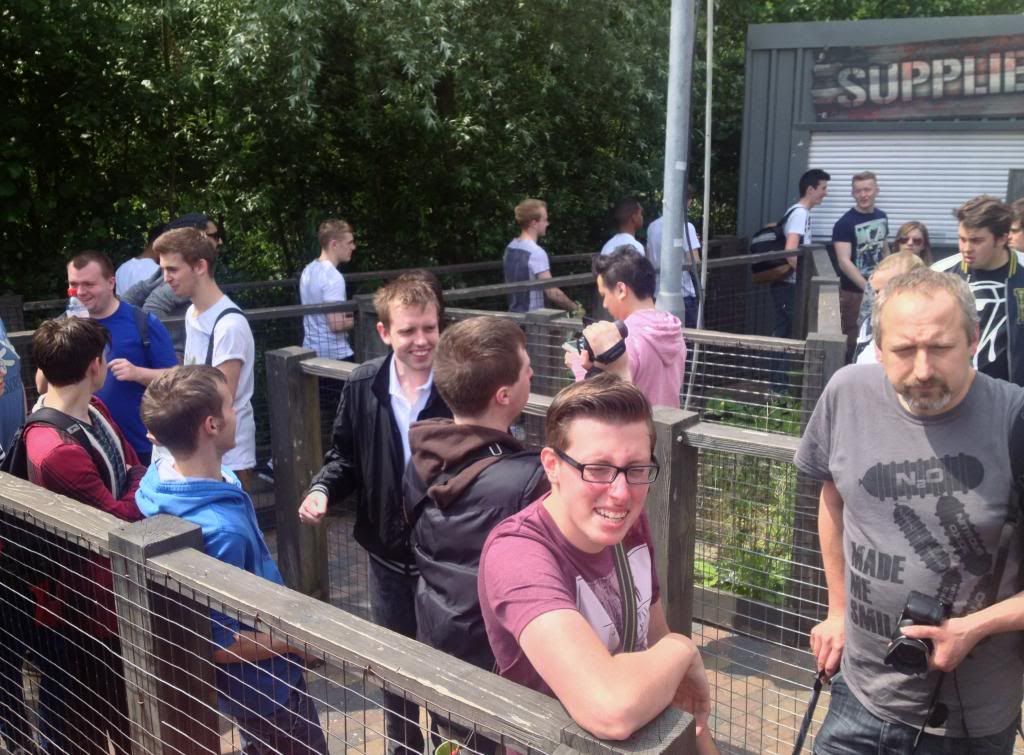 Marc, Mr.Fish & Han30 scream in pain going through a blade to escape the deep thinkers, whilst Peaj smiles ecstatically

It's the end of Part 1 already! Damn, time does go quick after a good read huh

But there's still so much more to tell you. So I'll tell you what - come back tomorrow for Part 2 and you'll wonder - Why is Mer disgruntled? Is there actually people terrified of the Flying Fish? And what is so special about chilli? Smell you laterz!
After finishing 4 hours worth of exams at work today - I can finally start my lunch at 16:45 and write you Part 2 of 5 of this wonderful, amazing, scrumptious and delightful

trip report for the Nemesis Inferno Birthday ERT Event. So what will unfold in the next chapter?
Before we continue R1C4Y would like to say Hi

Mr. Fish, Peaj, J.S217 (wondering why R1C4Y is so happy
), Mer & KingNemesis get ready to Rush...
All the way to the Flying Fish (Like the way how I used a ride name to link the story

) to greet TobyNBZ & ScaryCoasterBoy
However as soon as the ride starts ScaryCoasterBoy gets upset as he gets scared of the flying fish forces

However he is not he only one when we also find out Mark9 & Pluk find the Flying Fish too much to handle

As the ride comes to a stop however, IanNem, Mer & J.S217 get really upset that the ride is coming to an end

You know what goes well with Fish? Chilli Sauce so Mark9 decides to eat a pot of it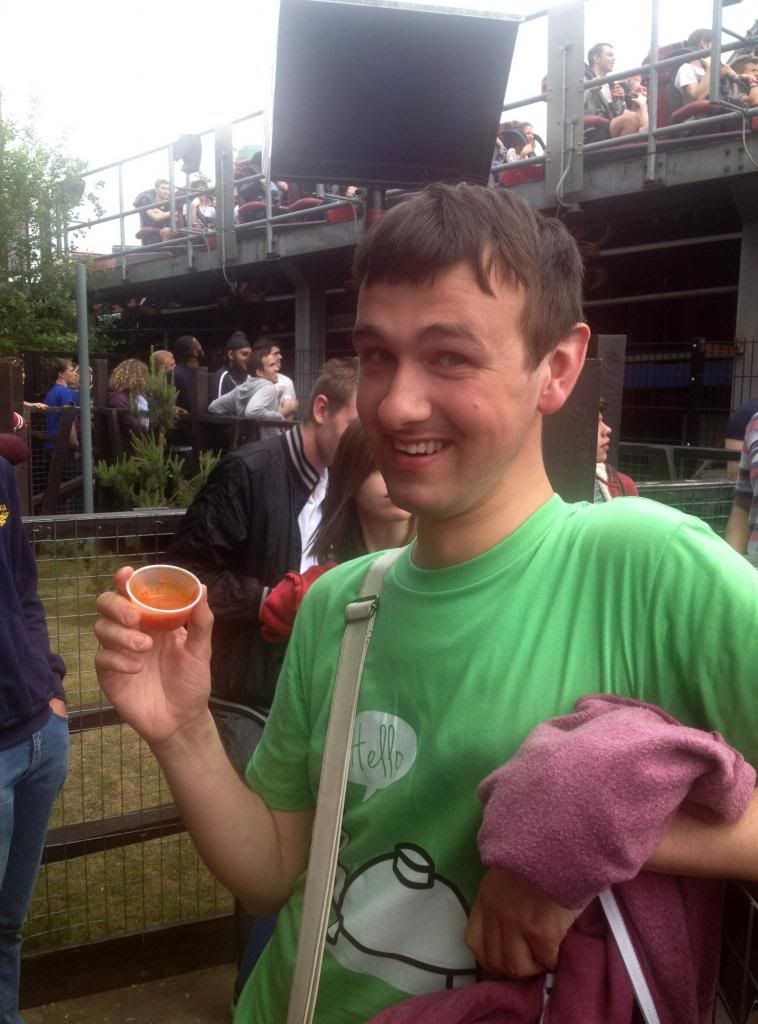 J.S217 jumps at the opportunity to eat some chilli sauce raw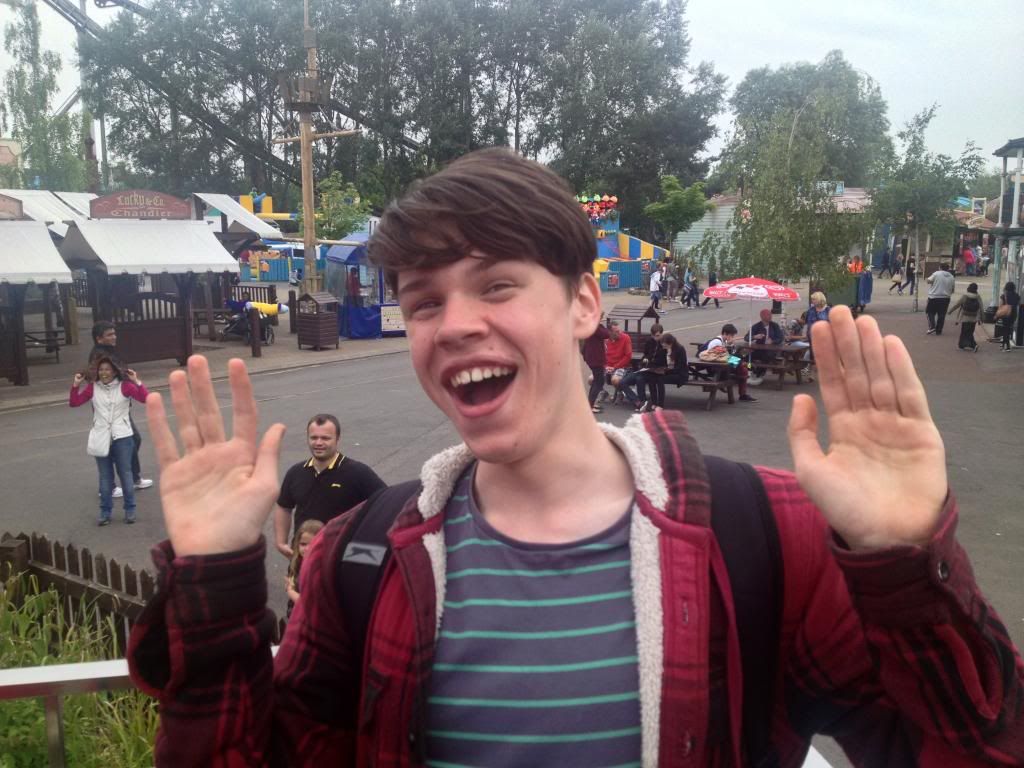 Mer - Like she was at the London trip - is not impressed!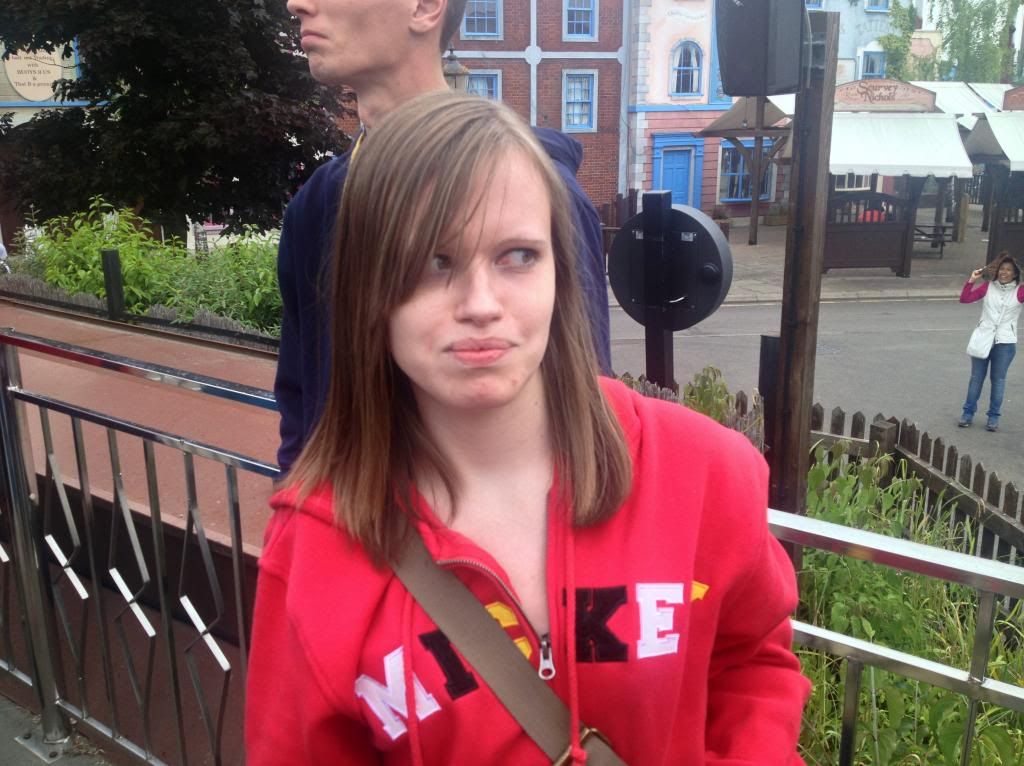 Before the group get ready to dance - a nice mini group photo appears by Stealth

And there we have it, Part 2 of 5 is complete. But I hear you say 'The last photo says before they go dancing, are you confused with your trips? I thought the next trip was the ministry of sound?' And also Why are so many people becoming ill in part 3? And is Pluk starting another fight? You know what I'm gonna say? You guessed correctly - come back tomorrow to find out more. Now it's the end of the day time to go home for a nap

Get the drums rolling Part 3 of 5 is ready to roll out onto your screens

We finished off part 2 with the TPM explorers getting ready to Rave even though it's still a few days to go before the Ministry of Sound....
But the refurbishment of X has opened up another clubbing spot, Michelle gets into the groove

In every club you will always find a young couple smooching over each over

Like Smidget & IanNem foor example...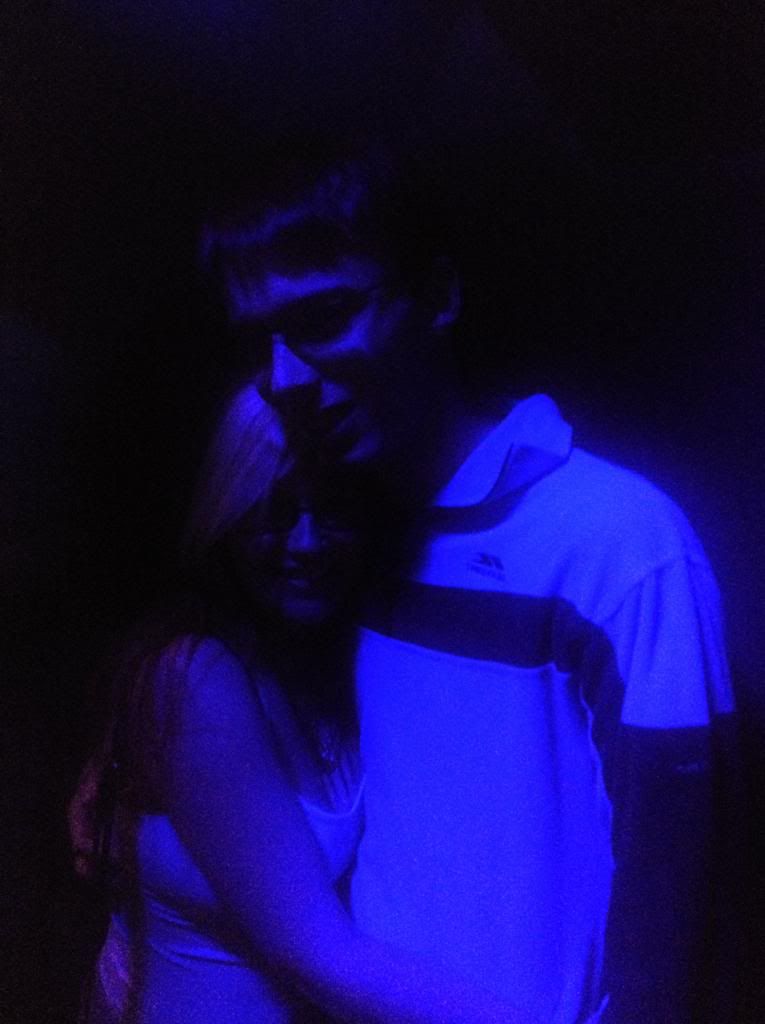 Likewise you will always find someone smelling of B.O. Poor ThrillseekerAlex is subjected to Han30's armpits

Generally the smelly one's are always the one's who get drunk

licking the walls on the way home.
Phill Pritchard & DarkAdder312 are delighted the taxi has arrived

whilst KingNemesis is looking after Han30.

After arriving back at THORPE PARK from the club, Mad Hatter Han30 is feeling the after effects from her rave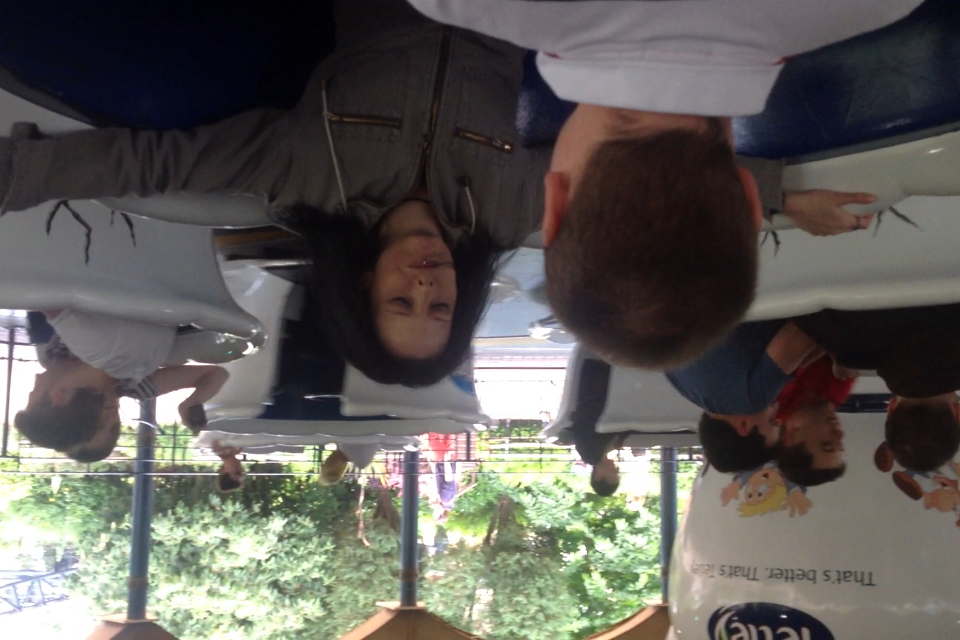 However Peaj, Pluk & Matt Creek still seem a bit dazed drinking all that Tetleys at the club

Having all that drink once again gets Pluk fired up and once again tries to start another fight

in THE SWARM queueline.
However TP1214 & Darkadder312 did the sensible thing and flew away

Before we headed for the Nemesis Inferno celebrations, another not so mini group photo took place awwww

So wish I got into that last photo - I love it!

However there are more important things in life. The next chapter in this story being one of them! But who steals the camera and takes cheeky shots whilst we are riding Inferno? Is there time for one last group ride before the ERT event starts? And why is their an emotional farewell that says goodbye to the majority of the group? You just have to come I tell you. YOU MUST COME BACK TOMORROW!!!!!!
So you did come back! You follow instructions well

. Your reward you get to enjoy Part 4 of 5 of the Official Nemesis Inferno Celebration Trip Report.
We start off this part when we jump into the future when some of the hosts Nath & Megan steal my camera to say Hi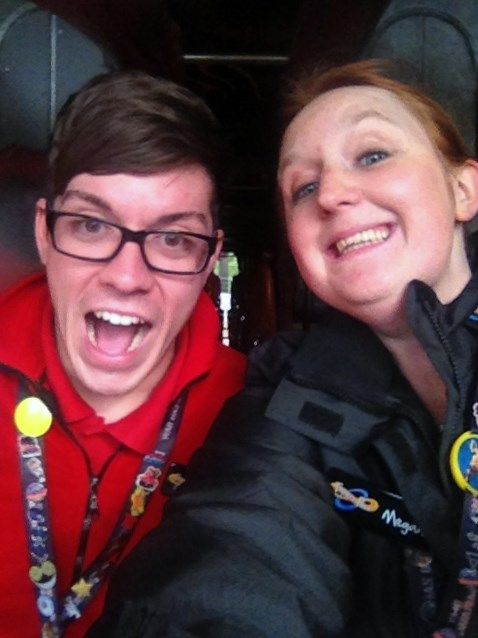 Coming back to the present, Han30 channels the spirit of Sidders and refuses to budge

until the ERT starts.
So the rest of us went off to Rumba Rapids where ThrillSeekerAlex practices his modelling skills

J.S217 is just there!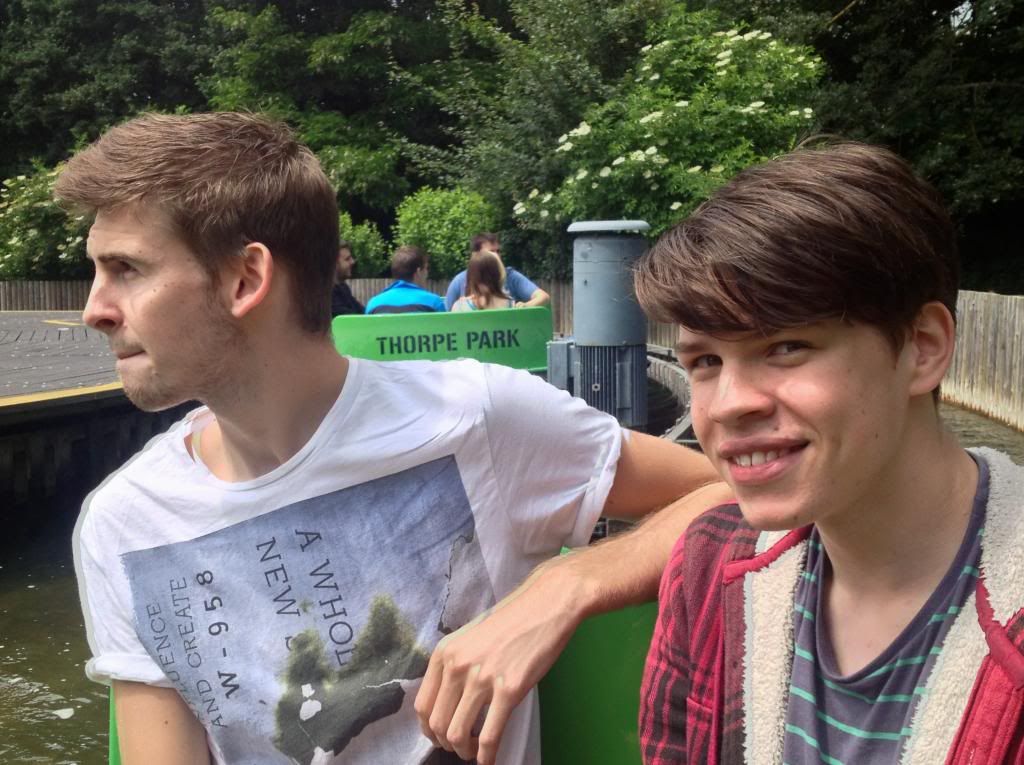 This half of the group seem to be calm & content with their Rumba experience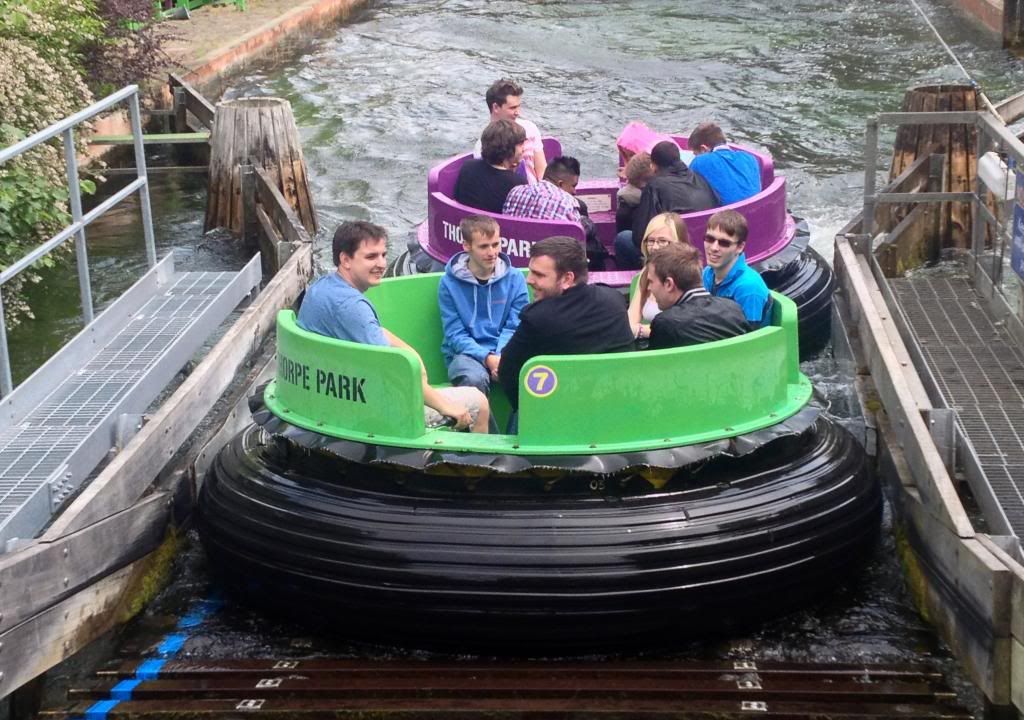 However Peaj is over excited knowing that the Nemesis Inferno Celebrations is about to begin

And so it begins - First Front Row consists of the excited ScaryCoasterBoy, ThrillSeekerAlex, DarkAdder312 & TobyNBZ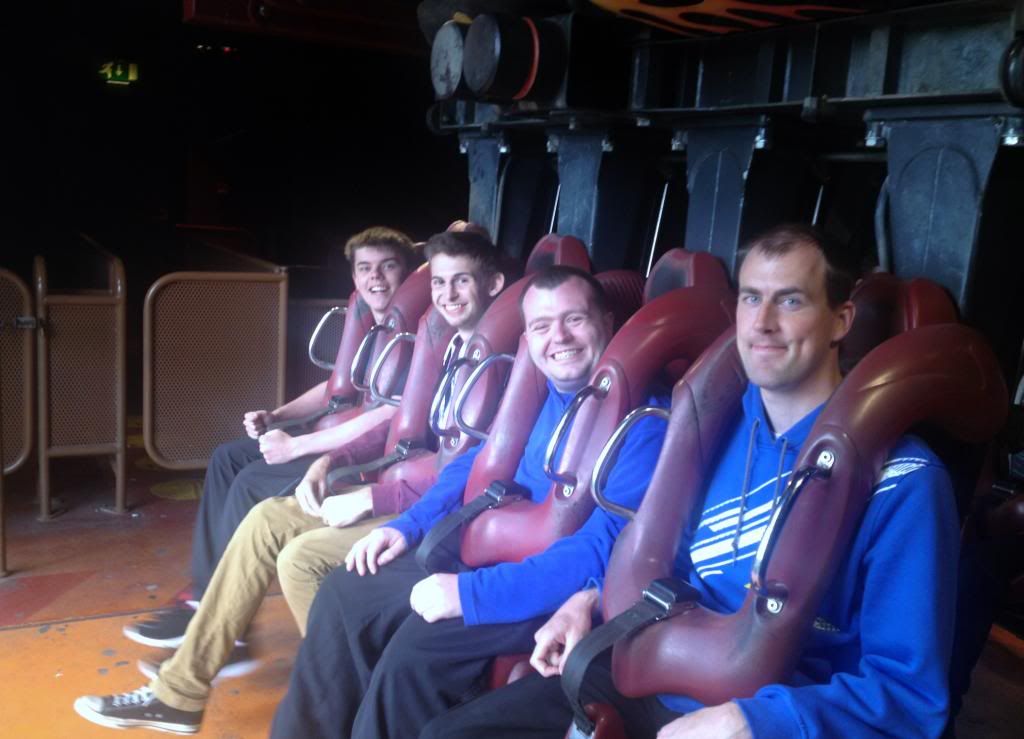 Thorpe Park Mania have filled up a whole train you know!

Getting some back row action you will find Michelle, Sarah, TP1214 & ThrillNation. With my old mate Nath jumping into view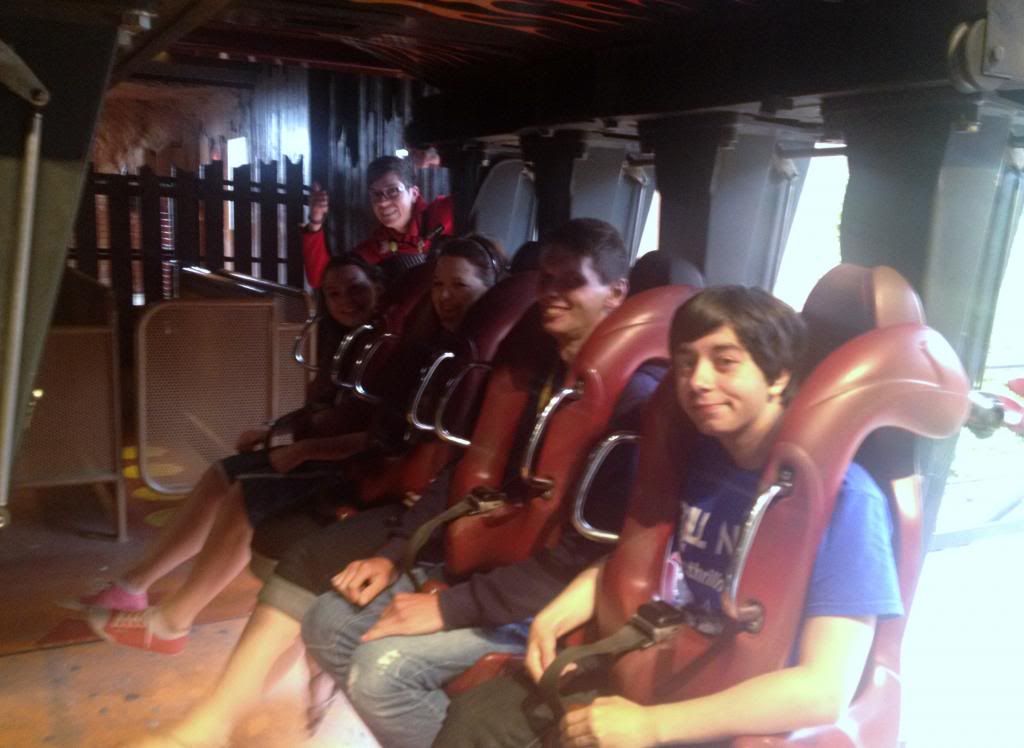 Whilst riding our hosts played with my camera & took a sneaky shot of Dan & Francis who were great operators that night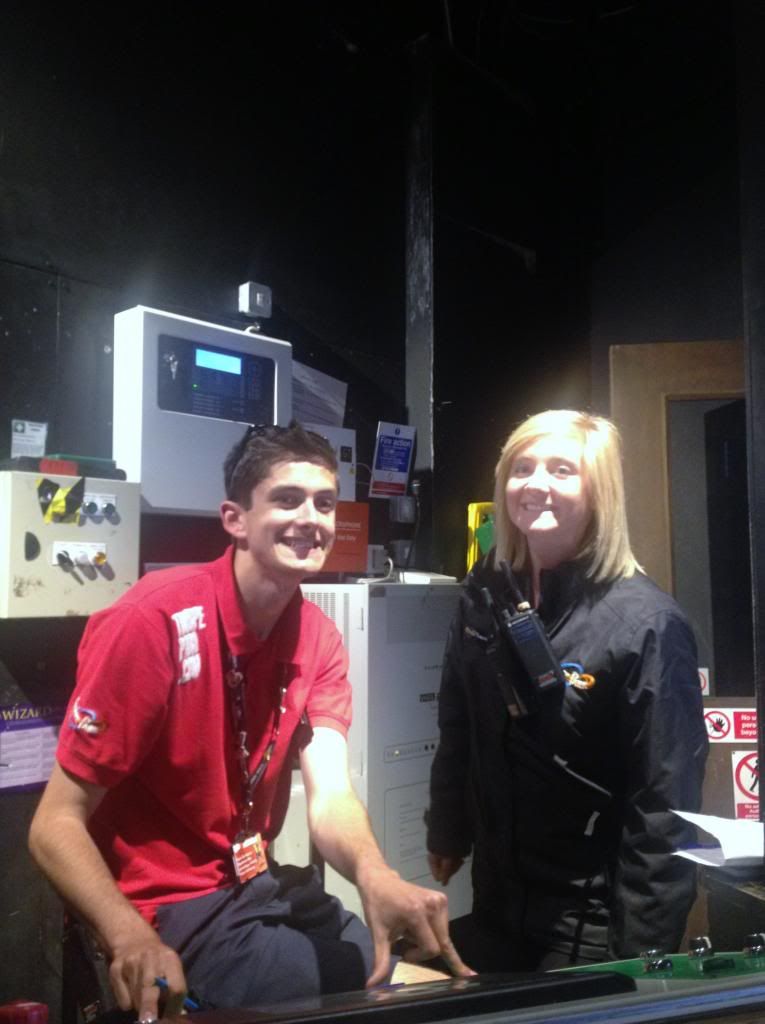 After the ERT finished, the majority of the group walked away crying

After being told they couldn't go up the lift hill.
So the penultimate part of this adventure concludes. But the last picture says the majority of the group - So who stayed Behind? Why should you never let enthusiasts left to their own devices by themselves in the Nemesis Inferno Station? Why has Mr. Fish turned into an Alien? All of these answers that you need to know for you to be able to move on comfortably with your life will be given to you at the latest on Monday. MONDAY! you say 'but a part is revealed every day.' Well my fellow chums - I'm off to a drinking marathon over the weekend and all the files for this report are saved at work. But you know what If your nice you MIGHT get it a bit earlier than I promised. But for your troubles of waiting I will reveal the OFFICIAL GROUP PHOTO at the end of the next chapter

Welcome back to the final part - 5 of 5 of the official Nemesis Inferno Birthday Celebrations Report. Congratulations you survived the weekend hanging on the verge of existence

wondering what will happen. You can now take a breather as your about to see the conclusion.
The Secret Six - Peaj, Darkadder312, Matthew, J.S217, Han30 & Michelle got to stay in the station for the Lift Hill walk

With no one around, Han30, Michelle & J.S217 touch

Nemesis Inferno in a way that no one should....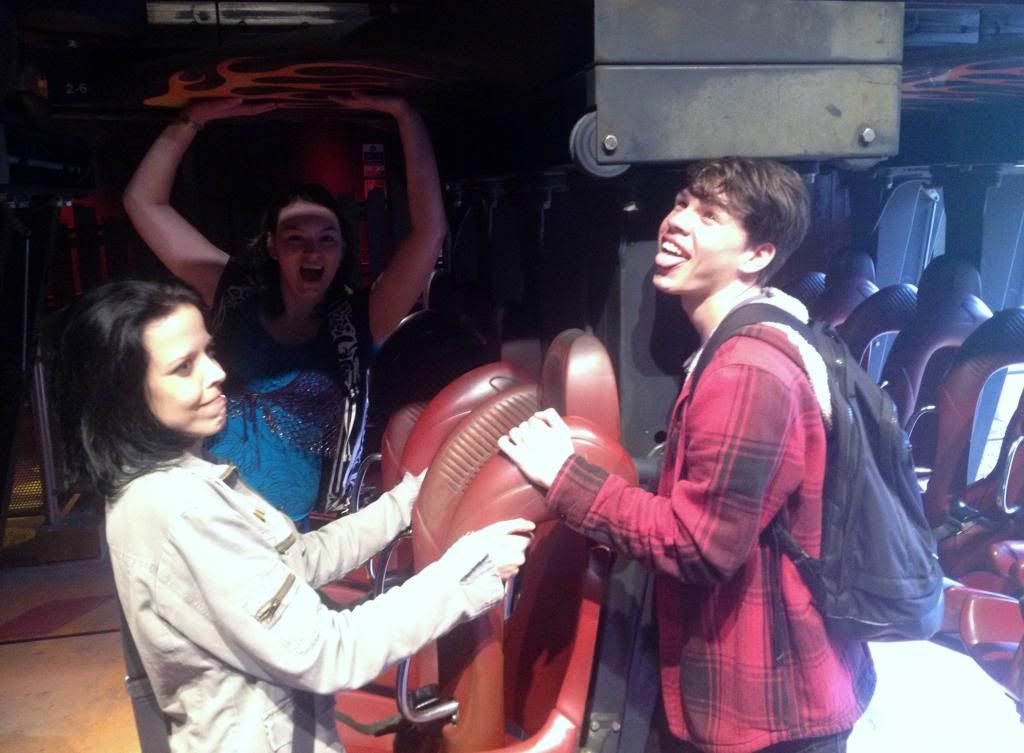 Michelle & Peaj then pose outside the railings - Just because they could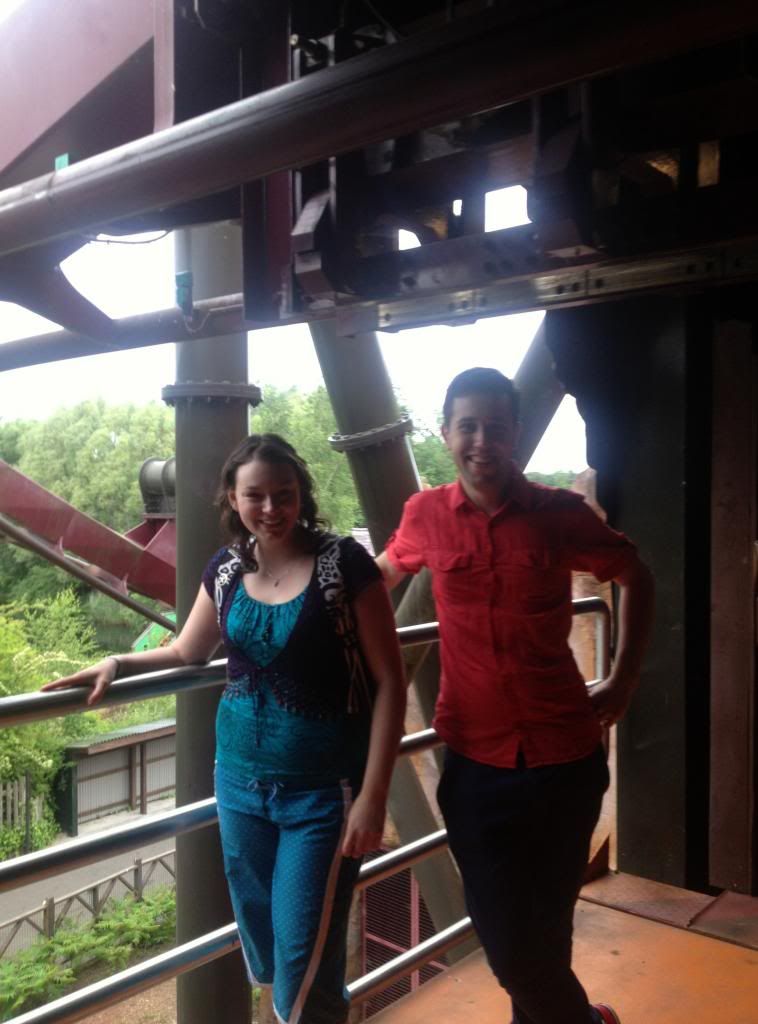 After the behind the scenes tour, some lucky TPM Adventurers got to also go up the lift hill. Lucky #@$!% getting everything

Whilst waiting to leave the park a game of Drink Capsule Jenga erupted to loads of interest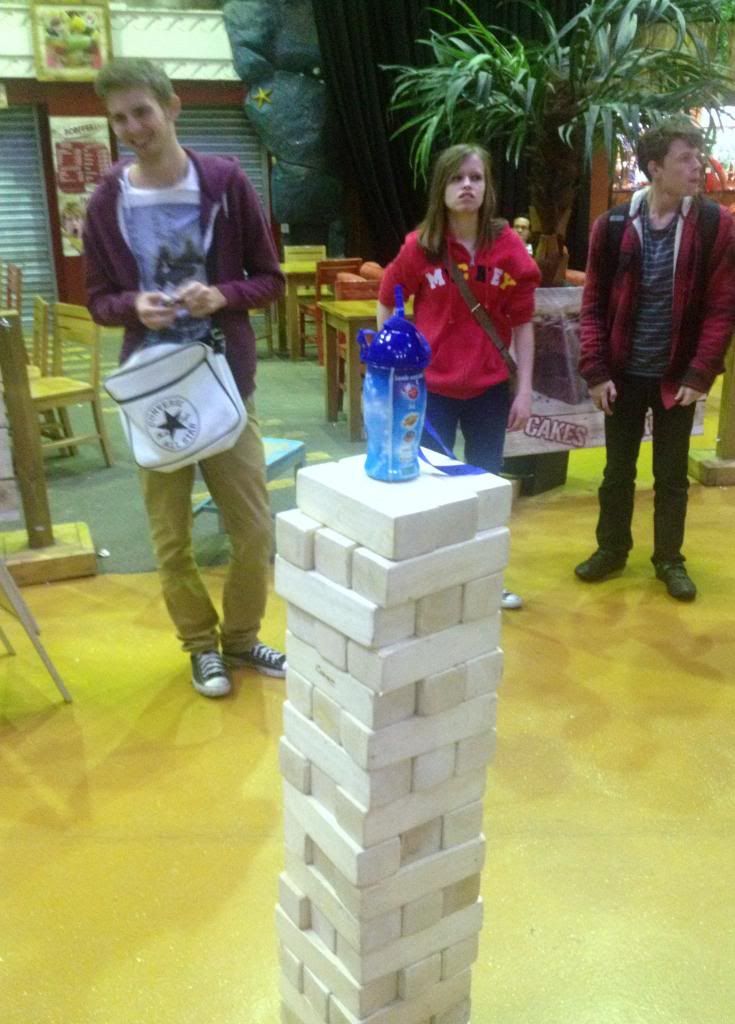 However R1C4Y was more interested in playing ping pong and losing the balls on top of the games machines

There is also a new claw machine game in the dome where you can win Mer as a prize

After the adventures, classic panoramic view of a meal at Frankie & Bennies & Mr. Fish starts morphing into an actual fish


J.S217 struggles to keep his drink down, with the shock of what is happening in front of him

Finally we are at the end of the adventure so that only means one thing. THE OFFICIAL GROUP PHOTO!!!!!

I would like to finish this off with a huge thumbs up

for everyone sticking together. It was an extremely big group that stayed together for the entire day, so that's no mean feat! The crowds have been as good as always and a few people even mentioned on this trip (One's who can remember the meets of the old days) that the overall people on the meets have matured and everyone seems relaxed and is turning into one big happy family. To get it to that point we can only Thank You! As without you, things like this would not be happening. Once again, also a HUGE thanks to THORPE PARK for putting this together for us and in helping make these meets so special! So with all these last few meets being so close together, I now have the Ministry of Sound report to put together. I can already see your trembling with excitement.