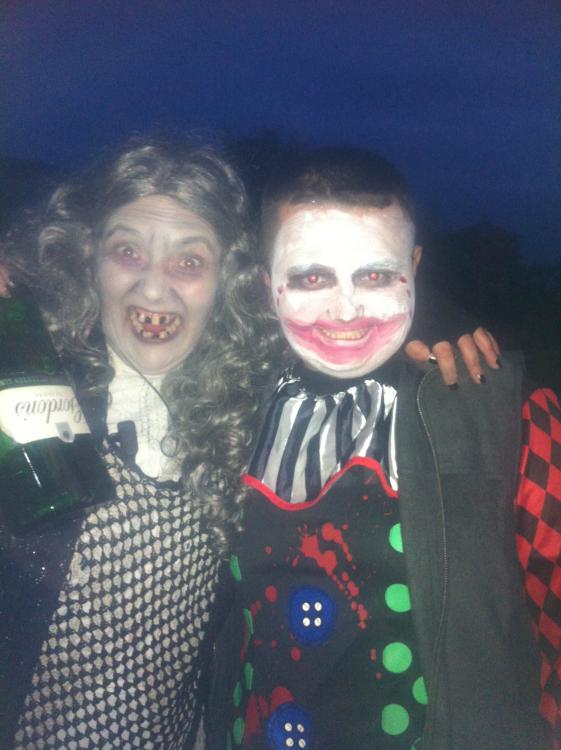 Tulleys the howl is a new scream park at mead open farm. Tonight was preview night, here's my review!
Haunted House: Haunted House is beautifully themed, with dark rooms and eerie sounds it is very similar to HH in Shocktoberfest. The maze was full of rooms and actors staring at us, overall a very creepy maze. 3/5
The Shed: The Shed is a great maze, with scares similar to the cellar. It is very impressive with scares being impressive overall. One section was similar to the cellar having a inflatable animal. My only gripe is that there was a good section with no actors in the middle of the maze.
The ending made some sense, good maze. 3.5/ 5
Mr. Toppers Slay Barn: Mr.Toppers is the parks clown maze.
It is similar to other clown mazes with curtains and chaos!
My favorite part of the maze had to be a section with a clown with a machine gun!
One criticism had to be there was a stretch of no actors at the start of the maze. 2/5
The Dark: The dark is great, with long periods of dark sections.
It also has SHOCK pads. In the maze the actors are dressed up as werewolfs.
The "Werewolfs" carried torches too to make more impact in the dark sections.
One point was so dark we got stuck! IMO this maze is like the better relation to the Volt. 4/5
Squealers Yard: Squealers Yard was... Amazing. To start off offered a smart section leaving one member of our group getting put through the maze on there own! The actors were everywhere, shouting pig related nonsense. In one room a actor was about 6.7 tall, he chased me, I was terrified. The maze weaved in out of outdoor and indoor sections,
The ending with the chainsaw was effective, maybe a little cliche..
Great maze, very scary. 5/5
Roamers: roamers where great, I saw Esmerelda, grandma,chasity, and the twins. All providing friendly banter. 5/5
Some more photos: https://www.tumblr.com/blog/imindetonator