Thorpe Park Fright Nights 2016 Review
---
(THIS BLOG WILL CONTAIN MILD SPOILERS)
So Fright Nights returns for its fifteenth year!
Overall this year the event was somewhat of a mixed bag.
One thing to note is some of the park-wide theming!
Fright Nights in previous years have not bothered with theming, but this year
they seemed to make some effort which is nice.
The Big Top
The Big Top has been completely changed this year, and was way better than last year!
The maze is everything it should have been last year, its fast, its frenetic, and its pretty fun!
The strobe maze in particular was very confusing,  leaving our group doing circles for a while.
Though the maze was a little light on actors at points, and in some sections a bit of light from outside the tent was let in.
The Big Top like other clown mazes may not be the scariest, but they sure are fun and confusing at the same time-7/10
Platform 15
Being new for this year, Platform had a lot to live up to.
After going through, the maze was IMO a mixed bag if I'd seen one.
Now the first half was brilliant, the scripted beginning to actors giving some pretty good scares in the open spaces.
Some sections where a little to wide, but actors towards the first half where giving some pretty great scares.
Now the tunnel finale was a different story..  Most of the tunnel was spent doing nothing, making a decent portion of the maze boring..
The finale at the end of the tunnel was a good idea, but it was not effective in the slightest, making  Platform the most anti climatic maze I've seen in a long time.
The attraction's second half needs a massive overhaul IMO, but the first half is still pretty fun-3/10
Saw Alive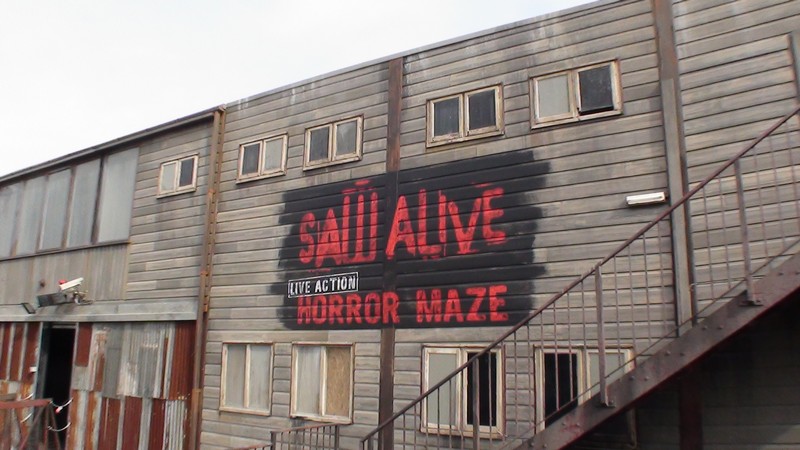 Saw Alive seemed to be crawling with actors on my run through!
The attraction seemed to pack more than enough actors, and the scares where pretty great.
Though the maze is starting to get very stale, and the maze has a crap ton of problems..
Mainly the scares for one, why would a chained up actor be moving freely?
Though the maze still has some great scares-5/10
Blair Witch Project
Blair Witch remains the same state that its been in since 2014.
The attraction packs a lively cast of actors which seemed to be hiding pretty much anywhere!
The finale always packs a punch, and the actors where doing a good job.
Though like Saw Alive its starting to get a little stale as nothings really changed at all-5/10
The Cabin In The Woods
Cabin is really a attraction that has seemed to declined since 2015..
Cabin back in 2014 was amazing, it was crawling with actors, some actors jumping out from the ceiling!
On my run through the attraction was not bad, but it weren't great either..
Overall I think the maze has like Saw/Blair became a little stale.
Also the group flow seemed to be a little manic on my run through..
Cabin has always had these problems, but you'd think after three years of operation they would of ironed out these issues-4/10
Roamers Actors
Only saw roamers one time sadly.
Overall the EX10 actors where wrecking havoc when we did see them!
Though the amount of roamers was very poor TBH, especially like a event as large as fright nights!
Maybe I've been spoilt with Tulleys's amazing roamers, but I think Thorpe needs some better roaming actors overall-5/10
Conclusion:
The event like I said earlier was a massive mixed bag.
Big Top was fun, Cabin/Saw/Blair where all very fun too but a little stale.
Platform being poor due its long drawn out boring ending.
Overall Fright Nights are better than last year IMO, but I still think there is MASSIVE room for improvement..