Premiere Soquet Grilling - Days 1-2, Parc du Bocasse & Festyland
---
With the 'new normal' in full swing and parks open again, I'd been itching for a European trip again. With my Heide/Hansa trip back in April cancelled, and my June Europa trip delayed before I booked, the Covid situation had dented some big plans for new parks for me.

However, wanting to remain cautious, I didn't want to swing into big parks, and risk not visiting them in case something happened (having to self-isolate, a park randomly closing, etc). So something I bit smaller was needed. Back in 2017, I visited Bagatelle, and really enjoyed their two Soquet creds - Gaz Express (as I mentioned about here)and Spirale des Dunes, and had joked with my housemates in the past of doing a trip to hunt out more of their creds. And lo and behold, this trip was born!

A few smaller French parks could be ticked off, boosting my cred count, and also a first visit to Parc Asterix, just to add some real quality to the trip too. And, if all worked out perfectly, I would end the trip on exactly 200 creds, becoming slightly less basic in the process.

Keeping the costs down meant we stayed at Premier Class hotels whilst in France, and anyone who's visited one will know they're certainly not premiere in class (we fortunately knew that in advance)..More on that later though!

Day 0
We travelled over to Calais Thursday afternoon by ferry with P&O, which was sadly delayed by a couple of hours. As for their Covid measures, it was pretty simple: wear a mask on the ferry at all times (except if eating/drinking), and keep 2m distance from everyone. Keeping the distance was easy as the ferry was quiet, and I wore a mask all the time - little warm, but no issue. Lots of people did end up taking their masks off, but given how quiet it was, I wasn't surprised.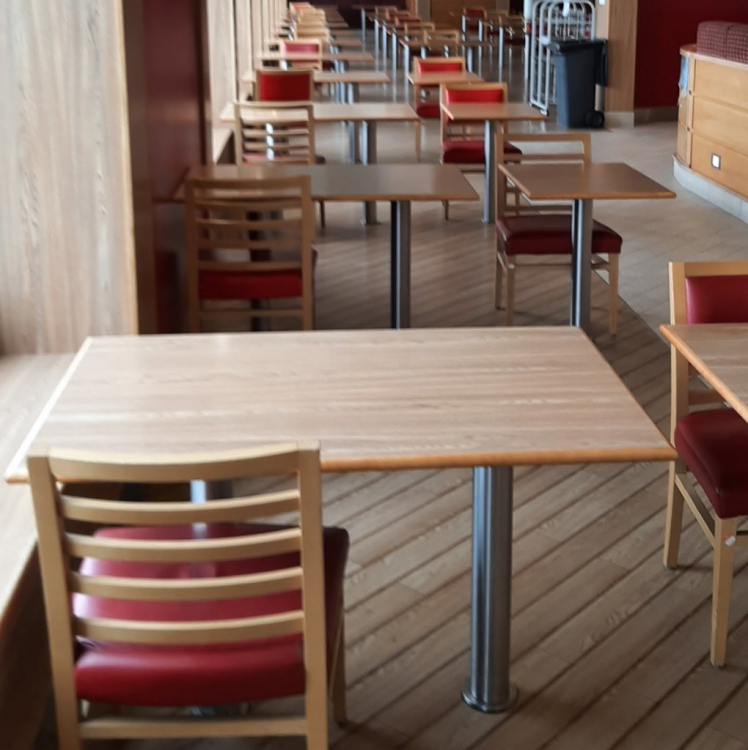 To encourage social distancing, each table in the main seating area only had 1 seat, which made no sense when a group wanted to sit together...

We arrived at our first Premiere Class, where we had upgraded to a room which gave us breakfast and a sea view for only a couple of Euros extra. We were intrigued, but the sea view was, well...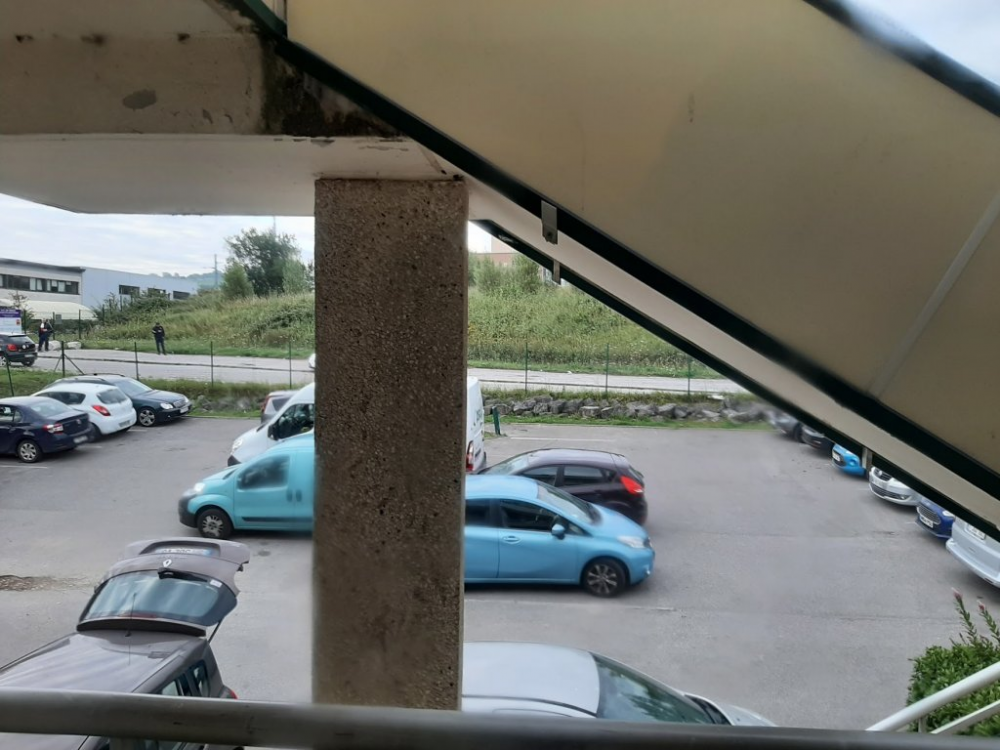 A little lacking to say the least!

Coincidentally, each Premiere Class we stayed at had a Buffalo Grill restaurant very nearby. An American-esque BBQ style place, we decided that Day 0 would be the perfect time to try it out, and it was pretty good! On the pricier side for a budget trip, but decent food, including amazing Mozzarella sticks with BBQ sauce!

Day 1 - Parc du Bocasse
Unsure of how Covid measures would affect park capacities and throughputs, we decided to give each park a day, and then do other stuff in the afternoon/evening if time allowed (spoilers: we regularly left parks early!). Parc du Bocasse was park number 1, we arrived a little before 10, with rides opening at half 10.

Covid Measures
The park had a variety of signs which said whether a ride/queue/building required masks or simply recommended them. The queues had social distancing markers, and there were hand sanitising points before going on a ride, and sometimes afterwards. There was no social distancing on rides. Masks weren't required in the park's walkways. Their 4D cinema was closed, but everything else remained open.

Social distancing was largely respected in queue lines which was nice. I wore my mask everywhere except on water rides (where we always were in our own group anyway).
A quick bag check and we were in, and wandered to the back of the park towards their pirate area.

We ticked off the kiddie cred and some of the flats, along with their shooting ride - Pirate's Plunder. It's the first time I've done one of these types: where you are on a seat which tilts and moves and fire at a stationary screen. I quite enjoyed it, and liked the competitive nature it had throughout. We did it later in the day, and sadly it didn't cope when the room was almost full, with none of our guns registering properly.

We worked through the park, ticking off their other family cred, and came up to arguably their major cred - Fort d'Odin, their Soquet. The ride looked fun from its rcdb entry, and it had been rethemed last year. However, I wasn't prepared for how extensive the retheme was: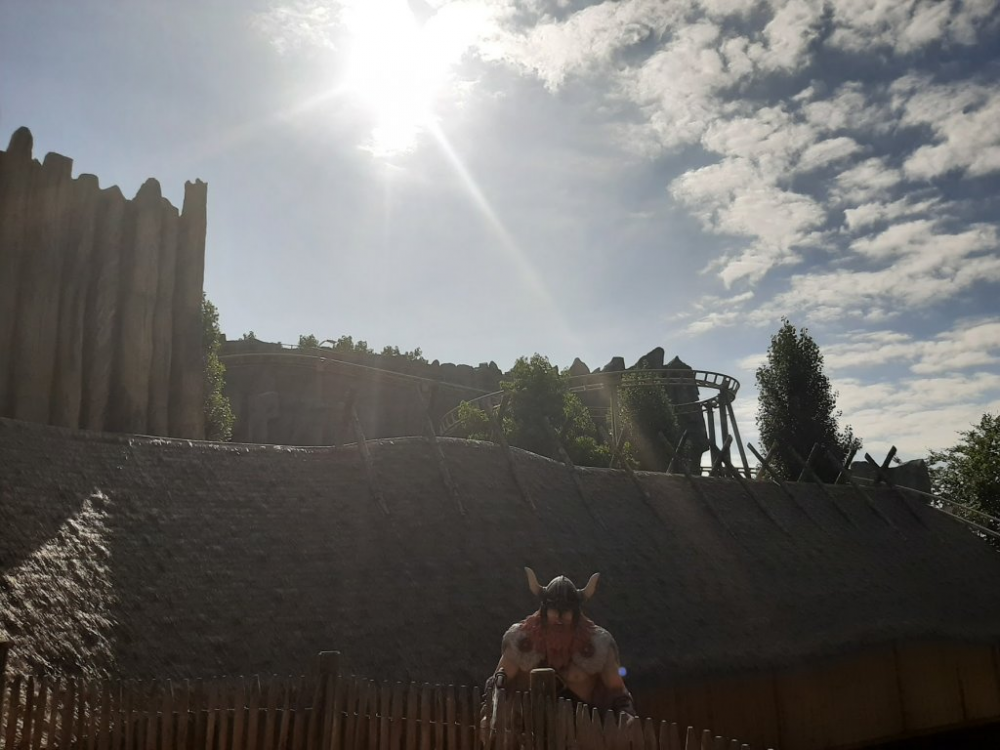 My photos don't do it enough justice - but it feels completely different compared to the rcdb photos!
It was a fun ride. Whilst nothing special of course, it at least gave us some reassurance we hadn't planned a trip based entirely around a manufacturer which makes terrible rides, bar two at some random small park!
We continued, doing their dark ride Apiland, which has a ton of animatronics, but goes on way too long, before arriving back to the front of the park, which is a Dinosaur / Jurassic themed land. I think a few years ago this was pretty unthemed and had a 'plonked in a car park' feel, but looks a lot better now. We did their Spinning Wild Mouse, which was vile due to us distributing the weight badly (I'm really not a fan of spinning).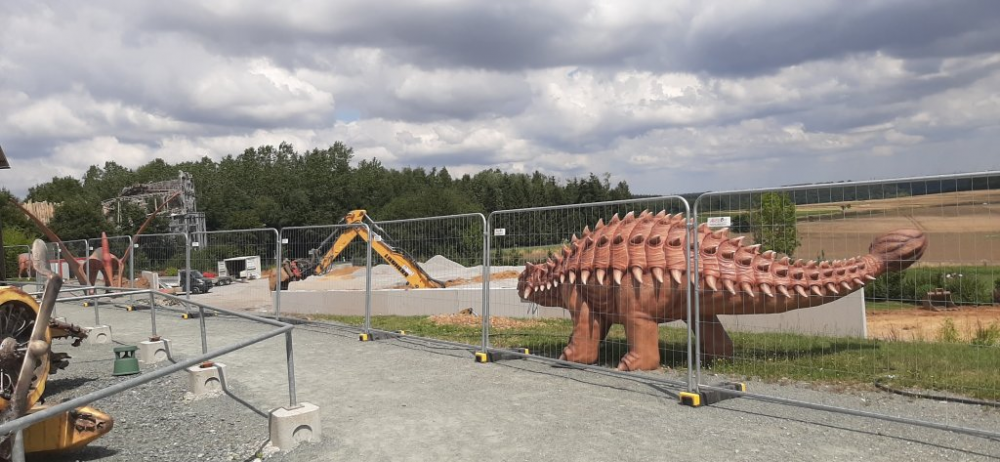 This took us up the lunch time, and aside from the park's fountain show, which first showed at 2pm, we had done the park. After a spot of food and some rerides, we milled around and eventually queued up for

 
Symphonie Aquatique
, which was surprisingly hosted indoors. The show was about 10-15mins long, and featured a stage with some fountains which were just going off pretty consistently, whilst some lasers and music played. The concept is cool, but it misses the mark with the fountains being boring, and all the seats being on the same level, so being at the back meant we saw little.
After milling around a bit more and a couple more re-rides, we called it a day just after 3pm. Parc du Bocasse was a surprisingly nice park, with some decent theming and a nice little selection of rides. It always seems like they're preparing to expand, with work going on next to their log flume. It'll be interesting to see what they do next!
One annoying thing though - bugs! There were a ton around the park. I don't know what they were; tiny little fly-like things? I guess it's because of the park's location, but it was a little bit annoying after a while, especially since the colour of my shorts seemed to really attract them!
We then headed into Rouen, which was en route to our next hotel. We popped into a Laser Quest, and the three of us played a game - just us three! Their Covid measures meant we still had to wear masks inside. And let's just say, if I can wear a mask for 20 minutes whilst running around indoors playing Laser Quest, I don't see why any normal person can't wear one!
Our next Premiere Class would be our base for two nights, and didn't promise a sea view, being far away from the sea and all that, so we weren't disappointed. Fortunately there were lots of restaurants and shops nearby which meant we had plenty of options to keep ourselves entertained for the evening, before turning in for the night.
Coming to a blog post near you: Day 2 - Festyland, and a surprise cred...
Which, in fact, is right here!!
Day 2 - Festyland...

A quick mention of their Covid measures. There were social distancing markers in queue lines and a few signs about wearing masks.There didn't seem to be as many people wearing masks and social distancing in queue lines wasn't the best, but equally not the worst. Many of the operators at rides had unlabelled bottles of liquid, which they would spray onto your hands before going on rides. I can only hope it was hand sanitiser! Though I'm sure I could start a conspiracy theory somewhere on the internet saying it's some mind control liquid to stop us thinking about 5G or something....

Anyways, onto the park. We arrived shortly after opening and headed straight to the back of the park, where the first of two Soquets awaited, 1066...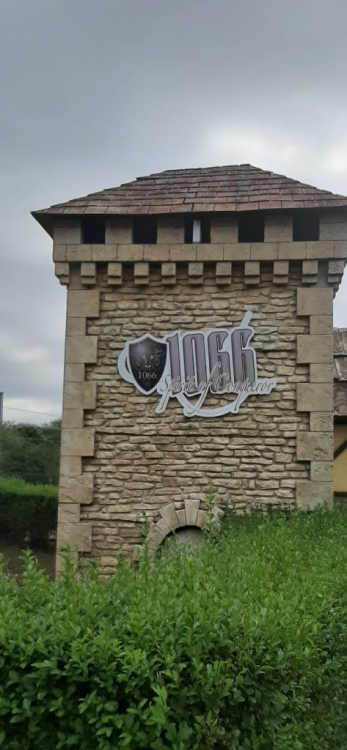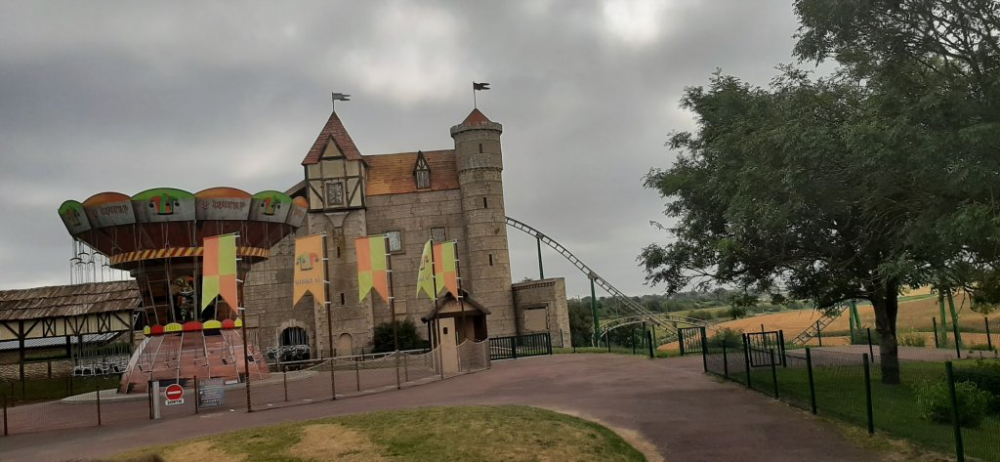 The building looks cool, but the signage leaves a little to be desired!
Unlike other Soquets, this ran two short trains, which was a little bit of a surprise. It's also nicely situated on the edge of the park towards a field, meaning it could make use of the terrain a bit more. The ride was a walk on so I went straight to the back for my first ride. And damn, this little cred packed a bit of a punch. Coming off the drop gave some solid ejector. The ride then turns around a bit before going into a helix which gave some really nice laterals. An airtime hill with a kicker wheel followed, which sadly meant not much airtime. Another helix and a jump up into the station followed, which again gave some nice laterals.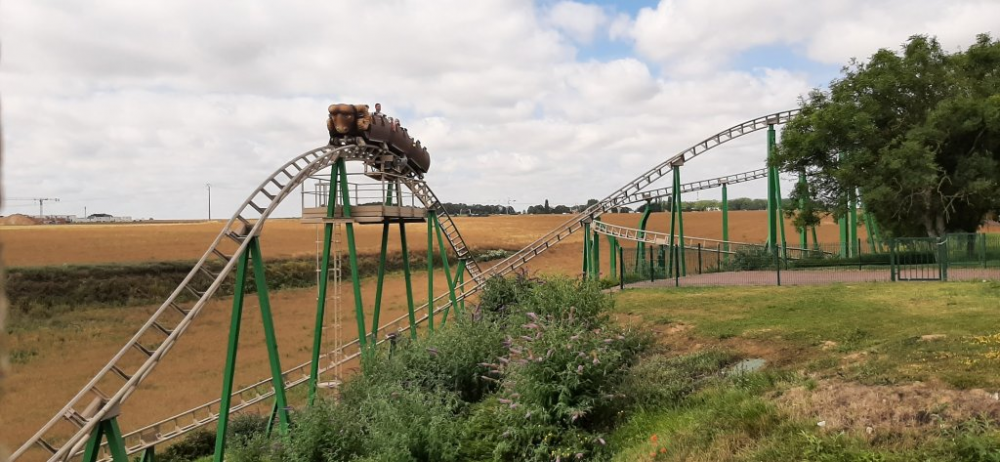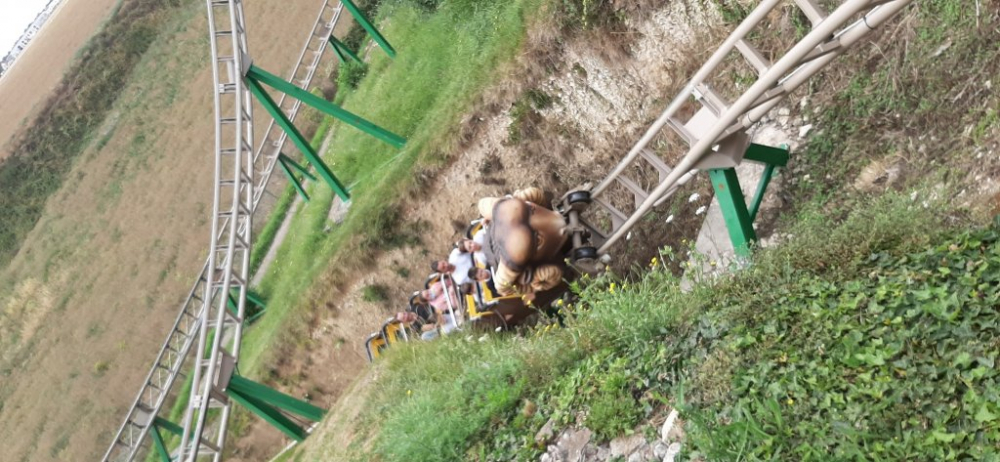 So all in all, a really neat cred. It was the right level and mix of weird and fun that I had expected. The area still had no one else around, which meant another lap followed, with me heading to the front. The drop wasn't as good, but the laterals and side to side movement were still solid.
Sticking to the back of the park, the next port of call was

 
Kaskade
, the park's rapids. It very much has a budget River Quest feel, with an elevator lift and intimidating (in context of the park) look. The drop lead to some of the craziest spinning I've ever had on a water ride, and the final splash gets you a good level of wet too. A solid ride, and a nice little gem in the park.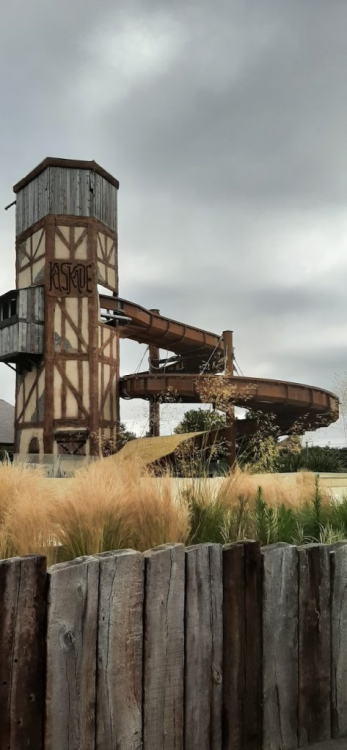 We moved over to the park's other cred,

 
Drakkar Express
. This is nothing more than a +1, but features a drop halfway through the layout where you somehow manage to slow down rather than speed up I swear. Oh Soquet...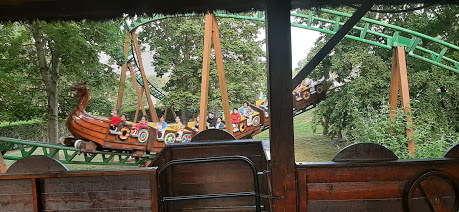 The park have a really neat, large and well themed Viking land, which features a few rides, including an Air Race-like ride, Rocking Tug and more. We ticked off these rides, as well as their standard dingy slide and drop tower rides, before a re-ride on 1066.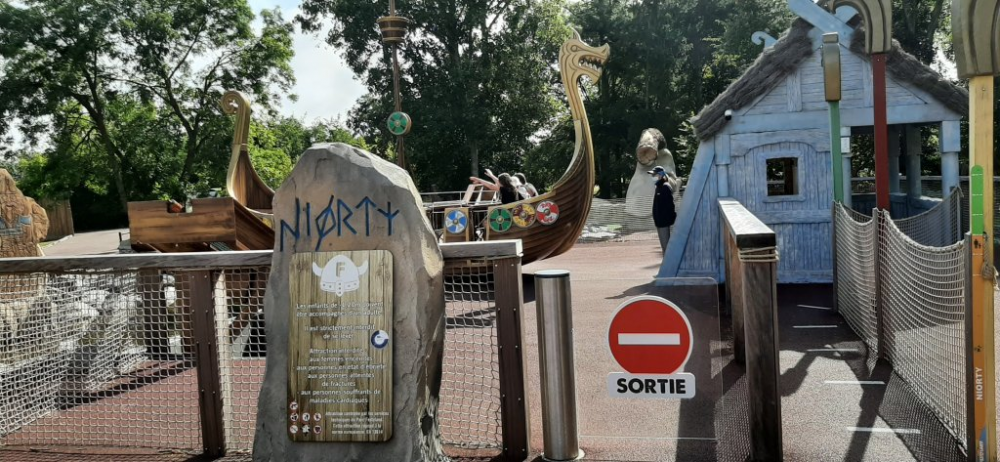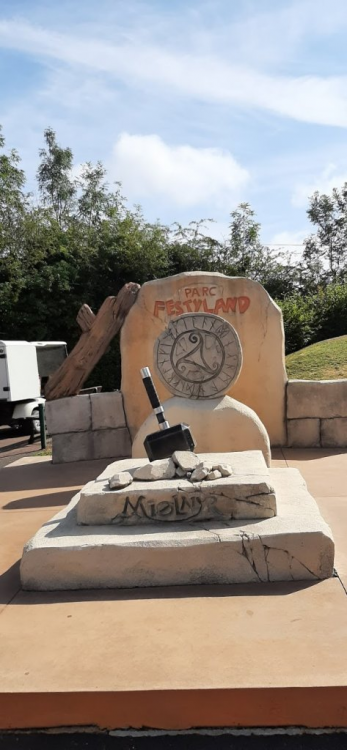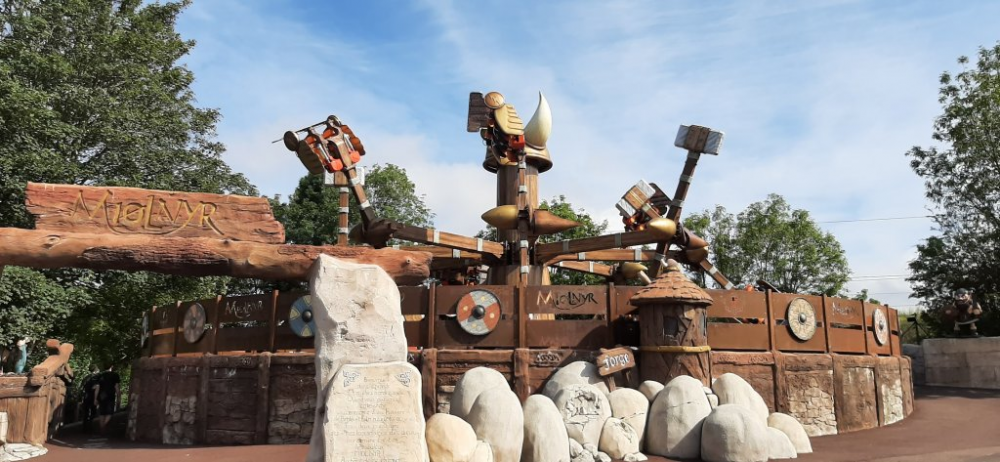 Fun fact: I did get the standard photo of me holding this, etc. BUT this was shortly after Kaskade, and so I had a huge wet patch down half my body, which looked like a massive sweat mark, and so will never see the light of day...

It was now midday and the park was filling up a fair bit (Kaskade had a full queue, which probably would have taken a good 30+minutes given the lack of boats). We did a ride on their bumper boats, which we didn't think adults would be allowed on, but they didn't seem to mind. One of our group fell into the water whilst getting out, much to the enjoyment of everyone in the queue!

So after barely two hours, we called it a day at Festyland. It's a cute little park with some surprisingly well themed parts, and 1066 is a solid ride. But ultimately, it isn't much more than a stop on a cred run for us.

Anticipating that this could well happen, we had made contingency plans the night prior, and thanks to leaflets at our hotel and coast2coaster, we found a couple of Alpine coasters near-ish to the park. Both were about a 40 minutes drive away, and 40 minutes away from each other. We ultimately opted to do just one, and so of we headed to the...

Normandie-Luge
Located in the valley of an old Viaduct designed in 1887 by Gustave Eiffel, this was a complex of activities. The Viaduc de la Souleuvre is the name of the wider, free-to-enter, complex, and has activities such as bungee jumping, giant swings and zip lining from the top of the viaduct, as well as the cred, a high ropes course and other things. Unsurprisingly the likes of bungee jumping were very expensive (149€!!), but the cred was just 4€..much more reasonable.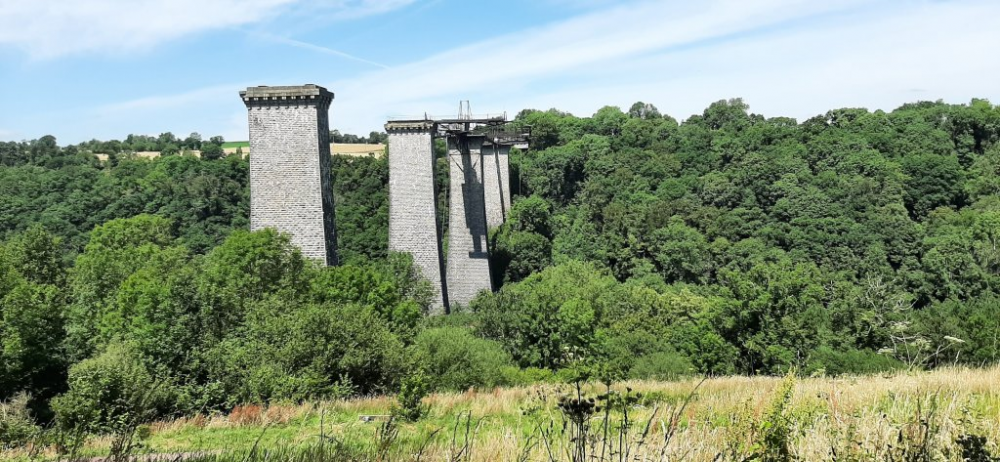 After eating at the onsite restaurant, which was fantastic and well priced, we hit up the Luge, as they like to call the cred specifically. No need to wear masks, but you have to clean your hands before, as well as the 'car' being cleaned as well. The layout makes excellent use of the terrain, and features some decent sweeping turns and banked moments, as well as some pops of airtime. Fortunately was able to go full speed all the way down, and the ending was a particular highlight!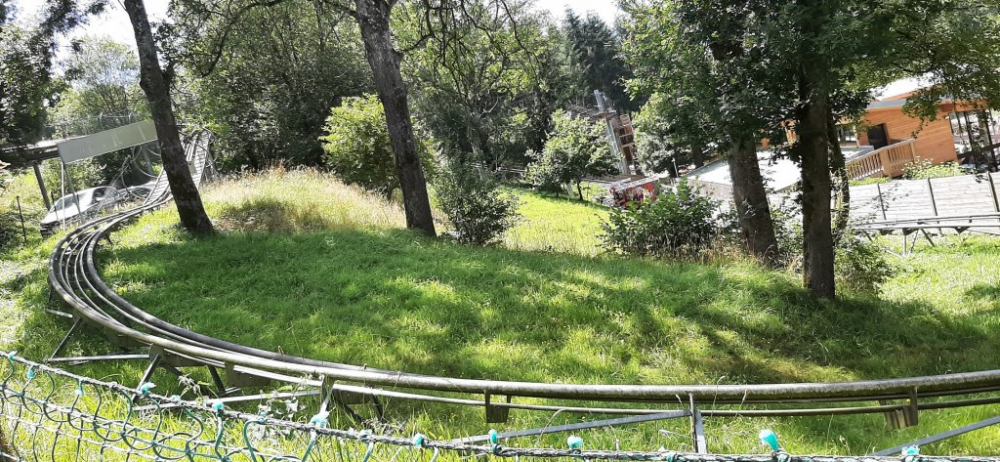 The ending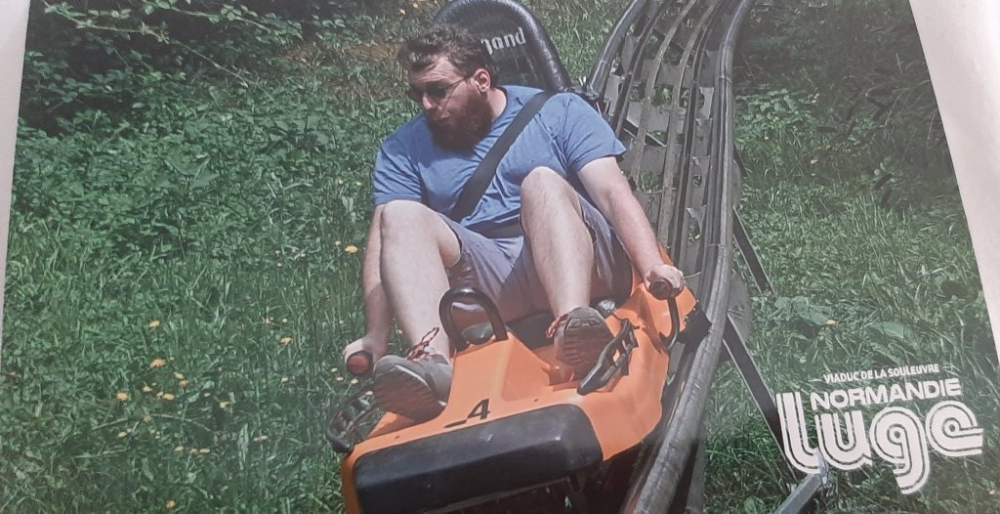 You can also buy a photo for 2€. Since it captured the exact moment a fly decided to try and get in my mouth, I couldn't refuse...
After a little bit of milling around and watching people bungee jump, we moved on. Not a place I'd ever return to (as awesome as it would be to jump from a viaduct, I can't justify paying seven times what I paid for my bungee jump a few years back...even if it was off a crane in a pub car park). But I certainly would recommend heading down there for the alpine cred if you're nearby!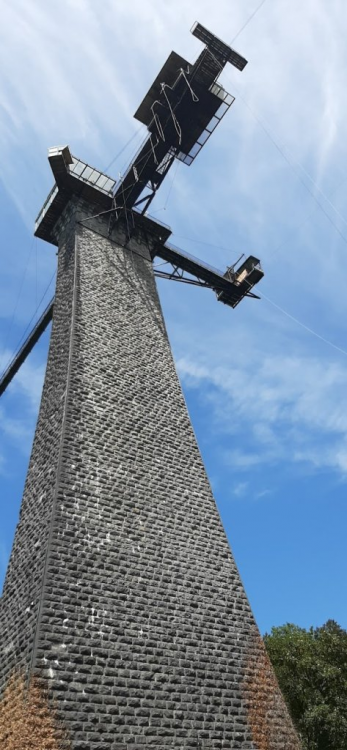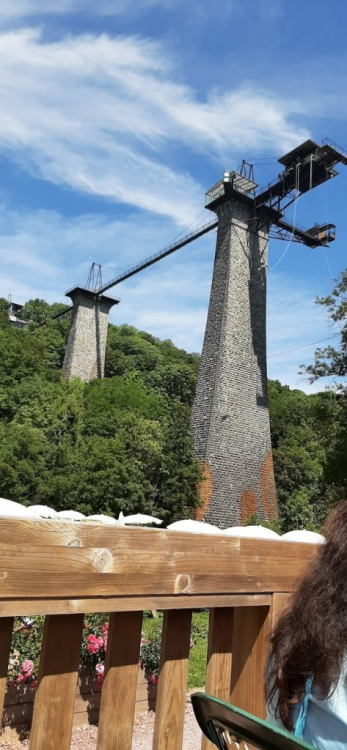 We left and headed to the commune of Deauville by the sea, which was only 15 or so minutes away from our hotel. It's a seaside place, but our only reason for going there was to play some mini golf, which seemed to be the only one anywhere vaguely nearby. It was a very open circuit, but had some decent courses.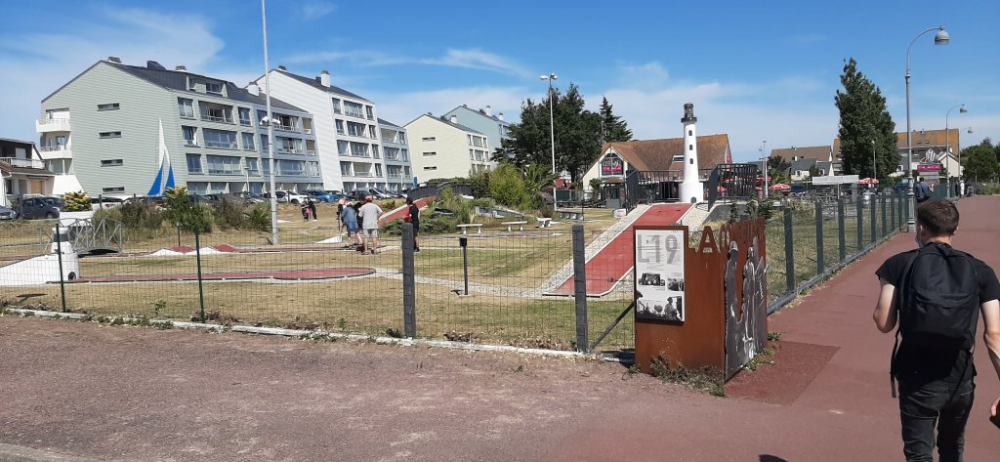 And that concludes Day 2. We eventually got back to our hotel at about 7 (how we dragged out an entire from Festyland, an alpine cred and mini golf I'm still not quiet sure..), before food and sleep.
Day 3 to come in a new blog entry very soon, featuring the somewhat controversial Parc Saint Paul, and an unplanned park (or rather, an unplanned garden)...