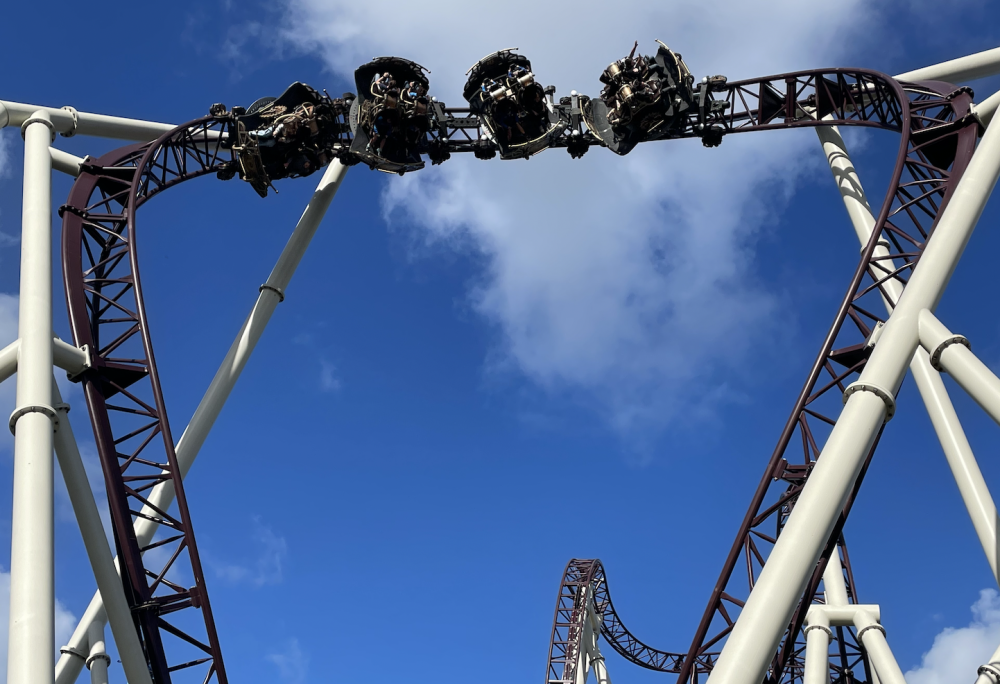 My 100% favourite thing about rollercoasters is that sometimes, just on that odd occasion, something will completely take your breathe away. Something will remind you that your hobby is the best in the world. This trip was a little out of the blue. Initially, we were supposed to go to Towers but once we learned that the Saturday was fully booked and Sunday was supposed to see a high amount of travellers, we took the quick decision to book a ferry to Dunkirk. Plopsaland is a quick drive across the French/Belgium border. There's lots of loveliness to Plopsaland, I was a particular fan of the dinosaur themed log flume and Heidi the mini GCI wooden coaster. But frankly, there was only one ride that bought me here. 
The Ride to Happiness is one of those odd rides that does stick out like a sore thumb. I read the dedicated thread that said this ride does dramatically change the dynamics of this cute little family theme park. Whilst that is true, I actually think that its a good thing that there is something like RtH at the park as it definitely has something special about it. The queue line is a simple affair, two dedicated rooms with little theming areas and a little area under the break run that was never used. On our visit, the queues were minimal with about a 5 minute wait for the ride. Which was perfect to get a real proper feel for the ride.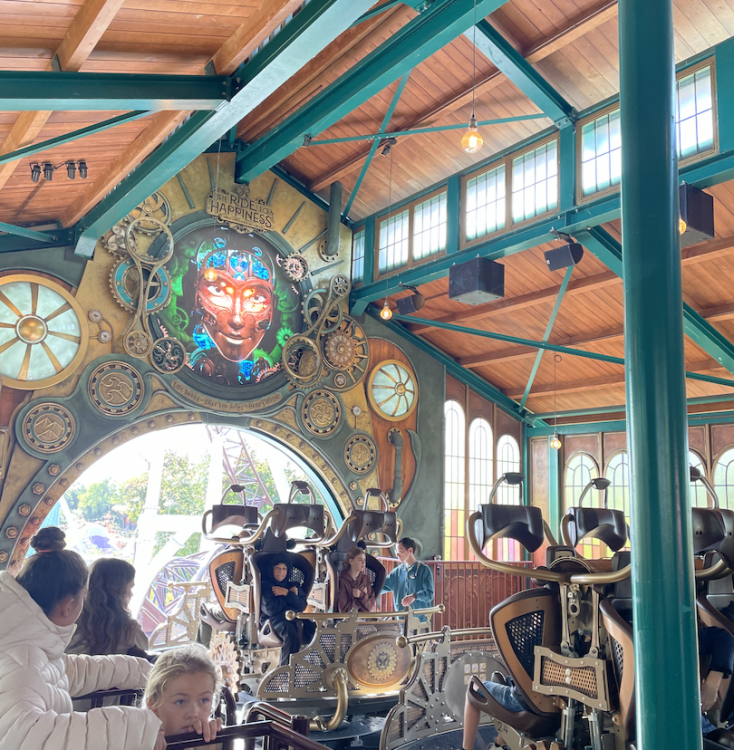 The station is nice and open and it becomes very clear quickly that this is a ride where it doesn't really matter where in the train you ride, the experience is similar. With that being said, the air time on the back carriage is probably the greatest. Like many of Mack's newer rollercoasters, the restraints are near perfect. Not too tight but enough to feel secure. The trains are exactly the same design choice as Time Traveller. With everyone seated and checked, the train is dispatched and your first inversion is a jo-jo roll. It's hard to describe because the sensation of being upside down whilst spinning is so peculiar and unique. It sets up the ride perfectly, this is no normal rollercoaster. Unlike most Mack launches which are normally pretty tame, this feels pretty forceful because of the spinning element and as a bonus, the train is forced to spin near the end of the launch track and it is fantastic. The train travels upwards into a top hate kind of element, the track is slightly banked which encourages the spin to continue and then you just fall. Oh the drop on this is sublime. It catches your breathe quite unlike any other rollercoaster. On a couple of rides, we were on the back carriage and it was in the right position to go down this track backwards and let me tell you, the ejector was exquisite. Absolutely superb. The ultimate adrenaline hit. I adored it and it became one of the many highlights in a ride full of them. 
The train traverses the banana roll which admittedly, was not my favourite part of the ride but the thing is, it was always excellent. With every ride just being that little bit different it always felt fresh and exciting. The vertical loop quickly following this was funky. I enjoyed doing it sideways or with a slight spin. The zero g is also excellent encouraging the train to spin just that little bit more each time. Just fantastic.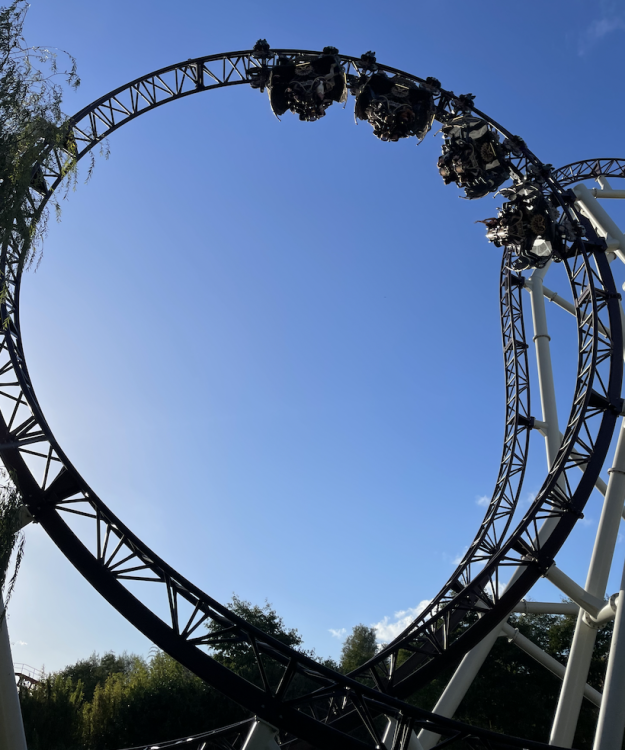 Up next is the bunny hop second launch area which just gives the train that extra kick to get into the signature element which surrounds the entrance to the rides queue line. Just wow. Sometimes it was easy to see where the train was going, sometimes the carriage was spinning so much it was hard to tell just exactly where you were. Just completely disorientated. The train drops down over the area, around a lake and finishing off with two ejector filled bunny hops. Packed to the brim with air time you hit the break run happy. And thats really the key to this ride. It reminds me of the first time riding Taron, hitting the final breaks and just smiling. It was wonderful, it was a shock to the system, it makes you want to run round to do it all over again. And that, was what a lot of people were doing that day. There was a lot of us going round and round on this thing to experience it as much as possible. With each ride being so unique and different it was fantastic to just experience it.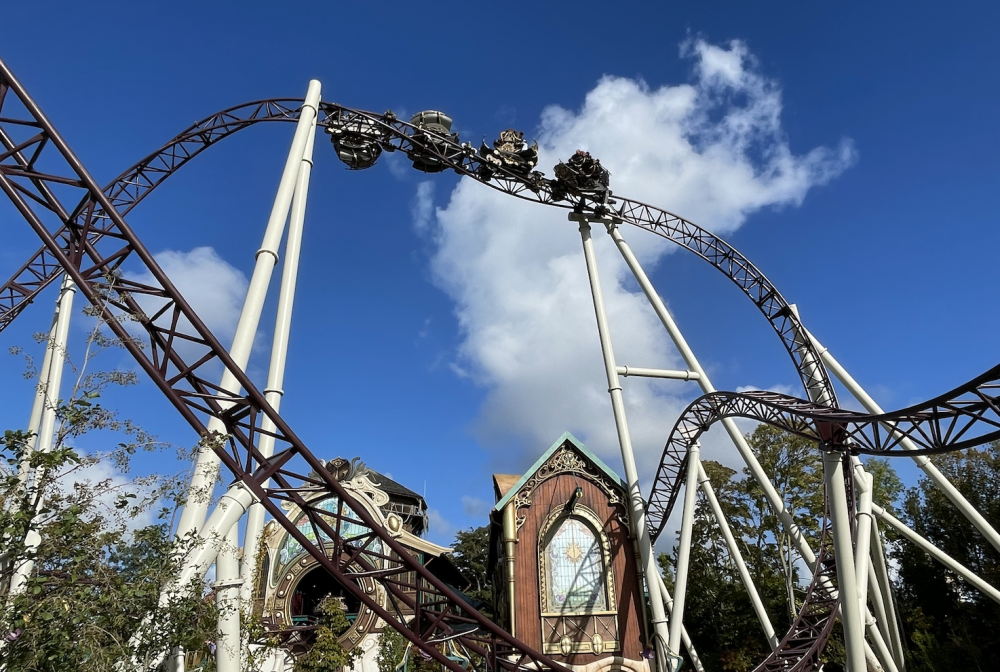 I've never known a ride like it. It was just something special, something completely unique and enjoyable. Huge smiles that I could not hide after each ride. Just hitting that break run, wanting to run around and experience it again. Sheer joy. I'm so grateful for what Blue Fire did for the Mack company back in 2009 because we are now really seeing the fruits of their labour. And what I love about it is that whilst it is forceful and a fast experience, it never feels overwhelming. Whilst spinning around on it, you can see the joy from all your fellow riders faces. We met a person who had been on it over 1900 times and still isn't bored. I've got this far and haven't even talked about the fantastic soundtrack which fits the ride to perfection. Themed around a music festival in Belgium, this could have easily failed but it works perfectly with the rides pacing. Gives me chills.
Ride to Happiness isn't just a wonderful ride, it is in my opinion, the finest ride in Europe.