East Coast USA: Park 2 - Busch Gardens Williamsburg
---
The threat of thunderstorms dominated day two. Cloudy skies and the threat of torrential rain was testing me as we made our way to the Old country. This is a park that is always looked at fondly for its stunning looks. I've never been the biggest fan of Busch Tampa, it just makes me feel hot even thinking about it. but Williamsburg is very different. Its European influences bring a different charm to other American parks and its cozy entrance makes you feel comfortable. The threat of rain meant we just wanted to hit the big rides quickly before anything shut down from the weather. We headed straight to Apollos Chariot, the first B&M hyper coaster. They have got better, let's put it that way. I think for 1999 this was probably an impressive ride but hyper coasters have come a long way. This was weak and I'd say my least favourite rollercoaster at Busch. I didn't even expect Pantheon to open to be honest. I'd heard that it rarely opens on poor weather days so when I saw it running with people on, I was straight on. It was also walk on.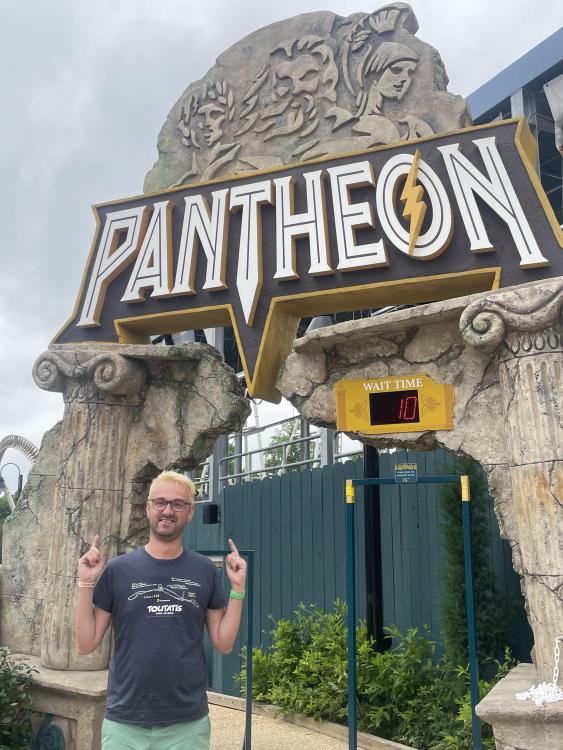 There's quite obvious comparisons with Toutatis which is an absolutely sublime ride and whilst the highs on Pantheon aren't as good, there's something to be sad for Pantheon. it's a really good rides. It's nowhere near as aggressive as Toutatis, but thats fine. Pantheon hits you with much more sustained air time moments such as the banked curve which is as graceful as it fun. The top hat is also untrimmed so you get the full force of the air time compared to its French cousin which deliberately slows you down. It hits the breaks at the end pretty hard which makes me think it could have done more. A really great ride and I just adore the spikes on these rides. They are so. good.
Next was Verbolten (RIP Big Bad Wolf). I'm going to pin myself here and say I reckon Verbolten is the better ride. It's just so much fun, full of force and really good moments. The sudden drop isn't as seamless as Thirteen but these drops are so punchy and such great moments that I'll forgive it. The iconic drop isn't as great as the rest of the ride funnily enough, Big Bad Wolf wins here. Really enjoyed this ride, at this point I was starting to believe that BGW might have one of the finest ride line ups out there.
Next was Alpengeist, one of those rides that is pretty well known for its stunning first drop and not a lot else. I was hyped for Alpengeist I can safely say that it delivered in every aspect. The lift and first hill are absolutely humungous but thats not all. I love how the lift hill slows down towards the top, a trim right on the pre drop even tries to shave some speed from the train but it's not enough. The speed and sheer force as you drop down the valley is one of my favourite drops ever. It's just incredible.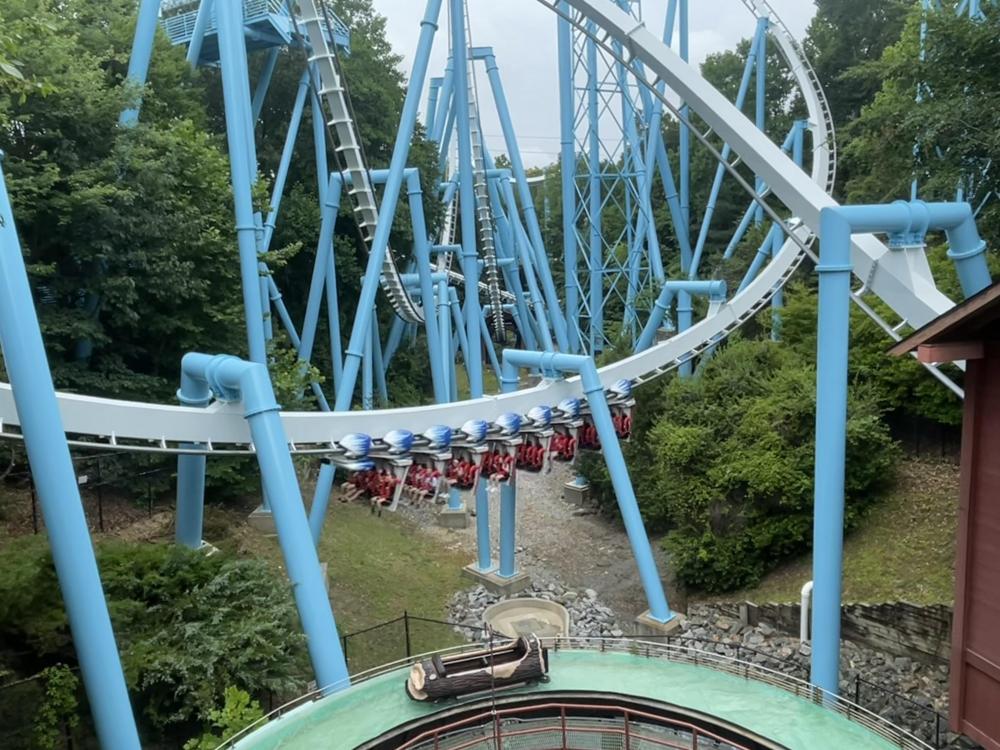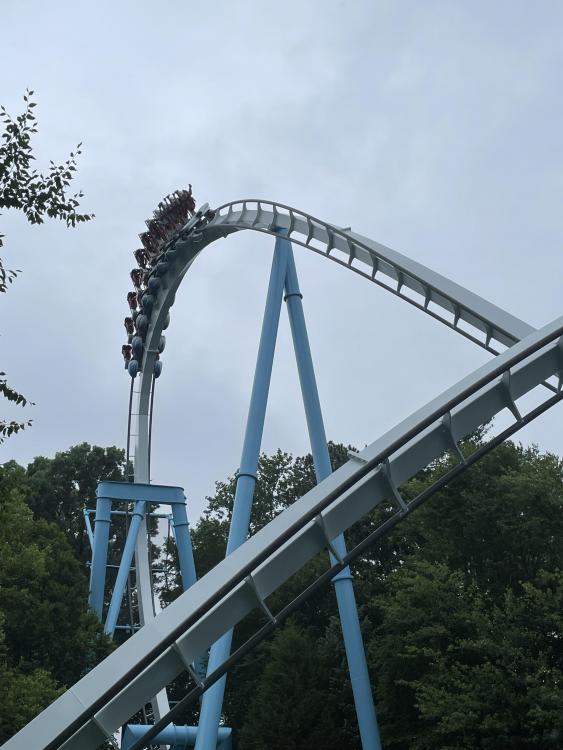 You rise into an Immelmann before diving down into a vertical loop. These are so forceful, not much more to add. You speed down into a cobra roll which just feels massive and its properly intense as well as you jerk through the snake head. The ride then takes a breather as it comes out of the valley and to a mid course. this shaves a lot of speed out of the train which is a shame but I think after the insanity of the previous parts of the ride, this might be a sigh of relief. A mid tier zero g followed by a really good corkscrew finish off the ride. This was, I'd say, my favourite ride of the trip and is definitely a top ten contender. In coaster circles we talk about how Nemesis and Black Mamba use the ground whilst American rides don't really. Alpengeist is like the best of both worlds as its uses the landscape to create this incredible rollercoaster.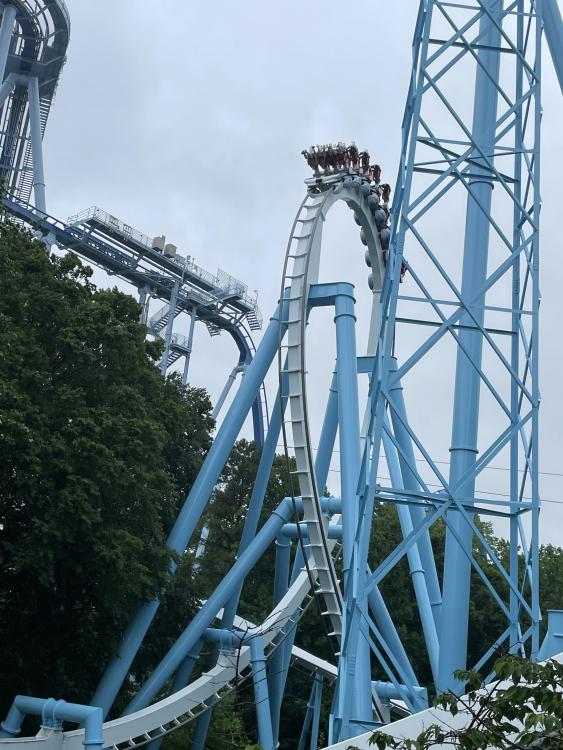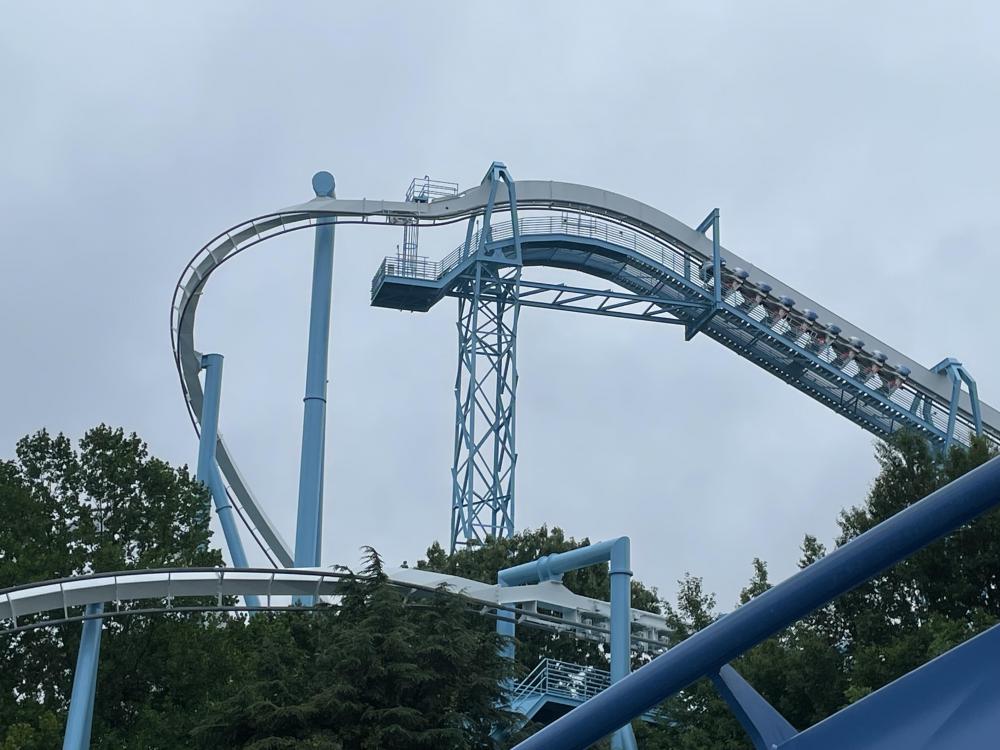 By this point I was full of energy. The last three rollercoasters had been superb and the next was a GCI woody. This reminded me of the Wicker Man except it had zero story or theming, no centrepiece. It was just a french themed wooden rollercoaster on a hill. It also ended up being my 400th rollercoaster credit. It was a fine enough ride but not my favourite GCI.
We next ended up at Griffin. I love this ride. It's just stupidly big. I know Valravn is bigger but lord, Griffin just has that fear factor.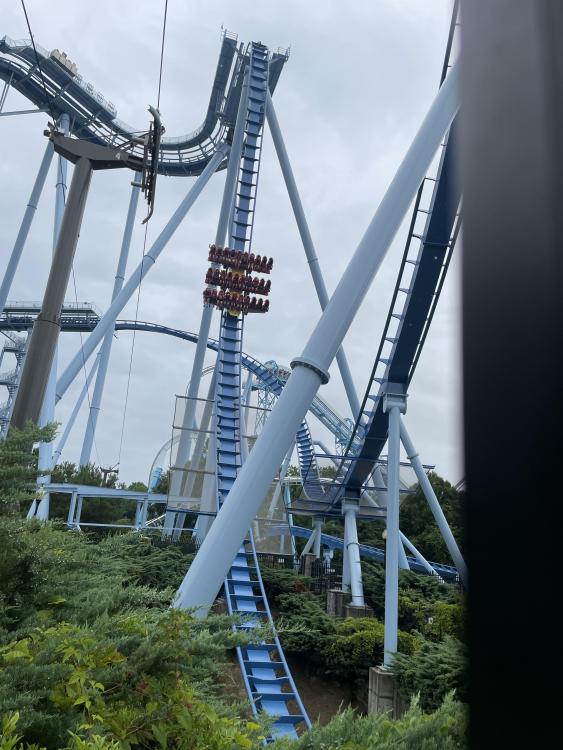 I think this ride is excellent. Like Sheikra, I think it gets slightly overlooked as just a one hit wonder but I think these rides hit like no other, especially with the older style restraint system. This has such a hit of air time, my favourite weirdly being the jump into the water pool.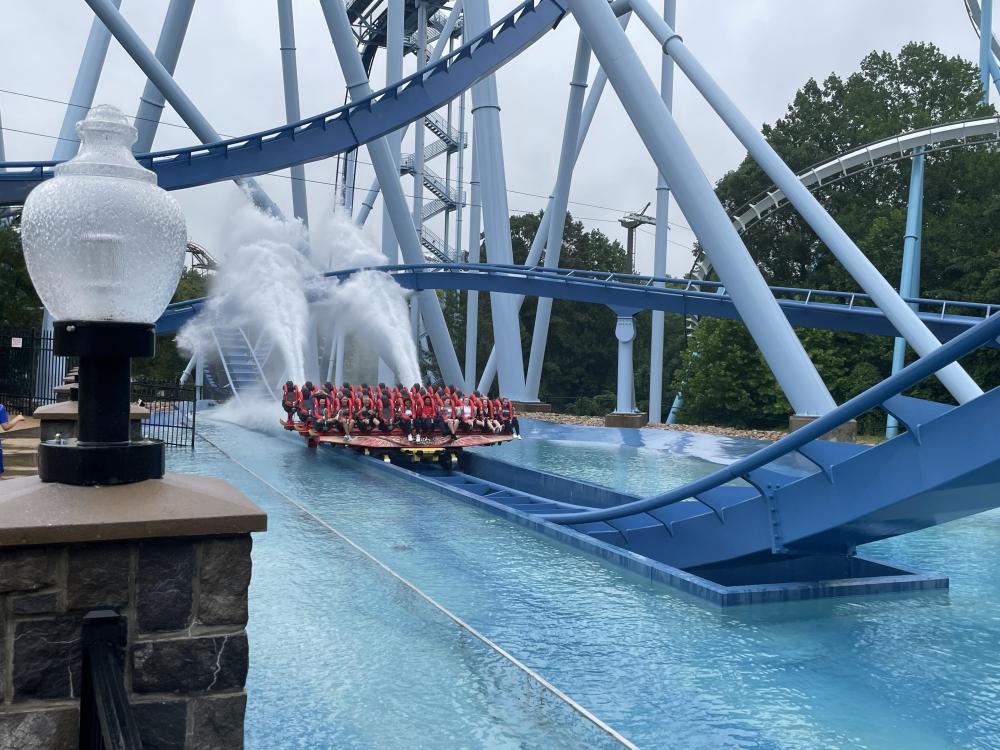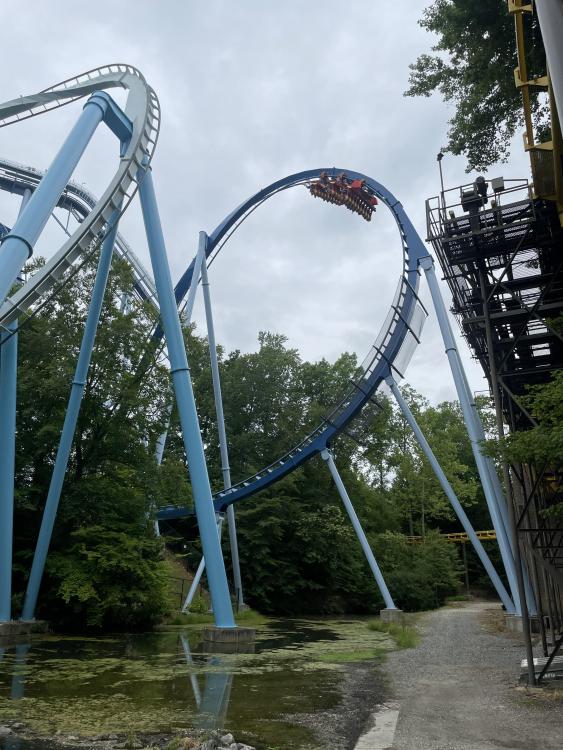 By this point, I was really into this park. It has a really gorgeous look to it and the rides are top notch. We took a little walk to find Loch Ness Monster and ended up at the very bottom of the valley. I was blown away by this area with three of the most iconic parts of their big rides, all next to each other.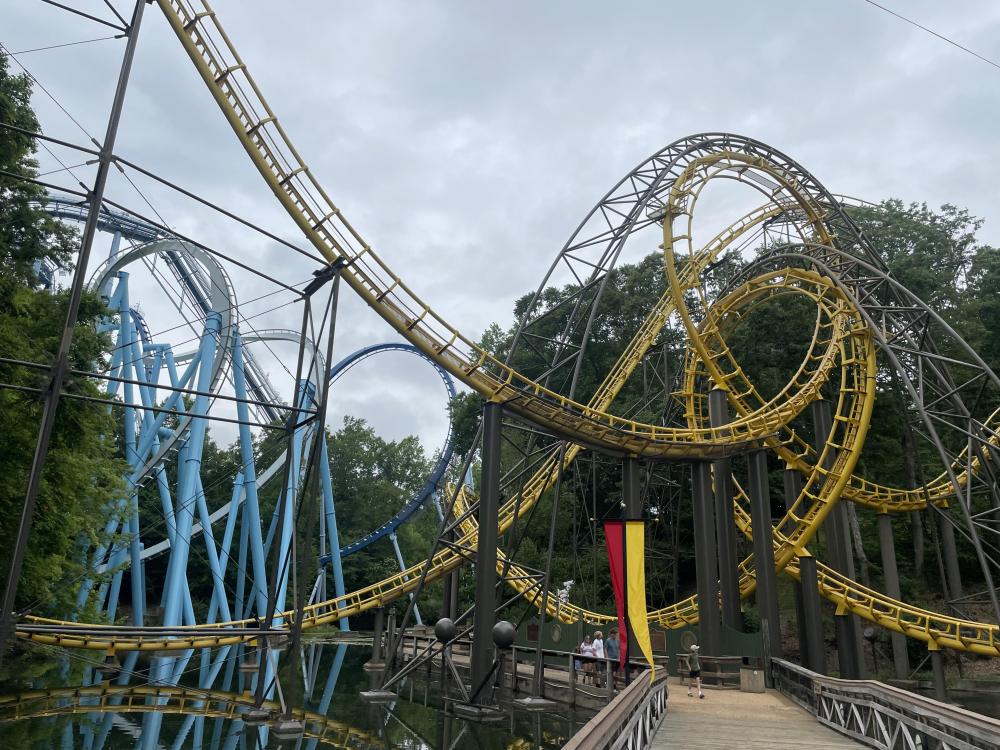 Once we ended up on the other side, we got into Loch Ness. This did hurt a lot more then your average Arrow but its such an historic ride, it deserves its place. The helix in the dark was my favourite part of the ride.
With all the major rollercoasters completed we took some time to enjoy this park. Whether it was the food which was excellent, the 50 cent beer or the fantastic rides, this park was a real highlight. On day two, the rain did not hold off and as a result both Apollos Chariot and Pantheon was closed all day. Everything else though, completely walk on with what felt like less than 1000 people on site. The park ultimately closed at 4PM (it was originally 9PM when we first booked) so clearly the weather kept people away. But nonetheless we had a great second day and would recommend this park to anyone. It's world class.