East Coast USA - Park 4 Hershey Park
---
Hershey Park was the one I most worried about. They have a notoriously strict weather policy and wirth predicted thunder storms all day for both days of our visit I was extremely concerned. Storm Runner, Skyrush and Candymonium do not operate in the rain, all the other big rides close in heavy rain. We arrived with giant black clouds hovering over the entrance but Canydmonium was running for extra ride time. Our goal was to hit as many rides before the heavens opened and I had purchased fastrack as I was most worried about Hershey being the busiest, this being the weekend. 10AM, park opens, here comes the rain. We dash to Candymonium and dun dun dun, rides closed due to rain. All that time running half empty and then the moment the rest of us get in, closed. My heart sunk.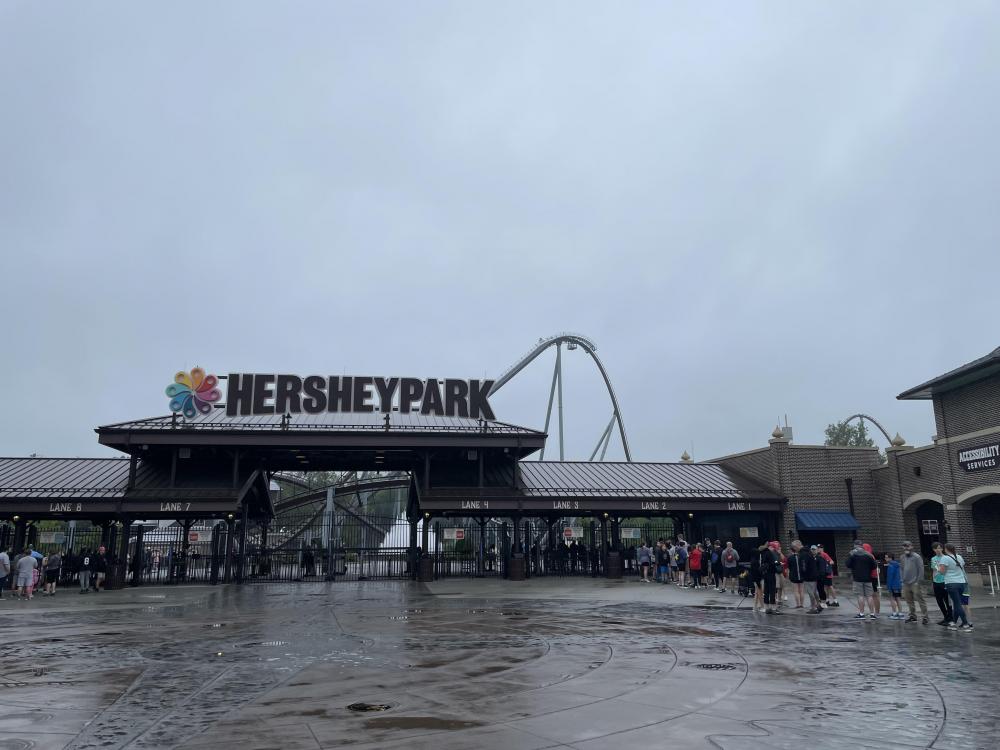 We made a swift dash to any ride that we could see with guests on and thankfully Great Bear was open. This 1998 B&M inverter, this being the second of the trip had big competition what with Alpengeist a few days earlier, its vintage is a classic, older B&M and relatively well reviewed. The operations are absolutely dire. This ride easily had the worst operations in the park with 3-5 minutes of stacking on every train. We opted for the back row and watching them, it's just not good. B&Ms are designed to be easy to run but some of these parks just don't run them like they should. 
Great Bear was alright. There are moments where it feels like the train just wants to get going but the layout just gets in the row. For example the drop off the lift hill where you helix over the midway. It's really cool actually, quite forceful but to get us to the rest of the layout, it has to rise and unfortunately loses quite a lot of speed. You drop into a vertical loop, an Immelmann and a zero g roll. These are all great in their own right but.. I dunno a bit generic of a layout. Then as the train repositions itself over the river, the train roars into life speeding through a straight piece of track (it is so weird) and into a really forceful corkscrew. Then the train meanders past Superdooperlooper to get back to the station. This ride feels like a generic inverter meets auto complete. And thats the theme for a few rides at Hershey.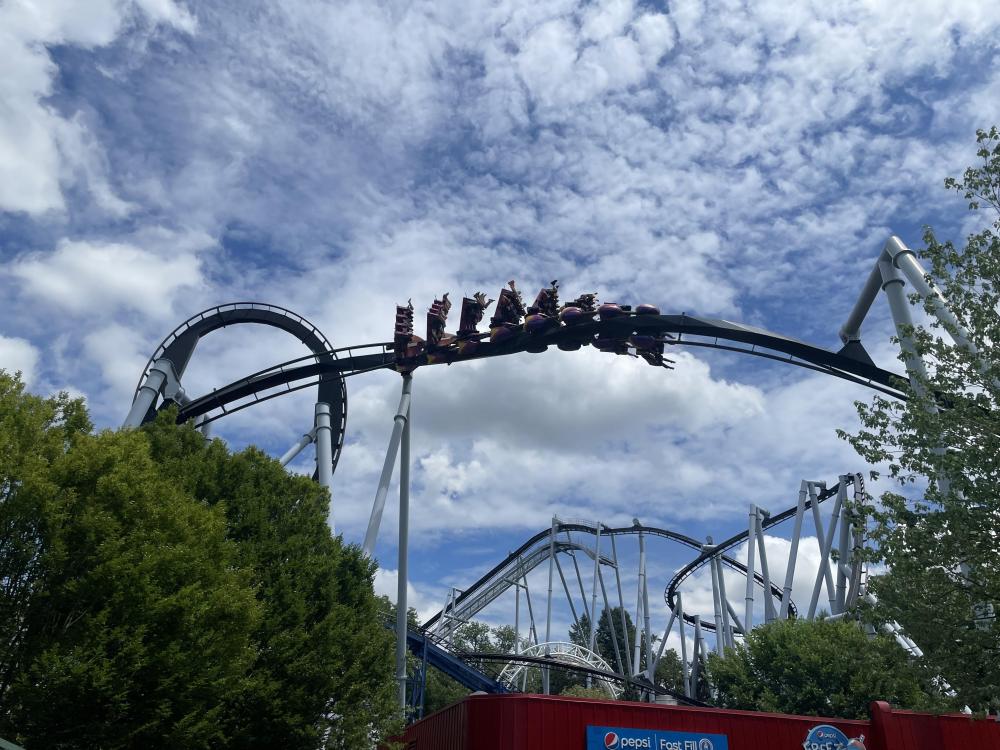 We got on the last ride for a while. Every outside rollercoaster was now closed and... I kind of got a bit depressed. It's very hard to get out to a park that you've' heard so much about, built expectations, planned for years to visit and then you arrive and you're defeated by the weather. We waited around in the rain, hoping for some let up in the weather. It came after about half an hour where we saw Trailblazer testing. This arrow mine train was pretty bad, it felt like it was built because it was the in thing in the 80's but without any concept for how to make it interesting. The rain was still pretty heavy but we managed to get over to Jolly Rancher remix, Chris really didn't like this a it hurt his head. I like the colour and music but it's a generic Vekoma boomerang so it's not going to trouble any top tens. We rode their nebula in the rain, in which their terrible operations meant we got drenched. We then went skipped a 15 minute wait for Fahrenheit , a surprisingly good Intamin looper. The only Intamin to feature a vertical lift in this style, this is a well paced, comfortable, intense ride with some of the best air time in the park. Our first ride in the pouring rain meant we were pounded with water and couldn't see a thing. But we know we enjoyed it.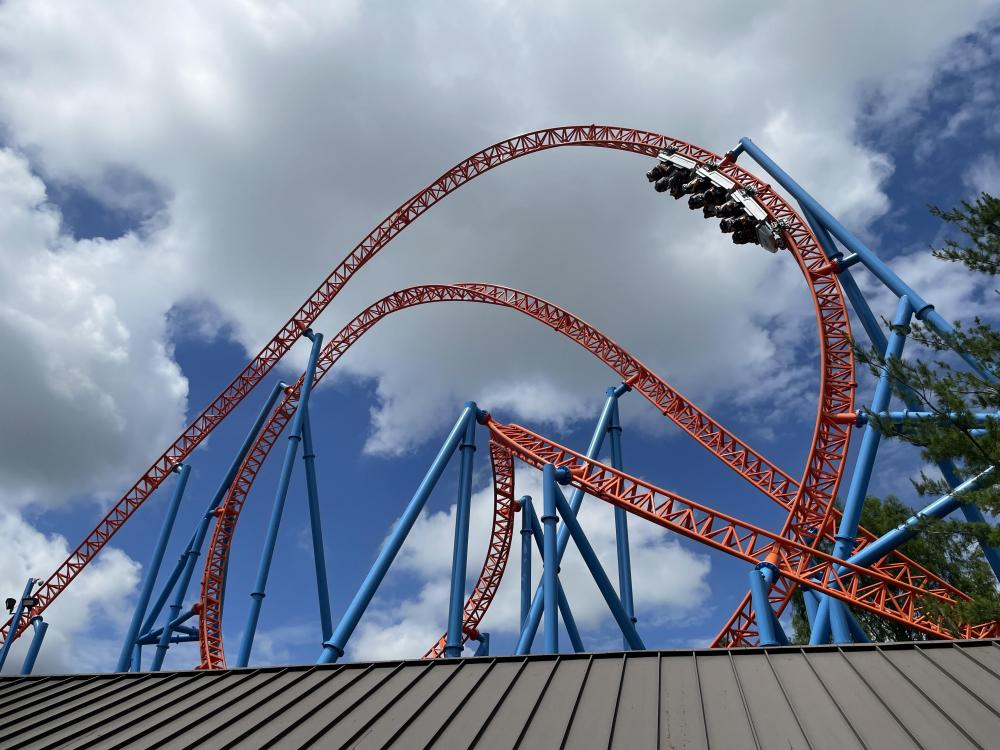 Monorail was ridden which was a nice little break from the park and from this we could see that the Boardwalk area of the park was all open. After initially struggling to find it, we eventually got down there for a ride on Wildcats Revenge. This is an outstanding RMC and I echo some of the thoughts out there that this and Aeriforce One in Atlanta are the very limits of what we can take in air time. Wildcat hurts. It is a violent, intense and vicious ride that rag dolls you across its layout and never lets up. No moment is wasted, not a single seat delivers a mediocre ride. I was incredibly impressed and this rates as my second favourite RMC after Steel Vengeance. It had great operations, a sublime layout with pace and some wild air time. I loved it. We then took a little walk to the mid way and had a go on Superdooperlooper which was on one train. This was average and also has the auto complete option on. Waste of a layout. Comet is a great old style woodie and highly recommended. Also one of the most consistently busy rides.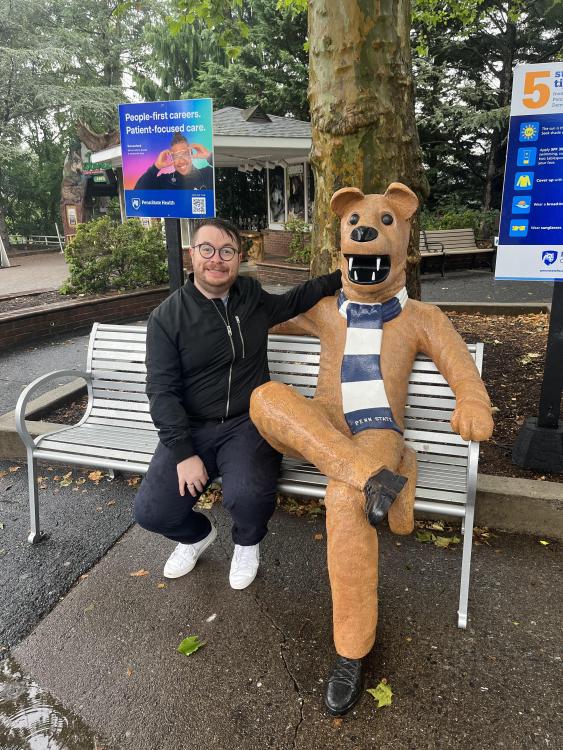 Skyrush. Is a moment. It is vile. I don't mind out of control feeling rides, heck Wildcat is exactly that kind of ride. But Skyrush is nasty. It has this horrible feeling, like you're riding a horse and it's just trying to throw you off into the bushes. On a side seat is is rough and that feeling off being thrown to your death is amplified. Was also slightly concerning when you sit in the break run and your seat releases slightly. Not a fan. To make up for this ride, it was off to Candymonium which was walk on so we had three goes round. I think Candymonium is excellent. The evolution from Apollos Chariot to this ride shows how much better the B&M hyper has become and Candy is full of air time and nice little moments. Chris's description was 'they built Candymonium to apologise for Skyrush.' Rather apt I think.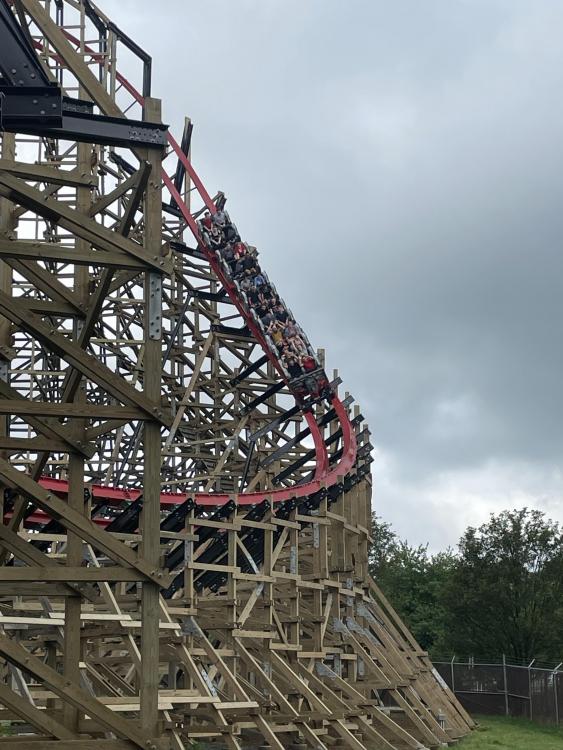 The final ride before the rain returned was Storm Runner, the 2004 intamin accelerator. I was slightly disappointed to be honest. I've been spoilt by Stealth which has an excellent and faster launch. Storm Runners lacked the punch that even Rita has. The layout is okay on paper but it felt rather lifeless to me. I like the colours of the ride more than the ride itself. With the rain back we opted for a few more rides on Wildcat and then riding Lightening Racer, both sides. I liked both sides of the GCI even if Thunder is the side that always wins no matter what. Now, Laff Trek. What am embarrassment. Hershey should do this ride a favour and shut it now and put it out of its misery. Absolutely atrocious. Poorly run in every respect. Maurer spinners are not good enough for any park like this and this needs to be wiped off the map.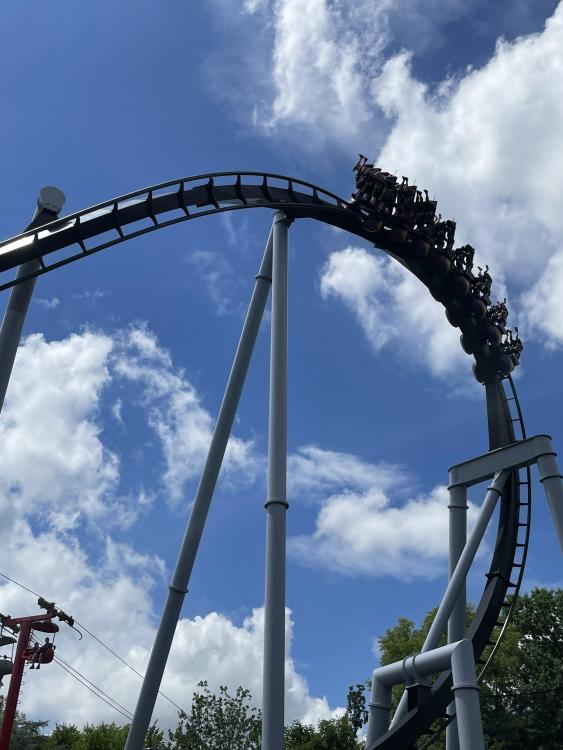 We did a second day here and topped up our ride counts, particularly on Storm Runner and Candymonium. I think the prospect of the rain had put a lot of people off visiting, it being a Saturday in the holiday season, queues were perfectly reasonable with walk on Skyrush and ten minute Candy waits. We both agreed that Hershey Park is a great park but Chris felt that it had an okay ride selection but nothing they have is the outstanding ride, the top tier attraction. And I sort of agree. The boardwalk type of park is one that doesn't appeal much to me, the Blackpool, ride on top of the other has never been a firm favourite. But I can see why this park would have such a following. Weather aside.. Yeah. This review feels rather mixed but the key is on those days, two weeks ago, this is what the park delivered.