Toverland Review - October 2018
---
The second day of the Pleasure Beach Experience European park trip took place at Toverland, where we had a full day at the park followed by 30 minutes ERT on Fenix, and then a behind the scenes tour of the ride.
Toverland is a lovely theme park located in the Netherlands with lots of nice theming/landscaping, an indoor area of the park and some really unique attractions mixed with a few exceptional coasters.  The park has lots of extra features such as the fountain show, assault courses and it's clear that they put a lot of effort into the quality of the overall park.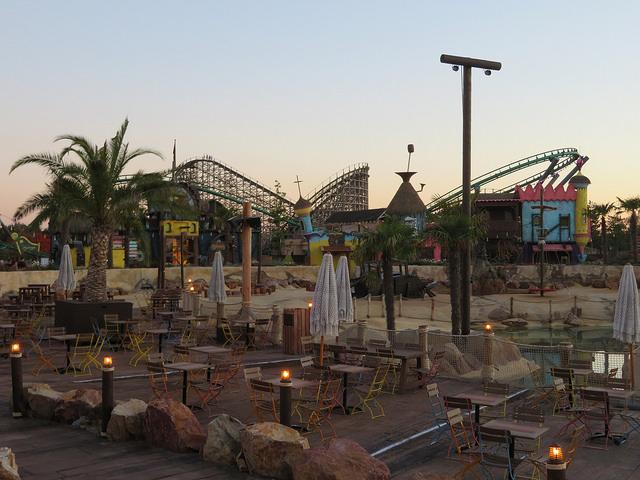 The park was quiet during our visit meaning that one train operations was all that was needed – in addition, the queueing areas are all incredibly well presented meaning you never felt like you were waiting around for too long.
Ridecount:
Fenix x11 (9 on ERT)
Troy x8
Dwerlvelwind x2
Booster Bike x2
Djengu River x2
Expedition Zork (log flume) x1
Maximus' Blitz Bahn x1
Toos-Express x1
Merlin's Quest x1
Villa Fiasko x1
TOTAL: 30
Onto the rides!
Fenix
Approaching the ride's area, the landscaping is beautifully done with lakes, fountain features and low fences meaning fantastic views of the ride are possible.  As you approach, smaller features (such as a stream running down the path?!) become noticeable, and the effort that has gone into the area becomes evident.  This place is stunning!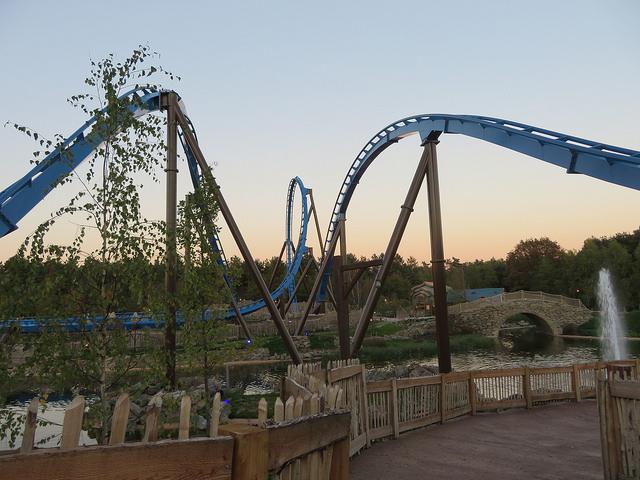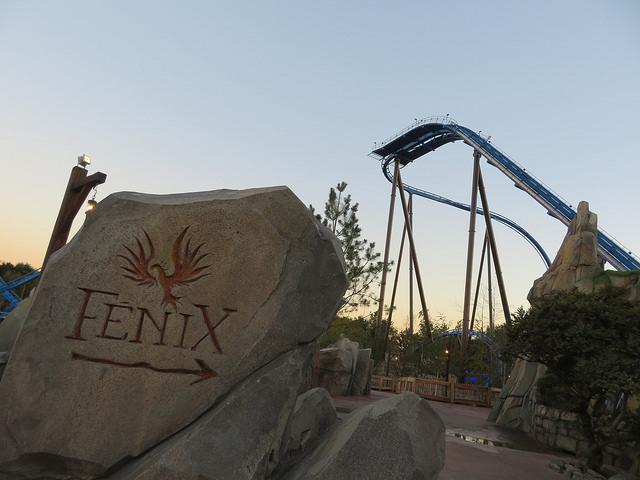 Entering the queue-line you find yourself navigating dimly lit passageways with spiral staircases, tunnels and terrifyingly steep stairs into and out of the station.  There are a few areas once the ride starts that feel incomplete, but I believe the park are planning to add to this over the winter.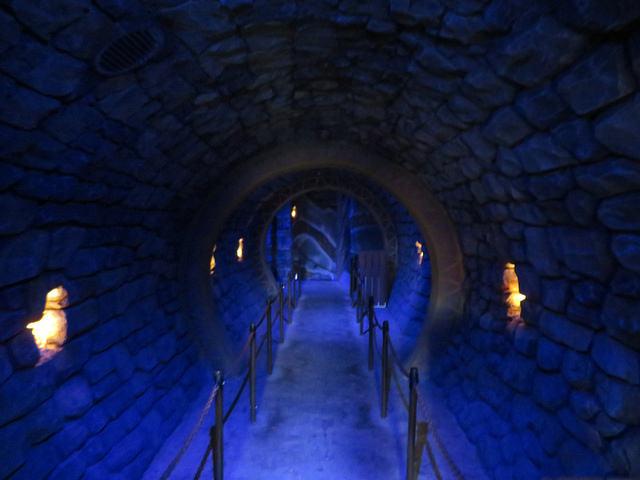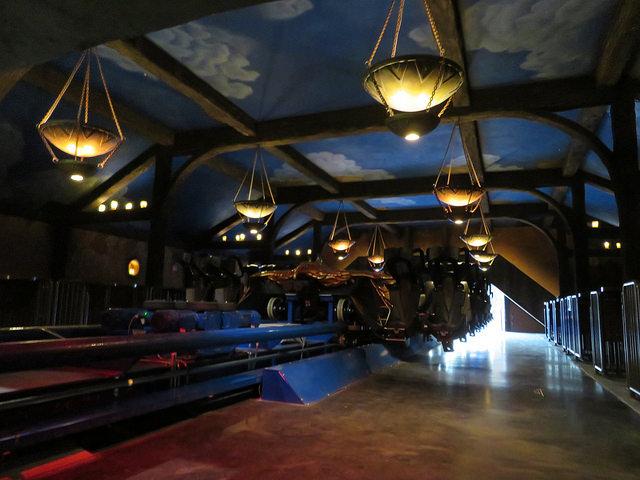 Passing through a mist effect you begin ascending the lift-hill, before taking a turn and entering the first drop.  This felt a lot more forceful than Swarm's, with there being much more of a "pull-over" at the back despite the shorter trains.  You then enter an excellent airtime hill, diving through a near miss before going up, over and into an incredibly forceful helix.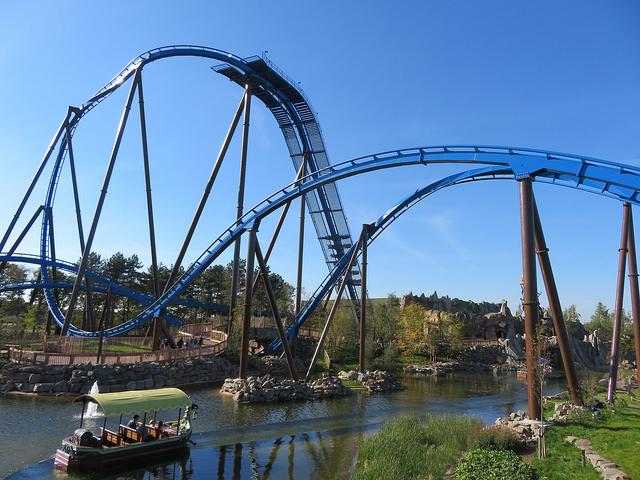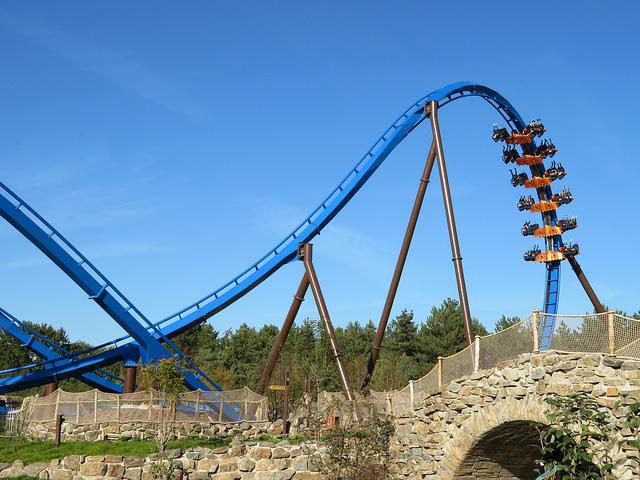 Out of the helix you enter a zero-g-roll taken at a ridiculously fast pace, and then dive into the last few turns.
Fenix is an incredible coaster, and (IMO) infinitely better than The Swarm.  Where Swarm takes elements slowly and crawls over the top of inversions, Fenix throws you into them at a much faster pace whilst still retaining the smooth nature of a B&M.  This, combined with the incredible landscaping makes Fenix a truly fantastic coaster.  My only criticism would be that it's fairly short, but even then, it packs a punch so you don't feel short-changed.
Troy
Oh.  My.  Word.
As someone who holds wooden coasters in very high regard, I was excited to ride Troy but also conscious that I didn't want to overhype it.  Similar to most rides at Toverland it's very well presented, with the queue-line and surrounding area offering stunning views of the ride's imposing structure.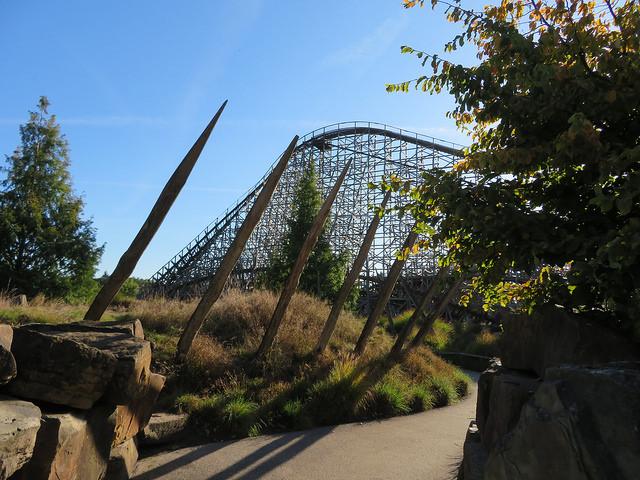 Navigating the first corner and lift-hill, views of the ride's obscene layout come into view, but before you realise you've reached the first drop.
Plummeting down the twisting first drop is incredible, and what follows is an extremely fast banked turn, then two minutes of pure joy.  I won't even try and go through the layout because it's taken at such a pace that it makes it impossible, but you're thrown side-to-side, out of your seat on occasion (though airtime isn't really the focus of the ride) and the station fly-through is awesome.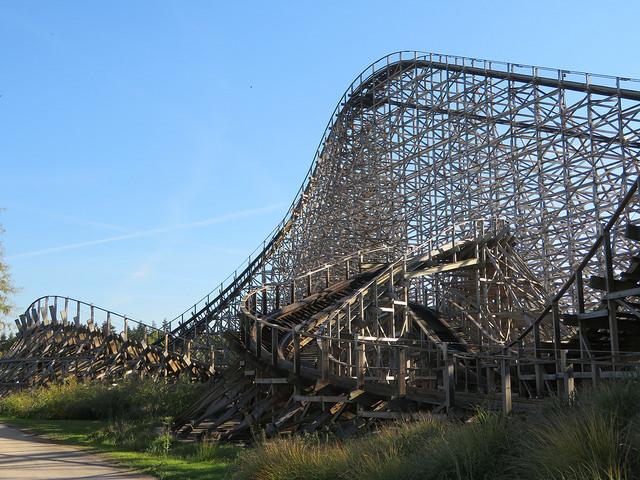 The ride is just utterly relentless from start to finish, yet still manages to retain a sense of comfort whilst throwing you around and really bringing a new meaning to the "out of control" sensation associated with wooden coasters.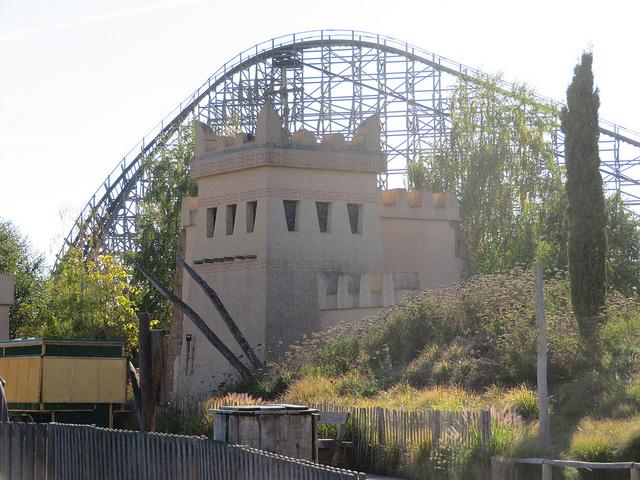 I think it's become my new favourite coaster.          
Dwerlvelwind
A really fun family spinning coaster with some surprising force in places, and the onboard audio is fantastic.  With it being compact I'd say one of these would be perfect for a UK park with limited space, and of course with it being Toverland it was fantastically decorated both inside the station and around the ride's area.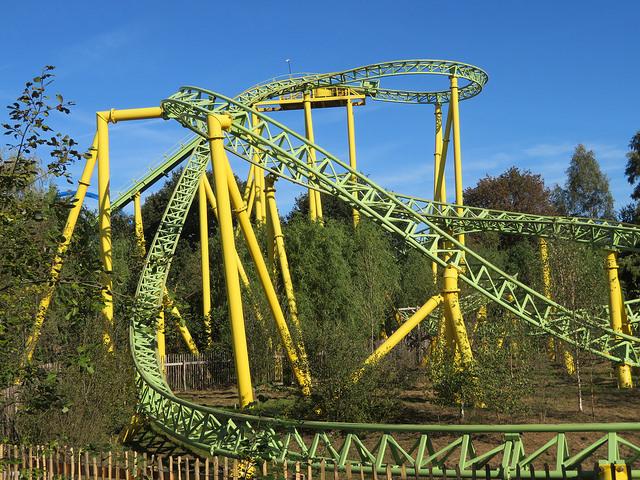 Booster Bike
A fun coaster, the launch is more forceful than I was expecting and the turns/hills at the end are good fun; also, the unique seating position adds to it.  Probably not quite as good as Velocity, but still good.
Merlin's Quest was a little bit of a disappointment as it was taken far too slowly, and felt like an ordeal waiting to get back into the station.  With that said, the indoor section is excellently themed though I didn't appreciate the bugs on the outdoor section!
Maximus' Blitz Bahn is a unique ride, and a lot of fun.
The rapids were a bit terrifying in a full boat, and the log flume was good (though very weird!)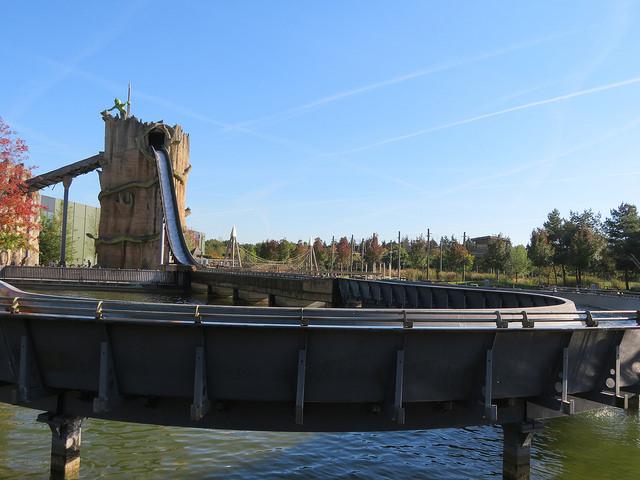 During the behind the scenes tour of Fenix we were treated to a walk along the brake run, as well as a look into the ride's control panel, a walk round the first turn after the station and a long look into and walk round the maintenance shed (it's huge!) with the second train in storage – we were only allowed to take pictures on the brake run and in the station.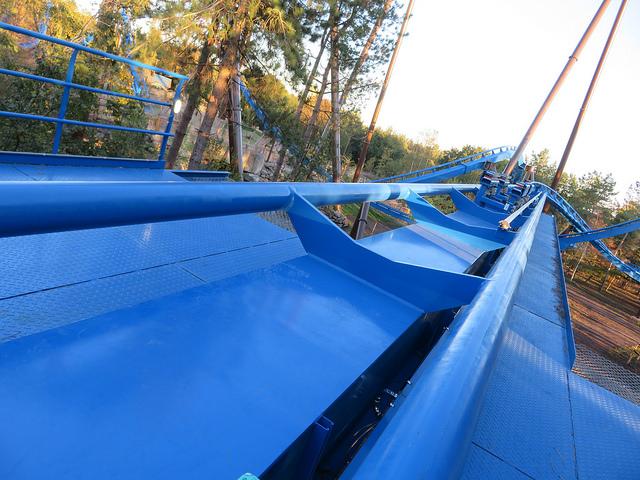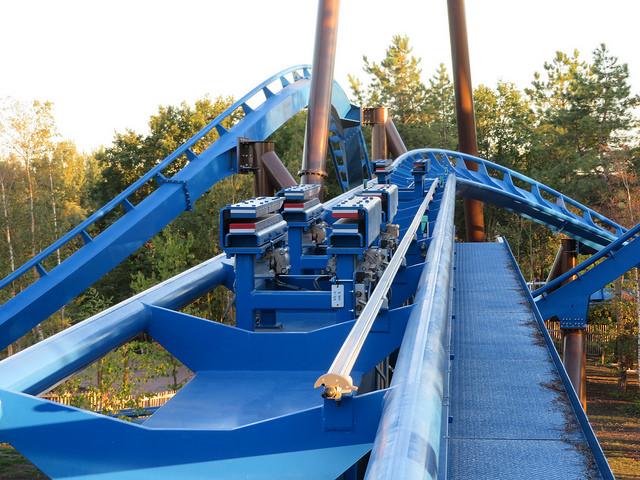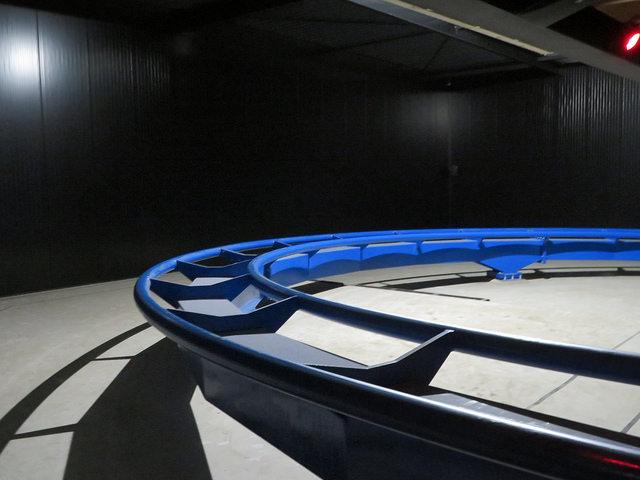 Overall, I thoroughly enjoyed Toverland; it's a lovely family owned park and they clearly put a lot of pride into everything they do.  With investments such as Fenix I think it's definitely one to watch.  A few more photos below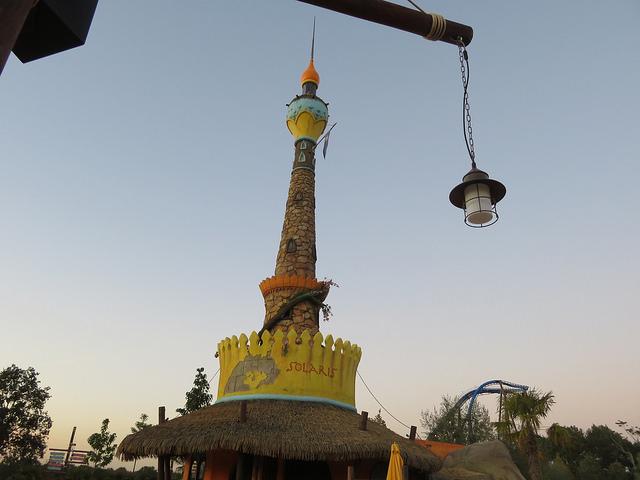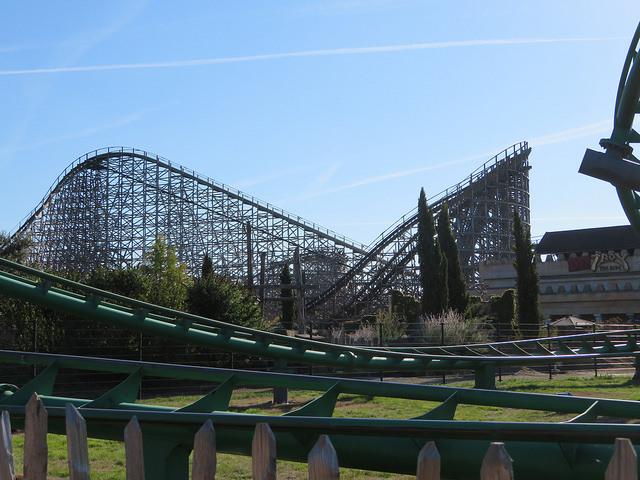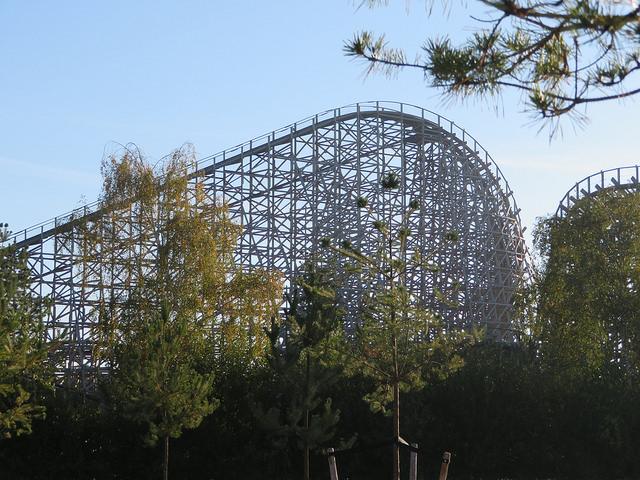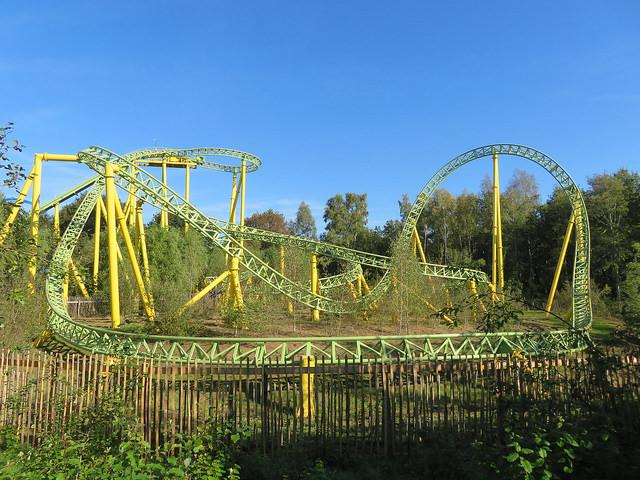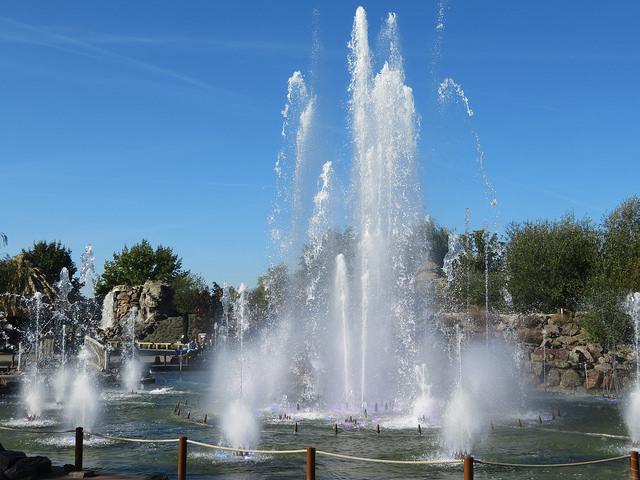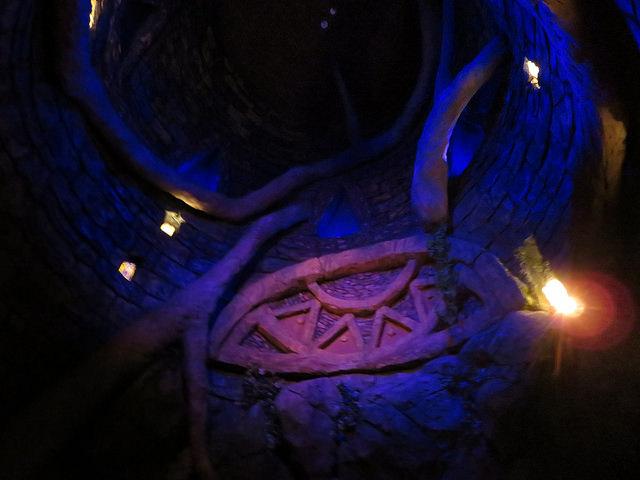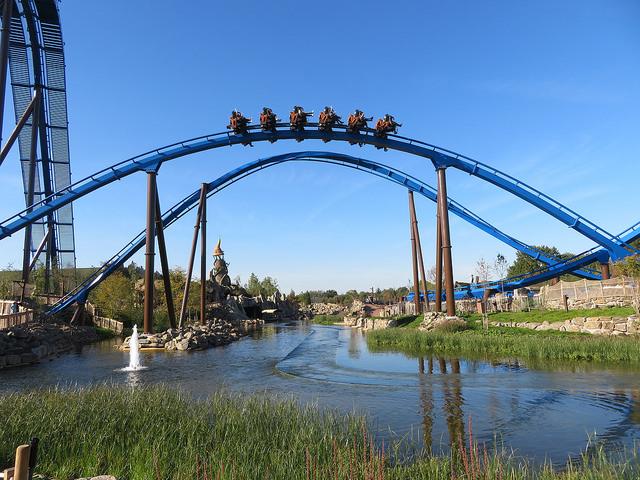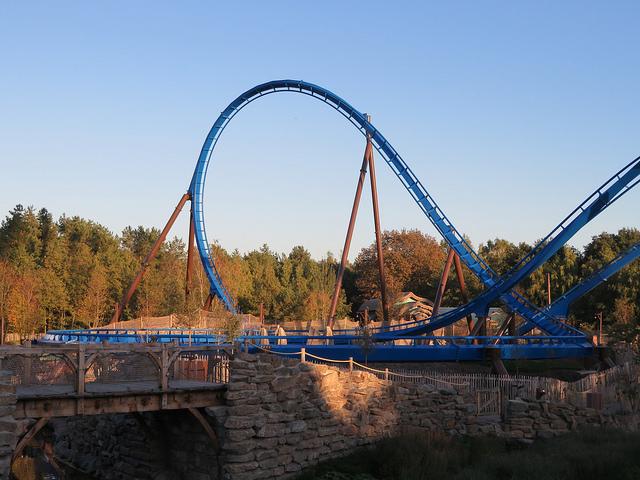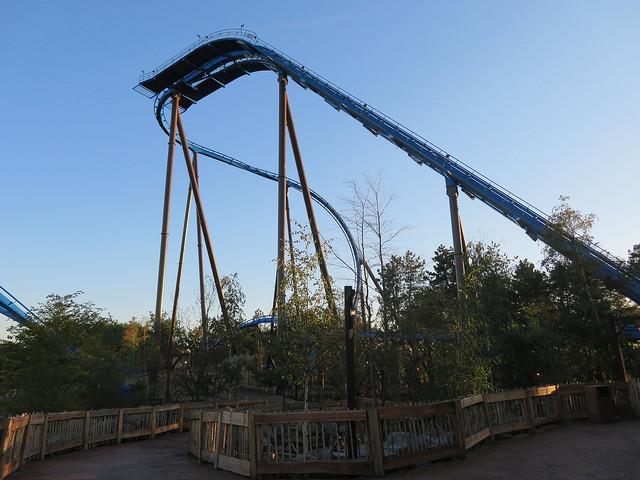 Spot anything strange about this picture?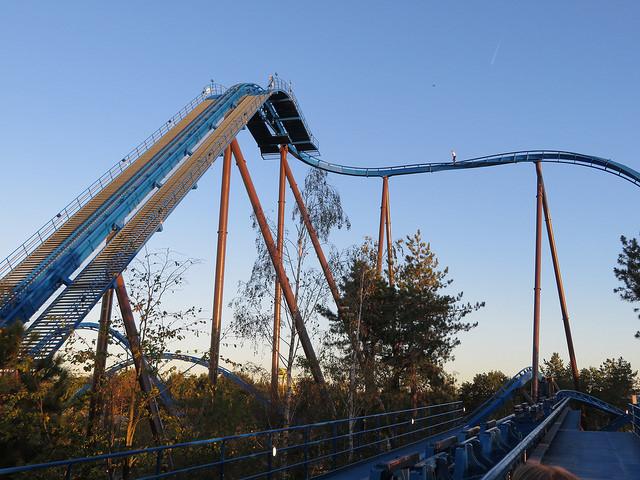 Hmm...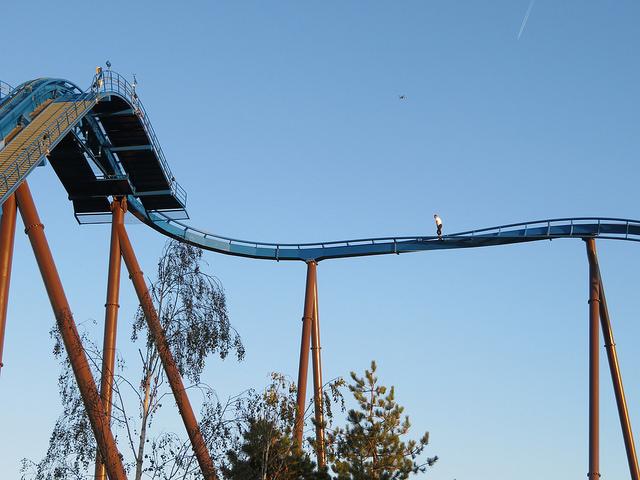 There were YouTuber's filming a stunt show of some sort at the park, earlier on in the day they jumped onto our boat on Merlin's quest and then back off again whilst being filmed by the park!
Thanks for reading