Well, this has been a hell of a long time coming, hasn't it? Partly because it's been sunny and I've had better things to spend half hour on, and party because I didn't really know where to start what with the park being so huge, and also because it seems I'm the last enthusiast on earth to get round to visiting so I don't feel I've got much to add on to what I'm sure you already know. Again I had tried not to spoiler myself too much, so other than the inescapable adoration for Woodan and Blue Fire I didn't really know what to expect from other attractions. I also didn't take many photos, a sure sign that I was too busy getting on with enjoying myself, so apologies for text heavy dullness ahead...
And so after a hell of a trek around a whole mountain due to a closed road, we hit the finale of the trip for two days at Europa. We had initially booked Pension Yvonne Sigg based on recommendations, but then cancelled that and went for Gastehaus Brigitte Duri for half the price. Not expecting a palace, we didn't find one, but it was clean, comfortable and, most importantly, close to both the park and hotels which could both be reached within a 10 minute walk. In hindsight I'd have payed any amount extra for a place with aircon as it was sooo damn hot for our visit. Parking seems to be a bit of an issue with a lot of these smaller places, so rather than have to shunt the car in and out repeatedly as people came and went we abandoned ours on the street where it didn't come to any harm.
Refreshments were needed, and there are plenty of bars and eateries near the park entrance away from the resort hotels, which all seemed decent quality, I'd especially recommend Mythos Greek Taverna and Altus Rasthaus. Rust, like all of Germany it seems, is a neat tidy place which maybe feels a little bit crammed in as everyone tries to make their Euros off the back of the park. Maybe we were unlucky with the weather or time of year, but the one big problem the town has (which they can probably do nothing about) is with mosquitoes. I've never known anything like it; being outside around dusk is just impossible, we were ravaged by the damn things which made trying to sleep in the stifling heat even more difficult.
 Anyway, the next morning with much excitement it was to the park.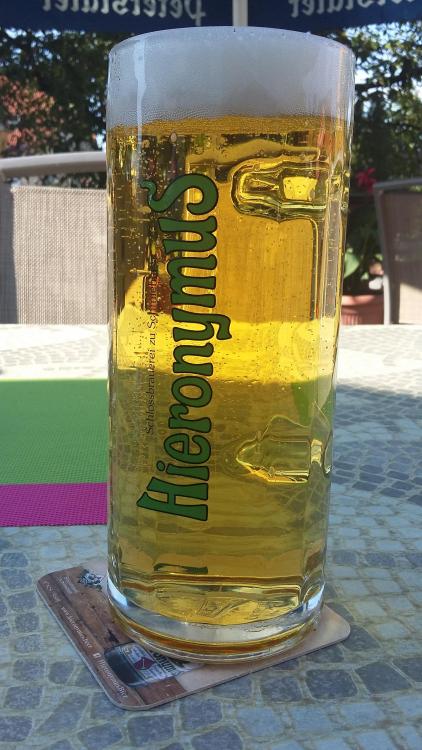 Greek beer in Germany, why not?
We used the app to purchase electronic part tickets which all went smoothly, and the app is a godsend for show planning and queue avoiding. Thoroughly recommend its use. While the exterior is currently a building site, the entrance to the park is a delight and we were welcomed with live music and a buzzing atmosphere. It's immediately clear the theming, scale, cleanliness and general perfection of the presentation is like nothing else. We made our way round at a leisurely pace for two long wonderful days.
We started with Silver Star. I don't know if this view is controversial, but it was the second big disappointment of the trip. It's just dull. Forceless. Lumbering. I don't know how they get so much height and speed to do so little, but excitement and airtime there are none. We tried it front and back, early and late. Nothing. It's not really themed in the same way as the rest of the park either so feels a bit out of place, although Mercedes the exhibit in the ride building is pretty good, and it was our first experience of the lighting fast operations not hindered by fastrack which made the small queue a continuous shuffle which went by in no time. But the ride itself is poor. 3/10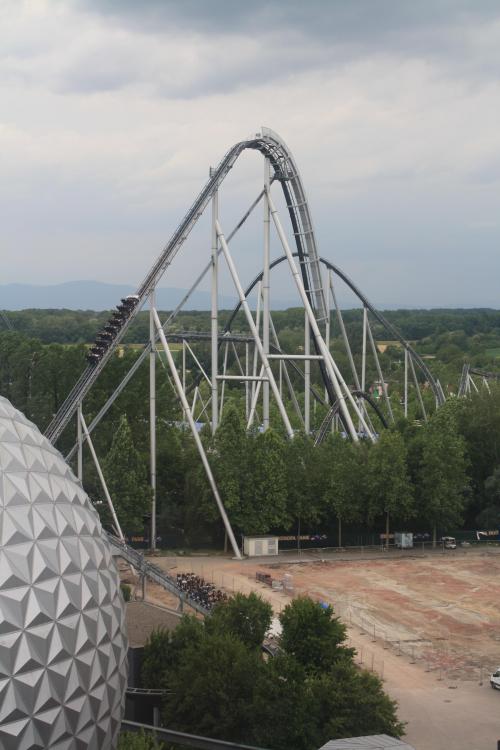 Yaawwwwwwn
Unfortunately while trying to find the entrance to Poseidon we accidently stumbled into a madhouse apparently called Cassandra which was also pretty crap. Maybe we are/were spoiled with Hex, but just walking into the room with no explanation just seems odd, then to have it programmed for the walls to start spinning straight over with no correlation with the movement or attempt to make it feel like it builds up to an inversion renders the whole exercise pointless. There's no illusion to it, 3/10.
Fortunately it turned out we had got the worst of the park out of the way, and it was all upwards from here, so I can stop seeming like such a grumpy old sod. Next we managed to find the entrance to Poseidon, which like all the water rides on our blisteringly hot trip unfortunately held a hefty queue most of the time, but it was worth the wait. The coaster element was a surprise to us and although pretty rough and jolty a lot of fun, especially the double dip at the end. Good long ride, refreshing splashdowns and such complete intricate theming it is just like driftin through actual Greece. 8/10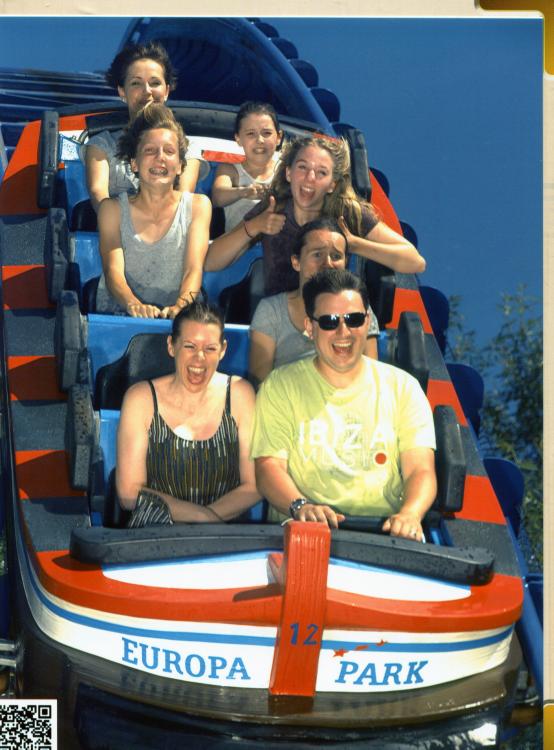 England boat ftw!
I'll leave it there for today, before we head into the general insanity that is Russia.