How do you solve a problem like enthusiasts?

Woah Woah Woah there friends!
Put down your pitchforks! Extinguish your flaming torches and disband that mob!
That title is what we call in the industry as "clickbait". A very clever way of getting people into a boring article with something shocking at face value,
Now where as most people include an image of female speed bumps to get peoples attention, I thought I would offer a thought provoking question...
How do you solve a problem like enthusiasts?
We are a great burden / privilege to theme parks. We think we know best, If a park does something right, we commend them and cheer them on!
However, this is the real world and quite a lot of the time choices made by other people are wrong! Horribly Horribly Wrong!
*Cough Cough*
Where was I...
Ah yes...
This thought of how do we solve this problem became more prominent after the recent news of certain enthusiasts behaving atrociously at the Bubbleworks Goodbye Party.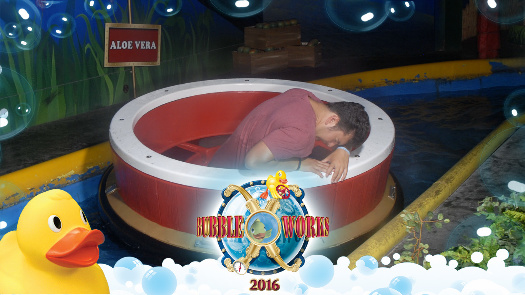 Enthusiasts shouting at staff to be on the last ride before it closes forever.
Now at first glance this just seems like some people wanting the bragging rights, "Guess who was the last on Bubbleworks!" sort of how we do it for ride openings, (3rd Public train of The Smiler and first public train of Galactica... Just saying

)
But unlike ride openings, we don't have to put in effort to be the last to ride something, just turn up last and on you go rather than ride openings where those committed enough will be at the park before the staff, run to the ride as soon as the gates open and be prepared to live with the blood on your hands from those who stood before you!
However, there is a more personal connection to being the last on something, people who have grown up with Bubbleworks will have a very strong bond with the attraction, it still doesn't accuse the behavior but that behavior comes as a side effect of passion... And we are not the only ones!
Take football fans, we constantly hear of fights starting against team fans due to one beating another, and again I don't condone these actions but this again comes out of passion, they obviously want the team they support to win and unfortunately when they don't they behave in unusual ways as some don't really know how to react.
So what is my point? Enthusiasts want to be the last to complete there special bond with the ride, the be the last to share a memory with something so special to them. Now a morbid warning... the closing of a ride is a bit like the passing of a family member or relative. (Where am I going with this...) Some people feel more comforted being there in that persons last moment as that then means that there last moment with them was the last moment they had with that person. As weird as it may sound with rides, some people don't feel as connected if there last ride was a month before it closed, as it would have given a lot more memories out after you. It's pretty petty... but it's human nature.
Conclusion: How do you solve a problem like enthusiasts? You don't as they are what make theme parks great, and terrible and... what was my point again?