So, hey frens and fellow geeks.
2016 has been a pretty good year for me in terms of Theme Parks, so I thought I'd like to do a sarcastic recap of some of my major trips this season!
Bulgaria:
So even though you'd think this third world(ish) country would have nothing in terms of roller coasters..
In my cheap and tacky summer travels, I came across the best coaster I'd ever ridden, the best coaster in the world, a true beauty..
Why have that when you can have this..
Isn't it brilliant? Maybe Thorpe should install one next to their Aqua Trax? 
Blackpool Pleasure Beach:
So obviously I needed something more ugly, something more tacky, so that's when I found BPB.
Anyways, it was worth the trip up north.
Skyforce was better than expected, the classic woodies where as fun as ever, and Wild Mouse was as brutally fun as ever!
Infusion though.. Was much more rough then I remembered, so much, its taken my place for my least favourite coaster of all time!
And.. Valhalla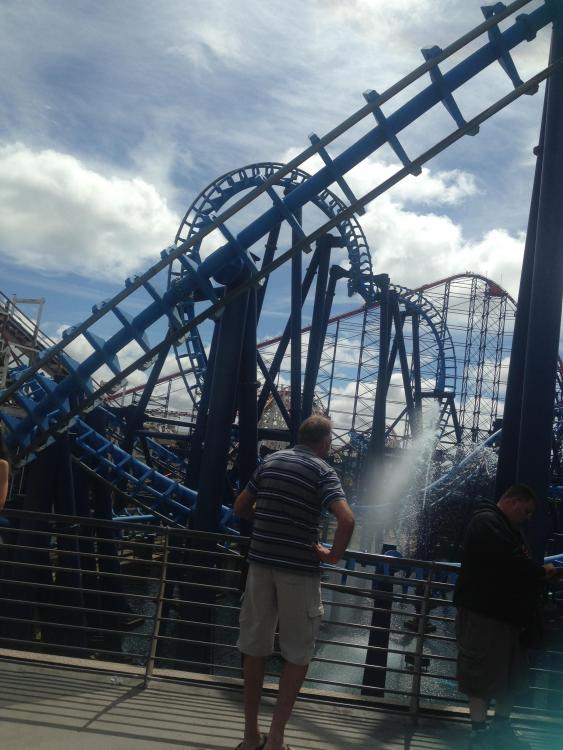 PortAventura:
My main trip this year was to the poorly operated PortAventura!
Was it worth it yes? Why? SHAMBHALA!!! SHAMBHALA!
Sorry, anyway Shambhala was brill as always, Furius Baco was fun but brutal, and Dragons Khan was intense and fun like usual.
The only new thing for me at the park was the revamp of their 3D theatre in the Polynesia area.
The complete unnecessary revamp of the theatre has left the attraction looking out of place, and the show itself is extremely poor.
The show is just regurgitated scenes taken from a seven year old movie.. Alton's version completely blows it out of the water, good job Merlin..
Other than that there is some neat shows.. The Stunt Show in Far West, The Can Can Show, and Templo Del Fuego are all as brilliant as always.
Horror In Texas- Review:
Throughout the park they where advertising a scare attraction for a small up-charge fee of 5 euro.
So being the Scare Enthusiast that I am, I willingly payed as soon as I saw it advertised.
Horror In Texas is a Scare Attraction built in a marquee under Tomahawk/Stampidas mess of wood, and oh god was it worth them five euros!
The attraction had me on edge for nearly the entirety of it, and actors came out of nowhere, thick and fast!
The attraction was a bit generic and goofy with its theming attempts, but it worked in a weird way!
Even though being right next to two loud woodies, I didn't notice any noise bleed!
The attraction also felt quite long.. And the attraction had a constant tense atmosphere which startled everyone in our group!
Anyway that's all for today folks, good job to anyone who got to the end!
Have a good holiday season guys, and have a happy new year!
I'll leave you on this note.. SHAMBHALA!