Chocolate, Cologne, and Taron II
---
After a boozy evening sailing down the rhine the night before, it was finally time to visit Phantasialand. A park I have heard so much about.
Now Phantasialand seems to really draw very different reactions from people, some people think its the best park in the world. Some people think its great with flaws, and then you have those who think it is shockingly over-rated. Anyways, once into the park. Something really made me think, I knew this would be a paragraph-worthy rant, so lets jump in.
(for your information, I didn't take many pictures due to time constraints. Tut Mir Leid)
The Entrance:
When you think of a park entrance, you think of Europa Park's main street, you think of Gatekeeper towering over Cedar Point's gates, you think of Towers Street. Most of these entrances really leave a great first impression. Now, Phantasialand has easily the worst entrance of any major park I have been to. It feels so underwhelming, its next to River Quest and Mystery Castle. And it just looks, kinda amateur. Its just awkward, and really I was questioning whether I was visiting a major theme park.
People rave so much about Phantasialand's theming, and sure they have some brilliant themed rides, but they can't even have a half-decent park entrance?
It feels like a staff side entrance, never mind the main entrance. I know space is a issue here, but I really think the park should completely reform the entrance at some point if they can. It would really help.
Taron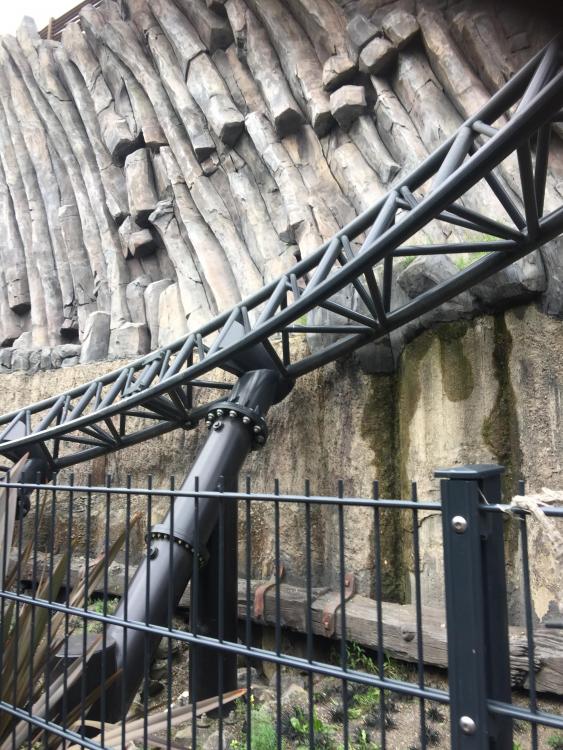 So after entering, I couldn't help myself. Taron had a big queue, but I did not care. This was going to my first ride.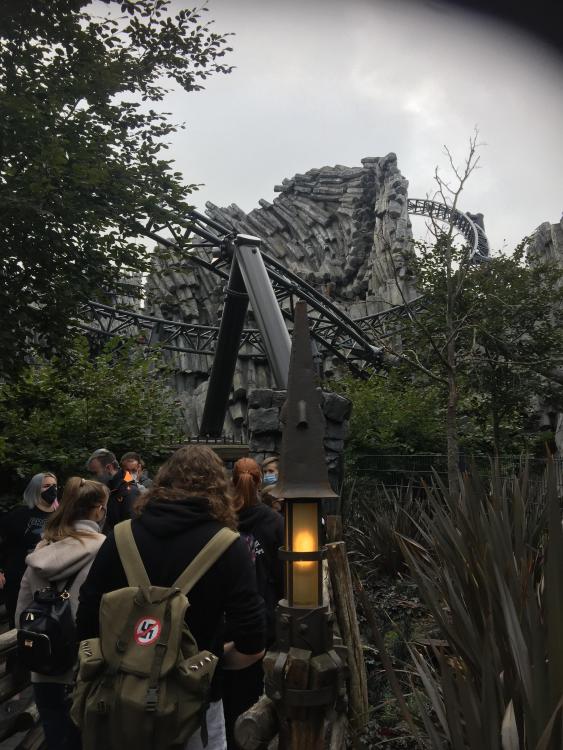 My only other experience with a blitz-coaster is Maverick, which is my #2. I adore its transitions, its launch, and its laterals. Now Taron seems to be heavily touted as great due to its theming. Though there has been a ever-growing group of people who have labelled it over-rated or slow. Is it the great ride everybody says it is? Yes, in my opinion, yes.
Taron is simply not as intense as a coaster like Maverick, but it makes up for it in having brilliant theming and interactions throughout the entire ride. It also has much better restraints. The ride is a spectacle, on ride and off ride, in the front row it is surreal. Now launch wise, I find the first one to be fun, its not too intense but it was more forceful than I was expecting. The second rolling launch is brilliant, it feels like you are being catapulted forward. Now element wise, the ride is basically just a bunch of turns. But if you've ridden Maverick, you know those transitions can be incredibly fun and give pops of sideways airtime. Sadly besides a pop or two from the turns, Taron lacks on the airtime front. It has two hills toward the end, but those are ruined by trims. I rode in the back, the front, and the middle. In all seats the airtime on those hills were pretty non existent. 
Despite the lack of airtime, Taron is a outstanding coaster. Its long, its well themed, it has a lot of interaction with Klugheim, its fun, and it is re-rideable. I rank it at #2 pushing Maverick down to #3. I ended up getting 4 rides in, which proved hard as Taron is not a reliable coaster! Intamin strike again!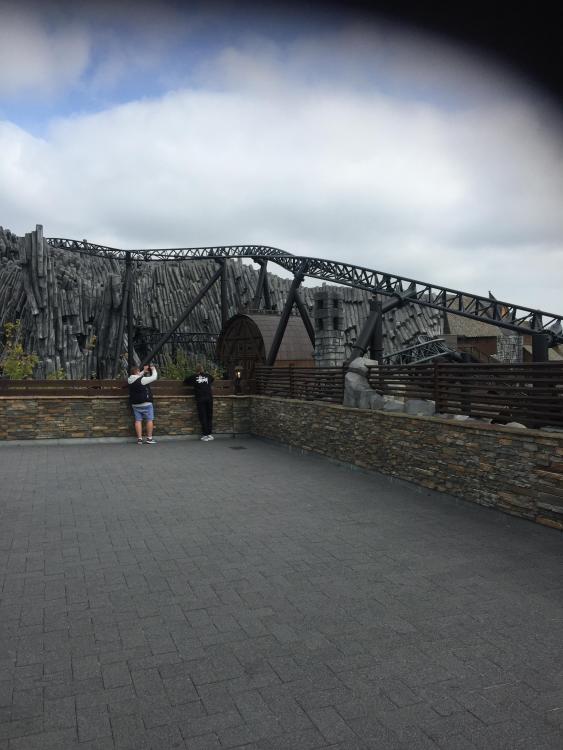 Feng Ju Palace
I kinda rode this by accident. I didn't know what it was going in. Its a fun madhouse, nowhere near as good as Hex but its fair.
Tikal
This was fun. Very long cycle, good views. Very fun family drop tower.
Colorado Adventure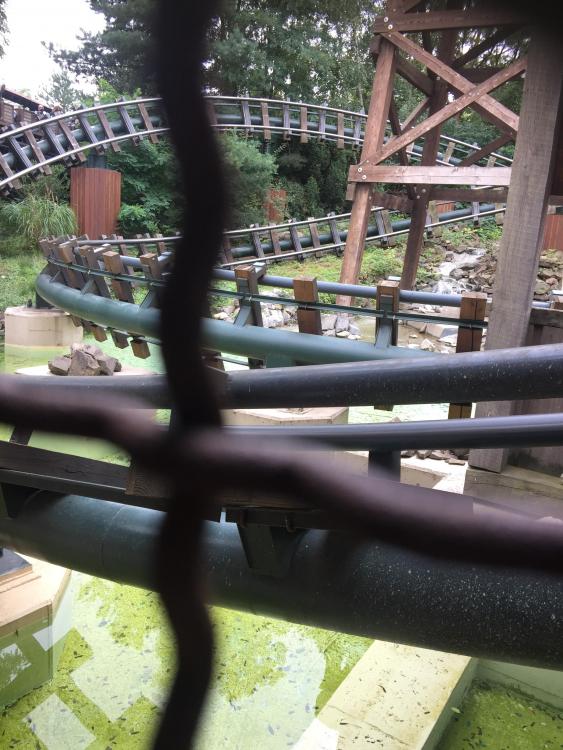 I have ridden my fair share of mine trains. From the original at Over Texas, to Big Thunder Mountain Railroad, to Cedar Creek at Cedar Point. Colorado Adventure blows them all out of the water. It is long, well themed, has a brilliant indoor section, interactions with Chiapas, and is lowkey intense at points. I really wish I was able to ride this more than once, as it was a brilliant family coaster. Oustanding.
Crazy Bats (Temple of The Nighthawk)
I'll give it some credit. This ride made me laugh, but for all the wrong reasons. The exterior for one looks like a B&Q DIY job, and the queue line has enough black walls to rival The Dungeons. Once you get to the ride, its a meandering boring mess in a black box with darkness to hide the lack of theming. I like long rides, but Crazy Bats just goes on and on. I hope this is the next ride to be axed, as its one of the worst coasters I have ridden.
Winjas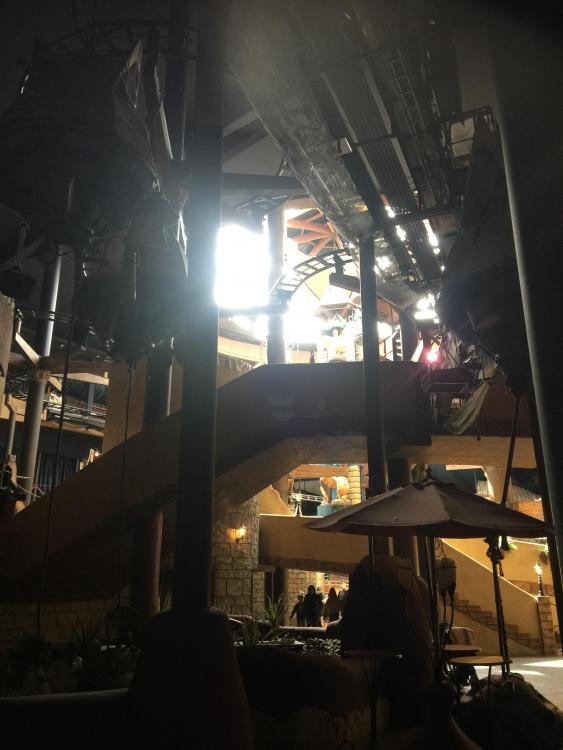 I only rode one side, I can't remember which one. But they look fairly similar.
Winjas is a top tier spinning coaster, its quirky, its weird, and its fun. I love the elevator style lift, I love the tilt track finale, and I love just how weird the ride is.
I would say I still prefer Dragon's Fury as its more intense, but Winjas is still a brilliant spinning coaster and a fun supporting coaster in the lineup.
Maus au chocolat
What a lush dark ride. Maus Au Chocolat is very cutesy, the queue line is adorable in itself, and the smell pods are strong and sweet. 
The ride itself is akin to the Toy Story Mania, and its a fun experience. But I do think its a smidge too long. I like how Phantasialand have long rides, but in this case it just gets a bit repetitive. But that aside, its a very charming dark ride that is just great fun. I would rank it as one of my favourite dark rides for sure.
Raik
Raik is a fine Vekoma Boomerang. Honestly its amazing how they fit this in. It has beautiful surroundings, and its a very solid supporting coaster.
Mystery Castle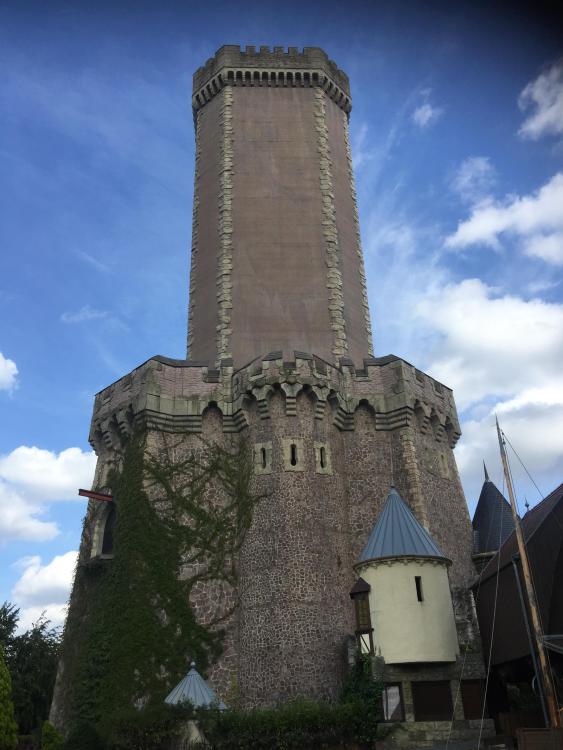 So props to Phantasialand. This ride looks very cool. The queue is even more cool. The ride itself is very fun, its a intamin drop tower, though its bounces more like a S&S. I like the theming elements during the ride, though honestly its not as forceful as other Intamin drop towers out there. Though due to it being enclosed, and well themed, its probably one of the better drop towers out there. I only rank Detonator and Hurakan Condor higher. I do wish the cycles were longer though, the ride had no queue and it could of really gone on for longer.
Chiapas: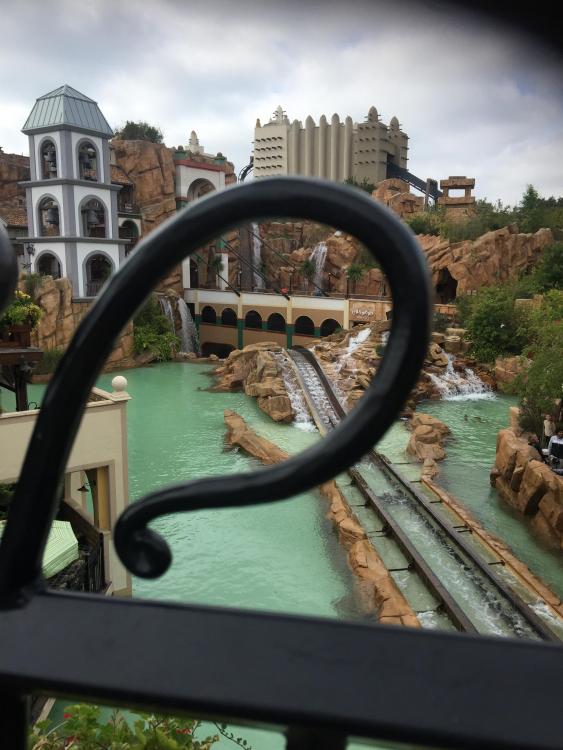 Everybody raves about Chiapas. And they have good reason, this is the future of log flumes. The disco room, the backwards section, and the finale are just brilliant.
Its a long flume, it has fast lift hills, it really is what log flumes should aspire to be in the future. Overall a brilliant supporting ride, it was a shame it was so cold as I would of gotten more rides in! The theming and interaction with Colorado Adventure is another huge positive.
Black Mamba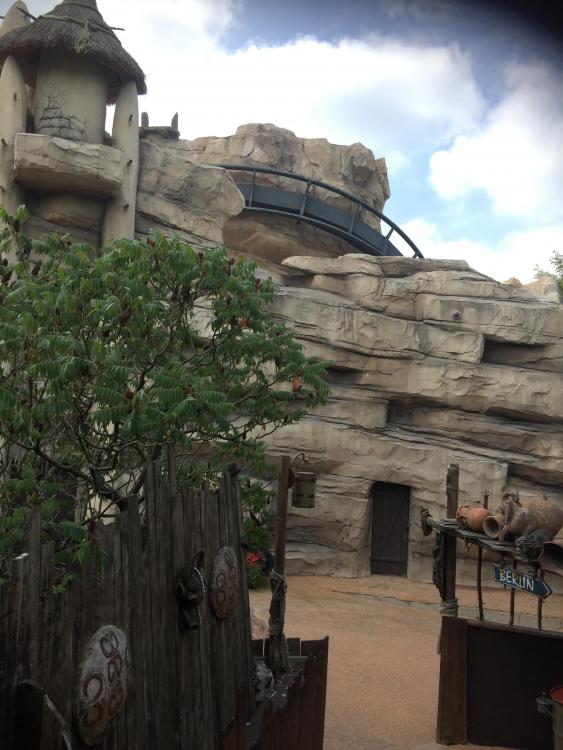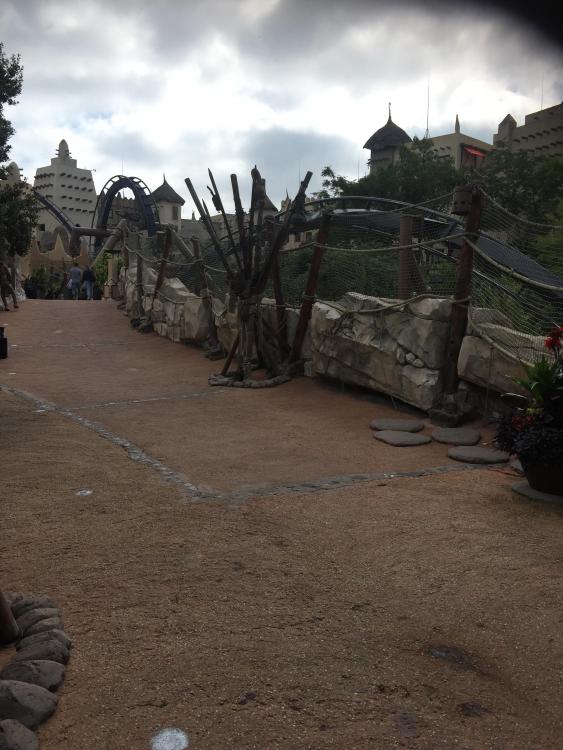 Black Mamba is a very interesting invert. It starts off pretty normal. Drop, loop, zero g roll. But then it has a Jr immelmann. The ride is a very compact invert, and it does a lot of diving into tunnels. The inversions are really the only moments where the ride pops up above ground level. Its really cool!
I found the ride to be much better later in the day, in the back row it is very whippy! I also love the finale, I know a lot of people find it slow. But I like the constant turning in and out of tunnels. Its very disorientating. The break run is also very cool, being in utter darkness.
Overall Black Mamba is a ride that I still am working out where I rank it, I think I prefer it over Inferno, Raptor, and Batman. Though I'm still deciding about if I prefer it over Nemesis. In the end I got 4 rides on it all on different rows. The back row was my favourite. Overall I liked Black Mamba much more than I was expecting. I feel it gets a bit overshadowed by Taron now, but by itself its a very unique and fun invert.
Shows:
So during my day I saw the parks Ice Show. This show was fun, had a lot of fun elements to it. Though it certainly is on a lot smaller scale than the Ice Show at Europa Park. 
It definitely reflects how Phantasialand is a lot more of a smaller and intimate park.
Food:
I had one meal here, it was wurst and fries. And honestly I don't think I can judge the food off this one meal, but it was good. It wasn't anything mindblowing or amazing, but it was fine. And I'm sure there is more unique and interesting options in the park, and if I came back I might have a more fully-formed opinion.
Operations:
Phantasialand had mostly good operations on my visit. Taron had good dispatches, Black Mamba had good dispatches, and most of the other coasters were pretty fast. My main gripe with the park had to be 1 train operations on Black Mamba for the second half of the day. I know the queue wasn't very long, but it just felt a bit annoying. Especially compared to the consistent operations down in Europa Park. Even when its quiet.
I would say the park has probably the third best operations I've seen. Behind Cedar Point and Europa, certainly one of the better parks, but not quite the best.
Rides were also very reliable, the only rides that had downtime was Taron and Raik. Overall I found the downtime to be minimal, which is a positive.
Staff were very polite and efficient, overall I was very impressed.
Covid:
Phantasialand really is a difficult park for social distancing. It is small, has tight pathways, ect. So with that social distancing was a bit impossible at points. Though masks were worn at basically all times by everyone. And the park did a good job of enforcing the masks.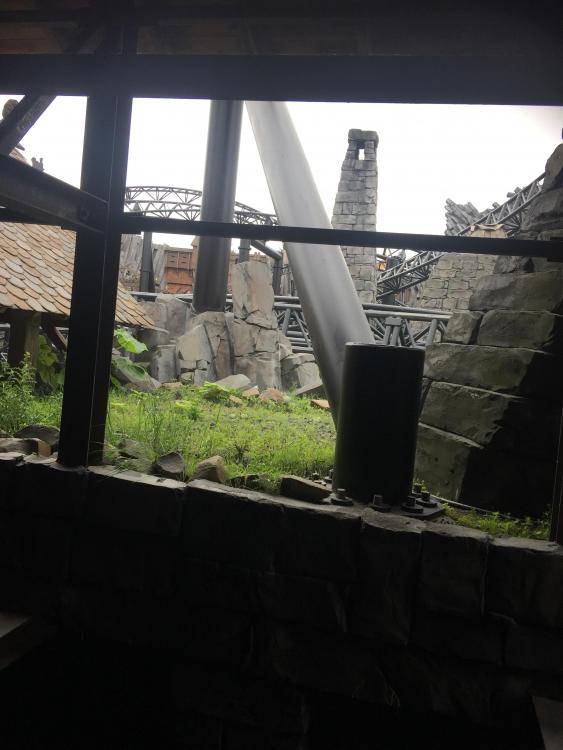 Final Thoughts:
Phantasialand is a great park. I really enjoyed it. Though I don't think its a perfect park whatsoever. I feel the newer areas/rides are really the standouts here, Chiapas, Chocolat, Klugheim. Though some of the older rides like Temple Of The CrapHawk and China really show the more dated part of the park. 
I also found the park to not be the prettiest to be honest either. Most areas are well themed, but its not quite scenic and full of flowers like Europa Park for example. The theming is brilliant, but most areas of the park aren't really as serene or quite as magical as Europa. Klugheim is very close though, and the way the Taron dives in and around the area is absolutely amazing. I would probably rank Phantasialand as my #3 park. Though once F.L.Y opens and Crazy Bats is bulldozed, then I could see it easily jumping to #2. I don't believe it can overtake Europa Park though. 
Phantasialand is brilliant, though the sheer size and scale of Europa Park really can't be beaten. Though Phantasialand definitely packs a lot of greatness into a fairly modest sized park, and for that, you have to admit it kicks a lot of ass.