Storm Clouds Over Hamburg - Day 1, Heide Park
---
Rewinding just over two years ago, I and a few friends had booked a trip out to Hamburg, which would include one and a half days at Heide Park - plus a stay in their hotel - and a day at Hansa Park. It would coincide with two of our birthdays too. What better way than to spend a birthday at a new park?
At the time, this Covid-19 thing had just turned up on the British doorstep, and concerns were growing. But the idea of a lockdown was a far away thought. Obviously, come March, that all changed, and the trip cancelled (fortunately fully refunded). So instead of celebrating my birthday in some new foreign park, it was spent hunkered down in lockdown. "Ah well, maybe net year" I thought. Obviously I could go to Hamburg at other times, but I dunno, something felt kind of right about doing this trip over my birthday.
But the world had other plans. Lockdown III was coming to an end, but foreign travel was out of the question, and the UK parks were out of the question. Instead, my birthday in 2021 was spent playing some outdoor mini golf (which was a big deal at the time tbf). 
Early 2022 came around, and things seemed a bit more promising. Maybe I could spend a birthday out of lockdown for the first time since 2019!! And maybe, just maybe, I could finally get out to Hamburg. I tried to rally up those who I originally planned to go with, but after being met with radio silence, it became apparent if this was going to happen, I'd be going solo.
Ooft. Solo park trips aren't something I've done for a long time. Well, I haven't really done them at all. I've maybe spent a couple of hours at a park alone when someone had to leave unexpectedly early, or a bit of time when arriving early. But never a full day, and never at a new park. But to be honest, it wasn't a difficult choice..."ahhhh, screw it, let's do it!" was basically my thought process.
To keep costs minimal, this was going to be a short trip - fly in on a Tuesday evening, one park Wednesday, one park Thursday, fly home Thursday night. Ideally I'd've flown in Wednesday morning, but flight times just didn't work out. I had planned to drive too, but that was very costly (plus the rising fuel prices scared me), but I quickly realised both parks were pretty accessible by train. It increased the journey times, but it saved a lot of money really.
Anyways, enough pre-amble ramblings. Time to get to it...
Day 0
This was my first flight since January 2020. Things have changed a fair bit since then, with both Brexit and Covid. Gatwick airport was pretty chill, and boarding on the Easyjet flight was fine. As Germany require FFP2 masks in certain places (such as planes, airports and trains), crew were freely giving out these masks to anyone who didn't have that specific type of mask. Pretty chill.
A not-short queue through passport control followed. It was at this point where I expected to have to show my vaccine passport (the only requirement to get into Germany at the time), but I didn't. Oh well.
My hotel was a 20 minute walk from the airport, and was surprisingly cheap and nice given the location. Boom, easy.
Day 1 - Heide Park
I was faced with two problems for my day at Heide Park.
First thing, the weather. The weather had been pretty miserable the past few days prior; cold and wet with threats of storms. Having checked their park app in the days prior, that seemed to be affecting ride availability too. And the weather today didn't seem much better - cold and dark clouds, with high chances of rain. Just a tad concerning. 
The second was more of an "operational" concern. The park say on their website that the nearest train station to the park is Wolterdingen, which is a 20 minute walk to the park. Annoyingly, when travelling from Hamburg, you can only arrive hourly, at 48 minutes past each hour. So I was left with a choice: arrive to Wolterdingen at 08:48 and awkwardly wait outside the park for ages, but be one of the first through the gate...or arrive at the park late.
I expected the park to be quiet, so arriving late wouldn't be the end of the world, buttttttttt I like to get to parks for opening wherever possible. So I opted to get out of bed the hour earlier to get there earlier. Who needs a birthday lie in when there's creds to get?!
Getting from my hotel to Wolterdingen was straightforward enough. U-Bahn from hotel to Hamburg's main station. 20 minute wait time for connection to a random place called Buchholz, then a 15 minute wait to connect to Wolterdingen. Easy enough.
U-Bahn went smoothly. But then disaster struck. The connection was delayed...by 15 minutes. Ffs. The train pulled into Buchholz just as my connection left. And it was an hour until the next train.
I came to really hate Buchholz. It was a large station which was very windy and cold, and there was no indoor waiting area that I could find. Fortunately, the rest of the journey was easy enough, and the walk from Wolterdingen to Heide was a straight line, and only took me 15mins. And so, a little after 10, I was finally here!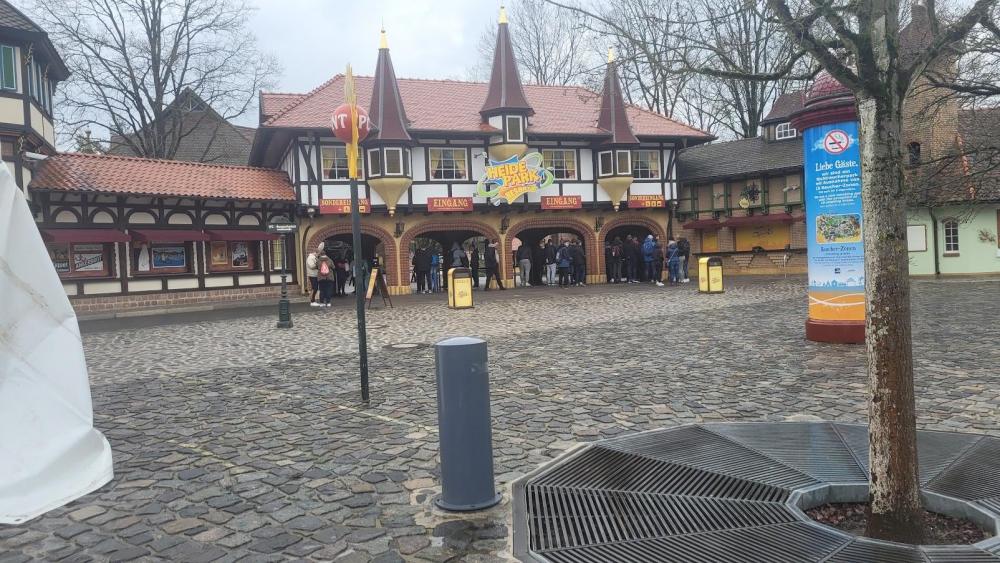 Waltzing straight on through, with no whiff of security, my first port of call was the dump my stuff in a locker. I don't usually use park lockers (usually opting to visit light), but didn't fancy lugging all my stuff all day, especially with the ominous storm clouds hanging over. An all day, unlimited-entry locker cost 5 euro...not awful, but could be worse I guess.
Checking the app, it suggested that of the "big" rides, only Krake, Flug der Damonen and Big Loop were open. All with 0 minute queues, fortunately. But not a great start, and already cred anxiety was kicking in. But let's not focus on that, and instead let's get some B&M-goodness...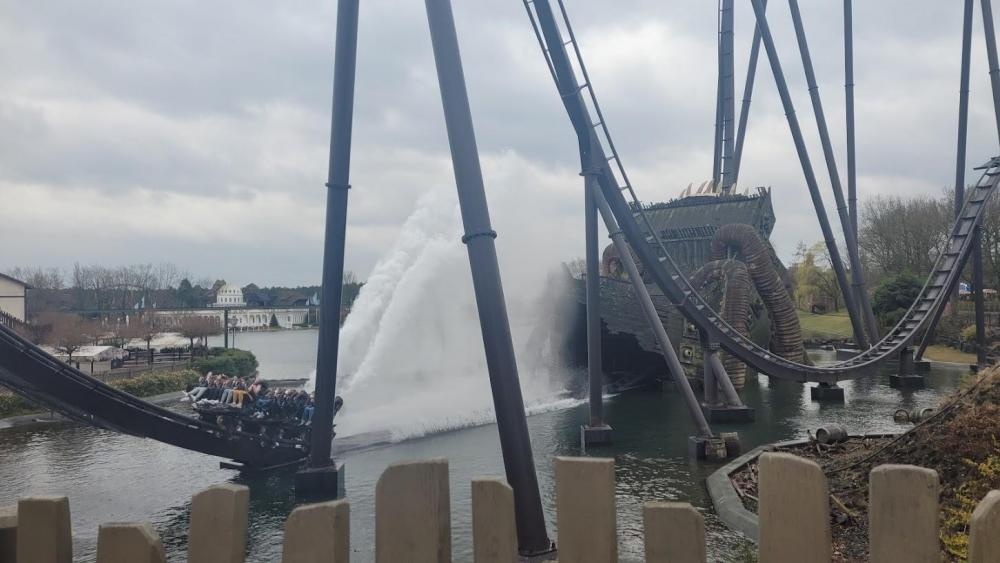 Krake wasn't particularly something that was on my radar. Drop, inversion, over, right? A fun +1, but I didn't expect any more. I was, however, pleasantly surprised. I walked on to front row straight away, and got a very nice ride. You seem to hang over the drop for a good few seconds (much longer than Oblivion and Baron at least), and the splash effect is really cool. The whole ride is filled with nice floaty moments, and even then those it's quick, it left me feeling fulfilled. Coupled in with the nice music and nice theming, I was quite happy.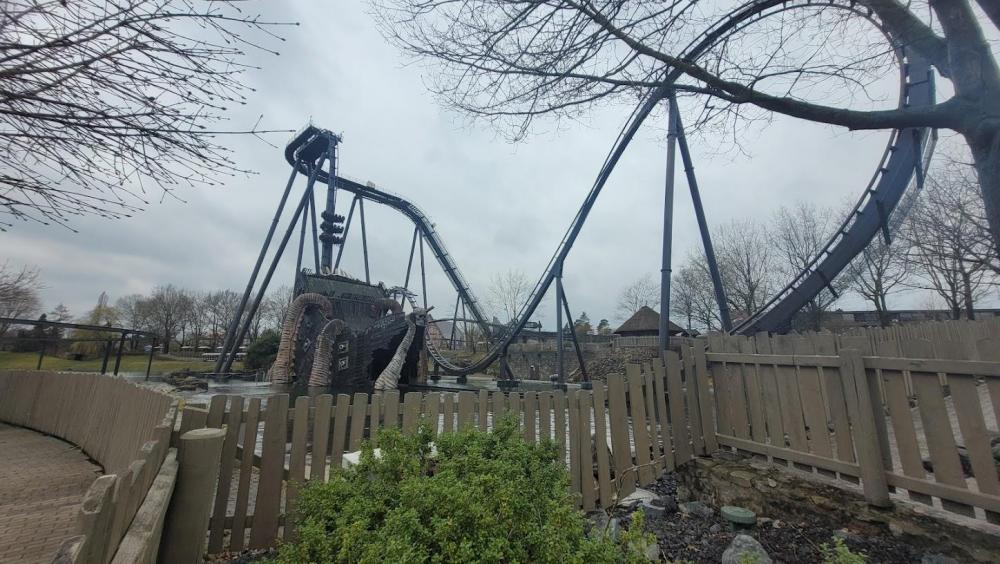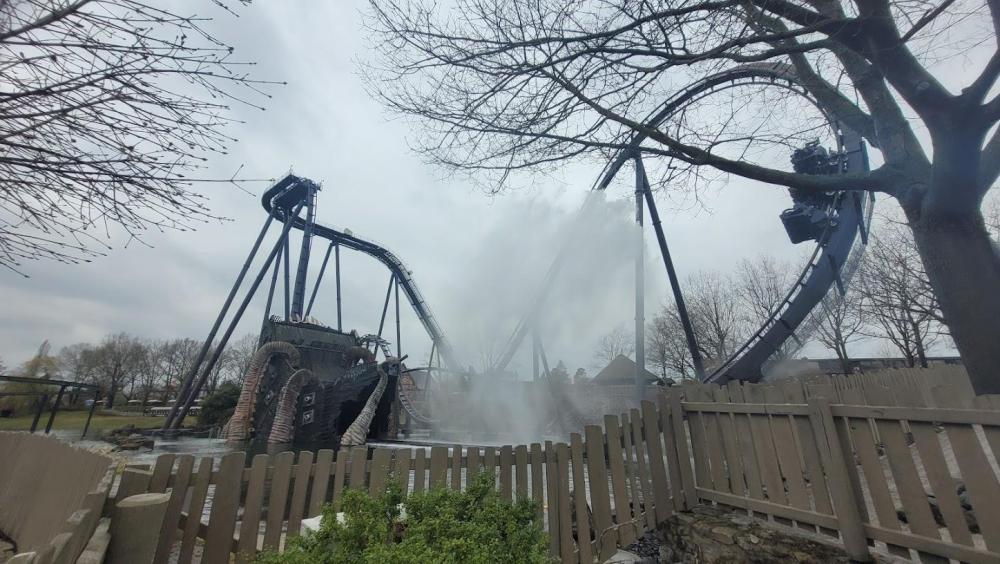 It's nothing special, but it does what it aims to do very well.
On an even more exciting note, I noticed whilst on ride that Colossos was running. And it looked like people were on it too! I checked the app and it said it was still closed. This left me with a choice...not head over and tick off the nearby creds, or trek to the other side of the park and see what's what. With Colossos being my most anticipated cred of the park, and with it's availability seemingly being sporadic over previous days, I decided to venture over. This turned out to be a very good choice; I saw it run again, and there were clearly people on it. Woohoo!
Colossos
Fortunately there was no queue, and even getting into the station, there was only a one train wait. The ride, like everything, was on one train, which gave me a good feeling about the level of busyness to expect. Opted for the back row for my first ride.
WOW.
I didn't really know what to expect from the ride. I hadn't heard much about it, and didn't know the layout. But having done Balder, I had high expectations for my second Intamin woodie. And damn, they were, pretty much, met. Climbing up the lift hill hearing the audio is a neat thing. The first drop is fantastic, lifting you out of your seat. The first airtime hill flings you out too. The second gives you nice really nice floater airtime too.
Then you hit the turnaround. This kills the ride a bit. It doesn't make anything bad, but it loses its ability to give decent airtime. You get little pops, but it feels weak compared to what you've just experienced. And this feeling carries on until the helix, where the ride picks up speed and its aggressive nature again. The final couple of hills have some good, consistent airtime, and leave the ride ending on a high note.
The "wicker monster", as I call it, looks really nice, and is a good first time effect on-ride as a near miss. It didn't have any fire effects going though, which was a shame.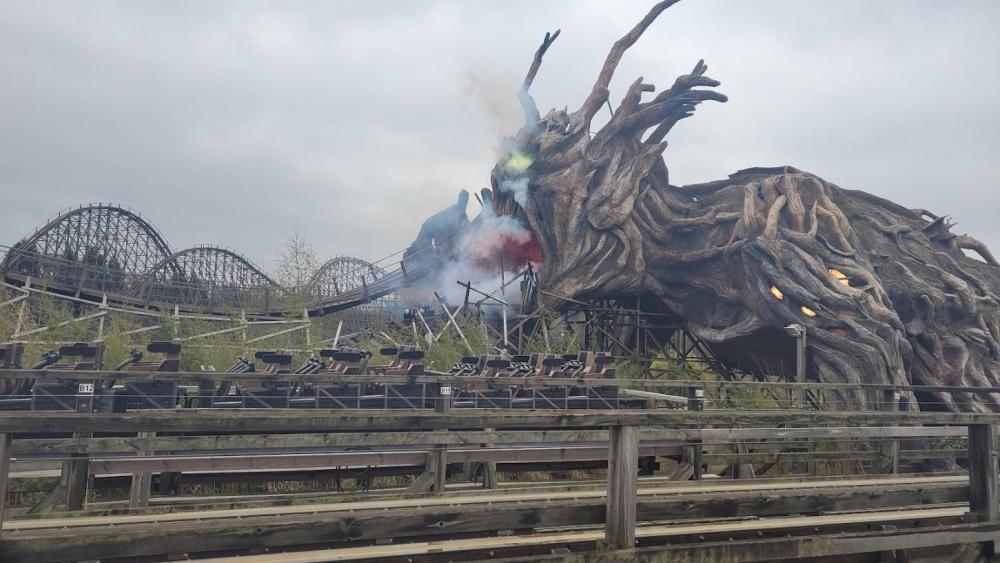 After my first ride, I was itching to get on again. And with no queue, that's exactly what I did. In honesty, there's not many rides where I've had that immediate feeling of "Damn, let's do that again, like right now!"; it was very much a 'Top 10%' ride for me from the get-go. Taking advantage of there being no queue, I went for the front this time. I was surprised at how consistent the ride was compared between front and back. And the pure rush going down the first drop on the front row is something I really liked too.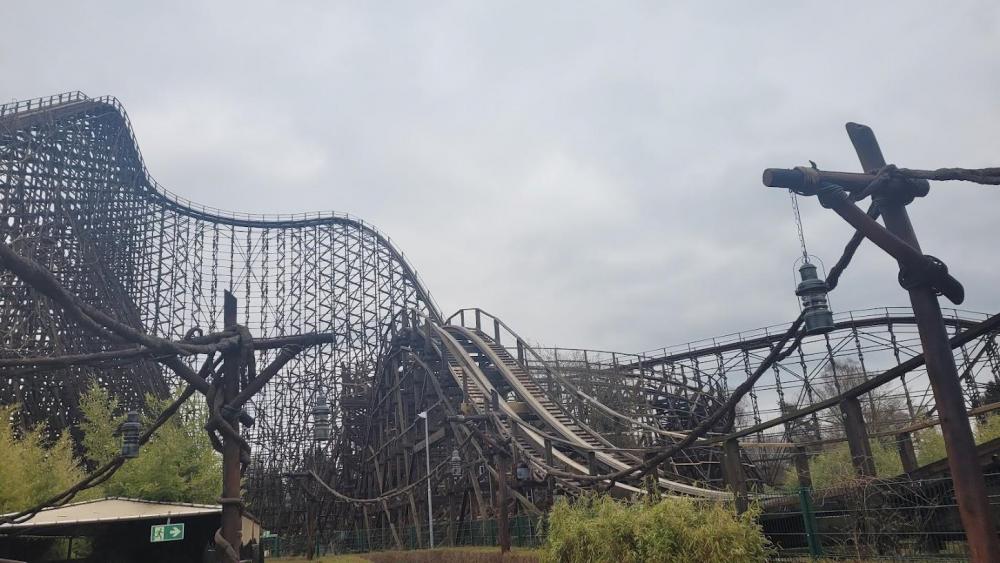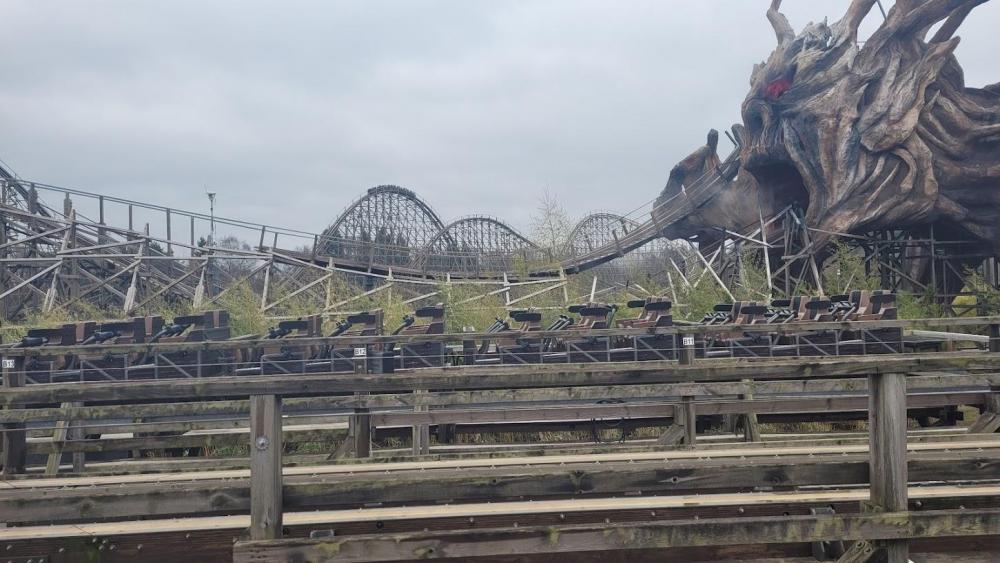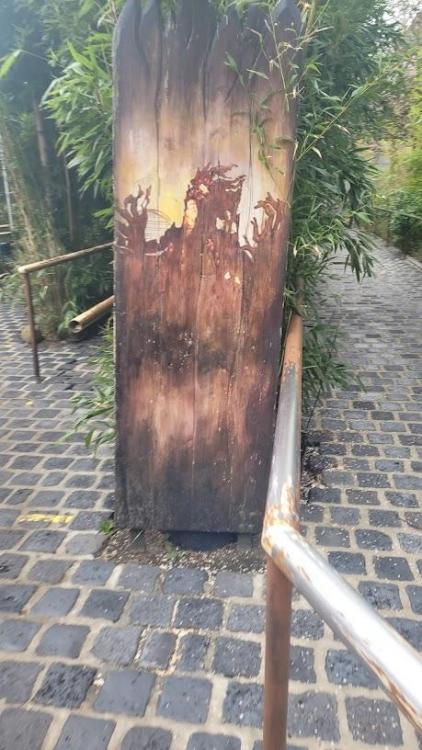 Two rides in, and I decided - reluctantly - to move on. The park seemed like it was going to be quiet, but with the threats of storms still looming, I thought I should try to mop up the creds just in case, and then return to Colossos later if I could.
With that, I went to the neighbouring Desert Race. It's basically a Rita clone. I like Rita, so expected to like this. However, it fell a bit flat for me, for reasons I can't quiet put my figure on. Maybe the bare-ness of the ride? Maybe the slow ops, where they waited for an entire full train before dispatching? Maybe the annoying announcements? Just little fiddly things. This also feels like a very Tussauds investment: plonked down, minimal theming, very tacky in general. I hope the park do something with this sooner rather than later.
I then went back the way I came towards Big Loop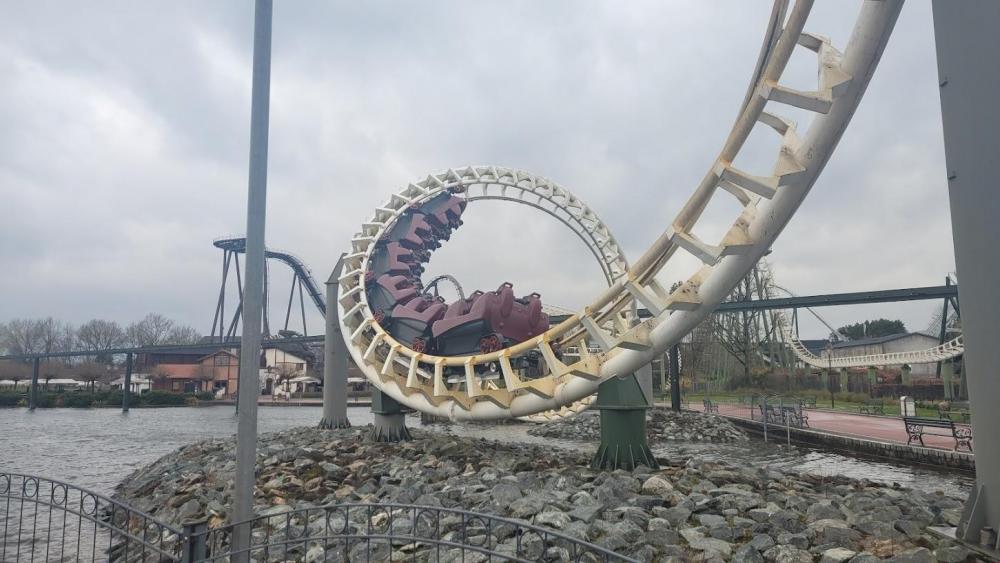 Bog standard old Vekoma. Not much else to say.
Then it was time to tick off the remaining B&M, Flug der Damonen. I had been intrigued by this, due to its tight layout and neat theming. Despite the app saying this had a 0 minute queue, there was a bit of a wait...about 10 minutes. No problem really though I guess. I really liked the station; had a real nice vibe to it.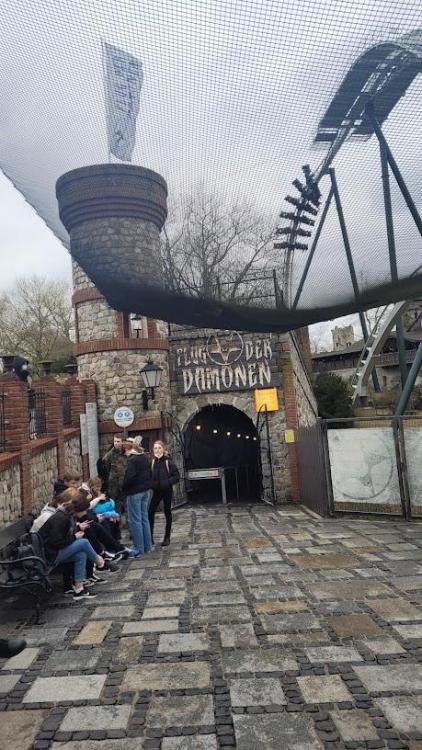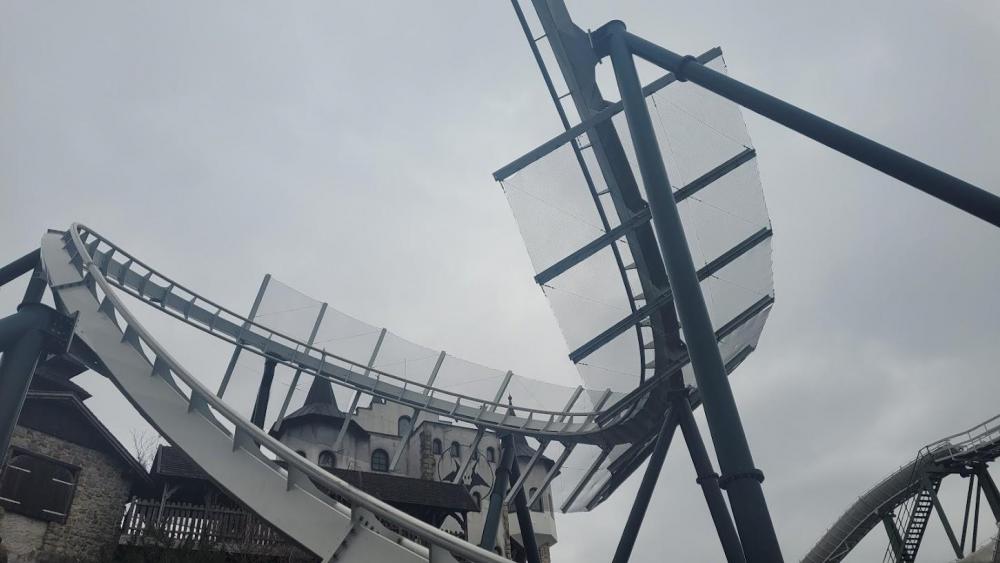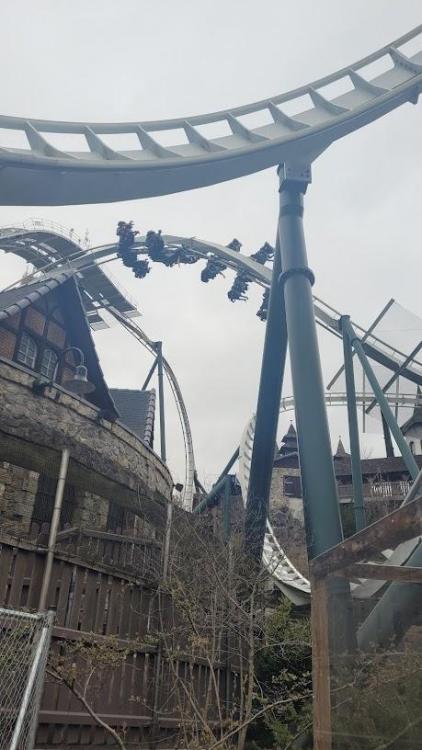 I got a front row ride on the right hand side. And the ride...was not that good. It starts off nicely, standard B&M wing. But then it tries cramming all its elements into a small space, and it just seems to make the ride a bit juddery, and it lacks any sort of flow. A real shame, and definitely the weakest one I've done so far.
The app still listed Scream, Bobbahn and Limit as closed. These rides had all been closed any time I'd checked the app on previous days too. As they were nearby, I decided to check them out and see what's what. Scream had a sign outside saying it was waiting for a part, and should be ready to open for "Week 15". Sad times, as I like drop towers. Bobbahn had a sign outside saying it was too cold to open. Gah, spite

Limit, however, had no sign. It wasn't open, but there was a solid handful of people waiting outside, and staff in the station. I overheard a conversation between guests which I loosely managed to translate to as "it will open soon". So I decided to hang around.
To be honest, I can't believe I decided to willingly hang around and see if an SLC would open soon. Especially when it lunchtime, I was hungry, and I was in the same park as a walk-on Colossos. But heyho, a man's gotta get his creds. After about 10 minutes, it opened up. Yay...
I managed to get on the second train of the day. Second train of the season. I got a middle row seat, and braced myself in usual SLC-fashion. But something strange happened. It wasn't...awful. Don't get me wrong, it wasn't good. But it didn't try to massacre me, and I left the ride without my head feeling like I'd been in the ring with Drederick Tatum. Maybe the ride hadn't warmed up enough, so it was running slowly and, somehow, less rough?
So there we have it folks, if you want a not-awful ride on an SLC, make sure to take one of the first rides of the season on a cold and stormy day!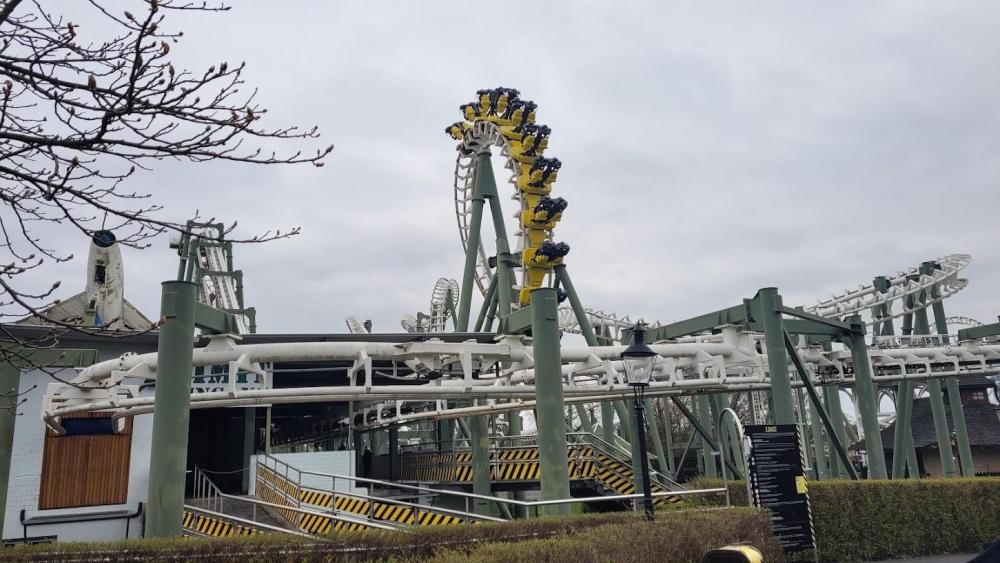 I also quite liked the music - nice rock track.
After a quick spot of lunch, I went to the other side of the park, where the water rides and a smaller cred lived. I did both the log flume - which had a long cattlepen queue you couldn't skip over thanks to Covid barriers still being in place - and the rapids in quick succession. They were nice; not too wet, not too dry, and solid, yet unremarkable, examples of their ride types. I ticked off kiddie cred, Indy-Blitz, too, getting a solo ride and a +1 for my troubles.
Next up was perhaps my second-most anticipated ride of the day...Ghostbuster 5D. I make no secret that I love shooting dark rides. I'm not big on the Ghostbusters franchise, but I acknowledged that it was something that had huge potential with this ride type. The exterior is very Merlin, in that it looks good in context of what the theme of the ride is, yet still a bit bland for a theme park. And it's kind of let down by the dodgy shipping container entrance.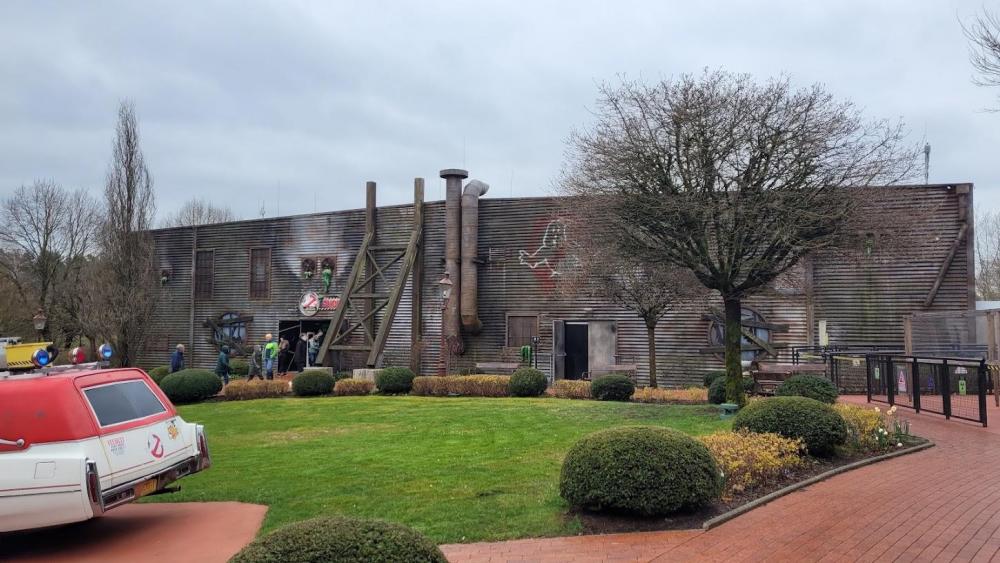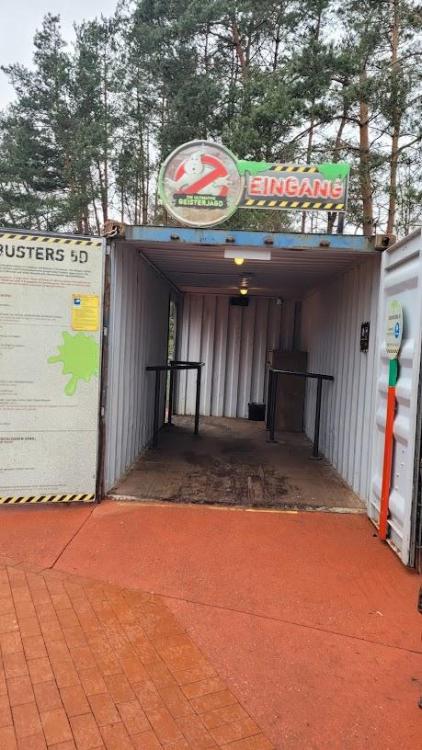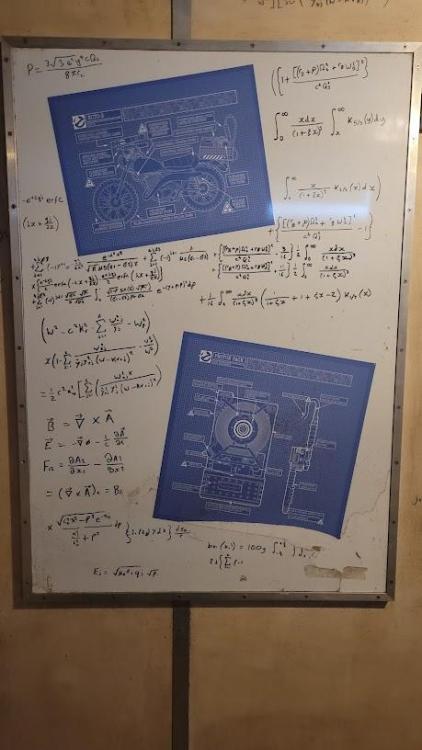 The mathematician in me feels obliged to take photos of any mathematical equations that work their way into theming within rides.
As for the ride itself...I dunno. I'm not sold. The idea is cool, especially the working together to take down ghosts. But the pacing feels a bit off. Some scenes are far too long, others far too short. There's not one which is 'just right'. There's not really anything between screens, and the attempted compensation is "let's spin and jerk the car around quickly". This left me feeling a bit motion sick, which was a shame. A bit better pacing in the scenes, and some better breathing space between scenes, and this would be SO much better.
On my way to the final cred, I took a nice slow wander round. On this random, meandering walk, I noticed a random fire effect, which was coming from the boat ride in the How to Train Your Dragon area. I don't particularly care for the franchise, but liking fire effects, I thought sod it, I'll give the ride a go. It was a nice little ride, with some neat effects and was largely indoors, protecting me from those pesky storm clouds (which were still threatening rain, but not following through!). Detour completed, I did the final open cred of the day, Grottenblitz, a Mack powered cred, with shared the same building as the previous boat ride. It had a nice layout. But I didn't get any photos (it was getting rather cold).
Now it must have been around 2 / half 2, and I'd ticked off all the creds and all the rides I wanted to do. Yes, there were loads of flats, but none appealed. The park have a monorail and train ride, which I would usually do, but both looked slow and burdensome to do in cold weather. So I took the chance to do re-rides, and a do a fair few of them at that.
Throughout the last couple of hours, I managed another two rides on Krake (on 2nd and 3rd row, both were nice, but not quite as good as the front, of course), and ride on the opposite side of Flug (which was even more juddery on the back row). I decided to give Ghostbusters another shot, but even being prepared for the spinning, I still felt a little queasy afterwards. More importantly, I managed another 6 goes on Colossos, including another front and back row ride. All in, it really cemented itself as a top ride for me. It had warmed up nicely, and the middle third was running better by the end of the day. Still a weak spot, but the first and final thirds more than compensated for it.
I also took the chance to just wander round the park and take some more photos. So here's a little final photo dump on my least terrible photos...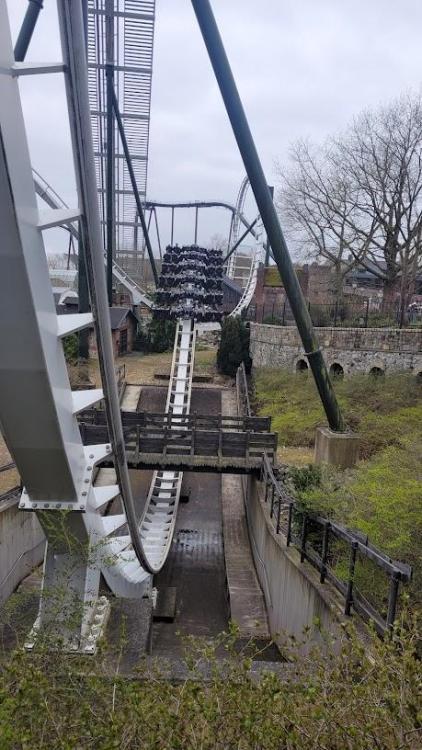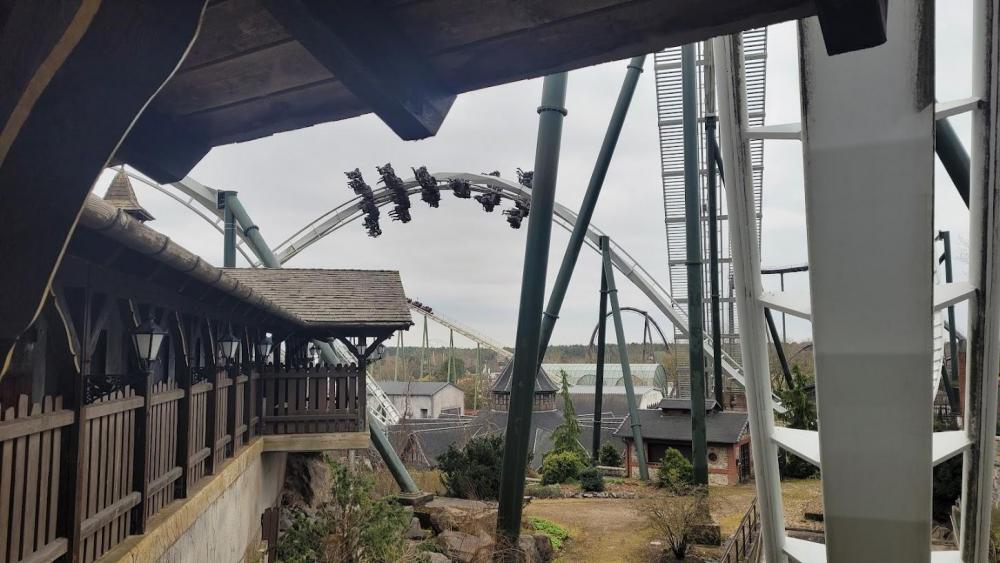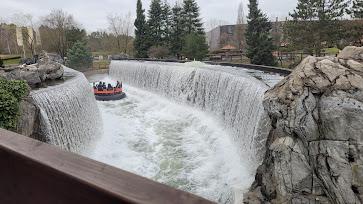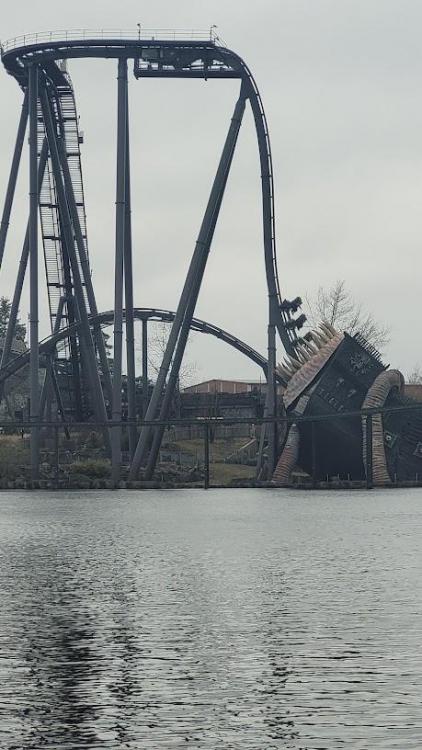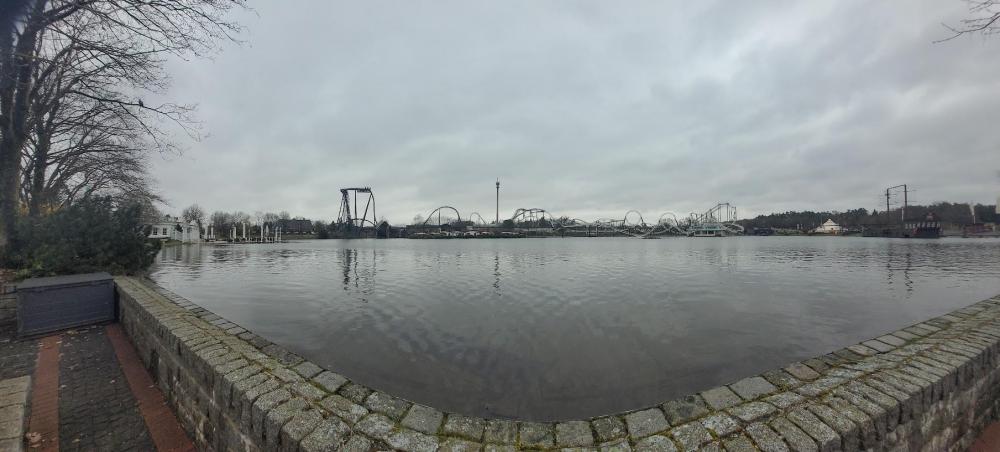 All in, I had a really nice day at Heide Park. The weather held off, the park was sufficiently quiet and it has a good selection of rides. It had quite a Merlin feel about it, and even moreso a feel of a park that's had three very different owners and directions. There's the older, classic rides which have a nice, integrated feeling. Then there's the Tussauds-era, plonking rides down and just rolling with it. Then the more recent Merlin-era, where theming and ride integration clearly plays a part, but can be a bit hit and miss. In saying that, I would happily go back again in the future - especially if they were to add a more traditional dark ride, and maybe replace Desert Race with something that uses the space better!
The day ended off by taking the train to Lubeck. It was a good couple of hours journey along 3 trains (Wolterdingen to the much-hated Buchholz, to Hamburg, then to Lubeck), but simple enough. Sadly, the weather decided to finally take a turn for the worse, and the heavens opened. The 20 minute walk up the hills of Lubeck felt so much longer thanks to the rain and bitter wind. Cheers for the birthday present, Lubeck...just what I always wanted!
Coming soon, day 2 of 2...a wet, cold and anxious day at Hansa Park...