Hello again, long time no see. It's been a quick six month break since I've been on here, since my 'emotional' breakdown a few months back. In that time, my love for rollercoasters has been reinvigorated without the related cynicism that forums can sometimes create. I thought I'd do a blog of somewhat of what I've been up to. 
April 2017 - France/Germany road trip
Three months ago, (where has the time gone), myself along with Peaj, Dan and Fred went on a six park trip across Western Europe parks. The aim was for everyone to grab the odd new B&M, Intamin and new parks galore. For all of us, the only new park was Movie Park Germany. I have to admit our trip was oddly planned, we somehow missed all the new rides that were due to open in May, however I think in spite of this, we had a wonderful time. So to start off we went to Parc Asterix. I think of this is a very under-rated place. The rides are fun, enjoyable, interestingly themed and very re-rideable. The obvious highlight is Oz'Iris which, five years after my first ride is still an incredible ride. We managed a back row and front row ride and each was enjoyable. It managed to toe the line between modern and old school B&M and the custom layout works really well with the nearby theming.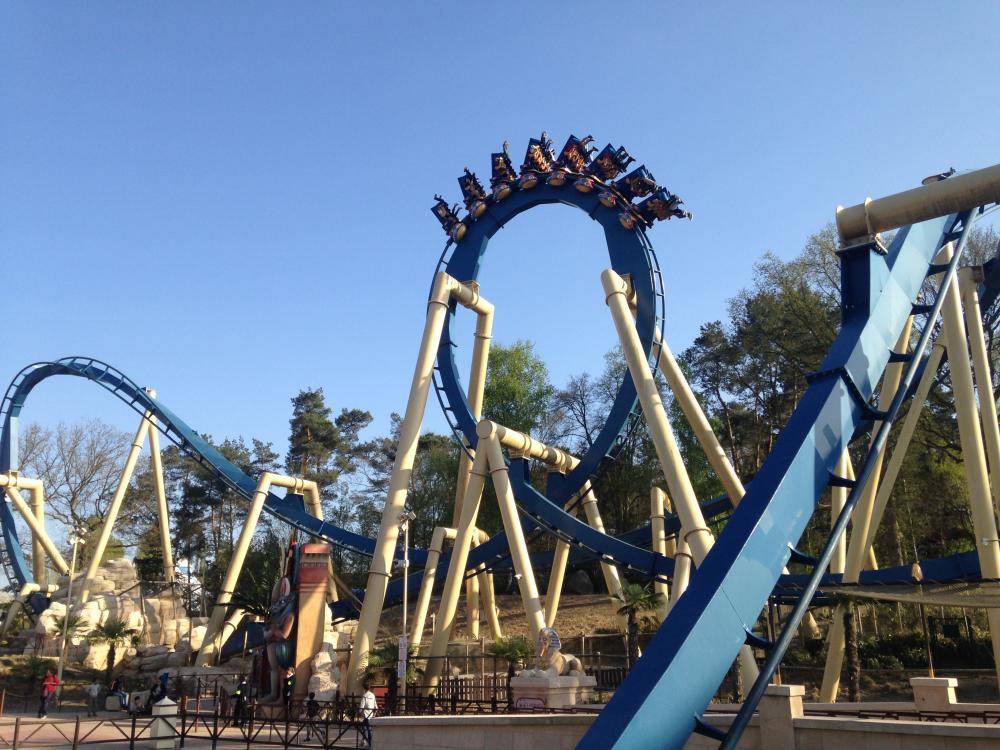 Tonnerre de Zeus has had some queue line work too but seemed rougher then I remember, presumably its starting to age and might need a little bit of work done. I was impressed with the parks newer additions such as the disk which features fire effects and the way the ride is designed into the lake. I love Goudurix. This may be controversial but it's an intense, raw experience which many newer rides could learn lessons from. Sure its still rated one of the worst rollercoasters in the world but I don't think it deserves the hatred it received.
Park 2 was Nigloland, a park celebrating its 30th anniversary. This park has a lot of Mack rides, in fact it almost comes across as a mini Europa Park. This was my biggest surprise of the trip frankly, it's a fantastic park that retains its family history and the obvious pride in the place is something you just don't get with company parks. The obvious star of Nigloland is Alpina-Blitz, an absolutely sublime rollercoaster and by a country mile my favourite ride of the trip. One of my favourite aspects of it is the little Mack touches, the way the ride has such forceful air time in the Blue Fire type trains, the little walkway that extends over the track in the station to allow disabled access, the way it borrows the best bits from Piraten (Djurs Sommerland) and improving on them massively. As I've got older, I don't re-ride rides more then 2/3 times but Alpina Blitz, we got ten rides out of. It is worth the trip to here alone.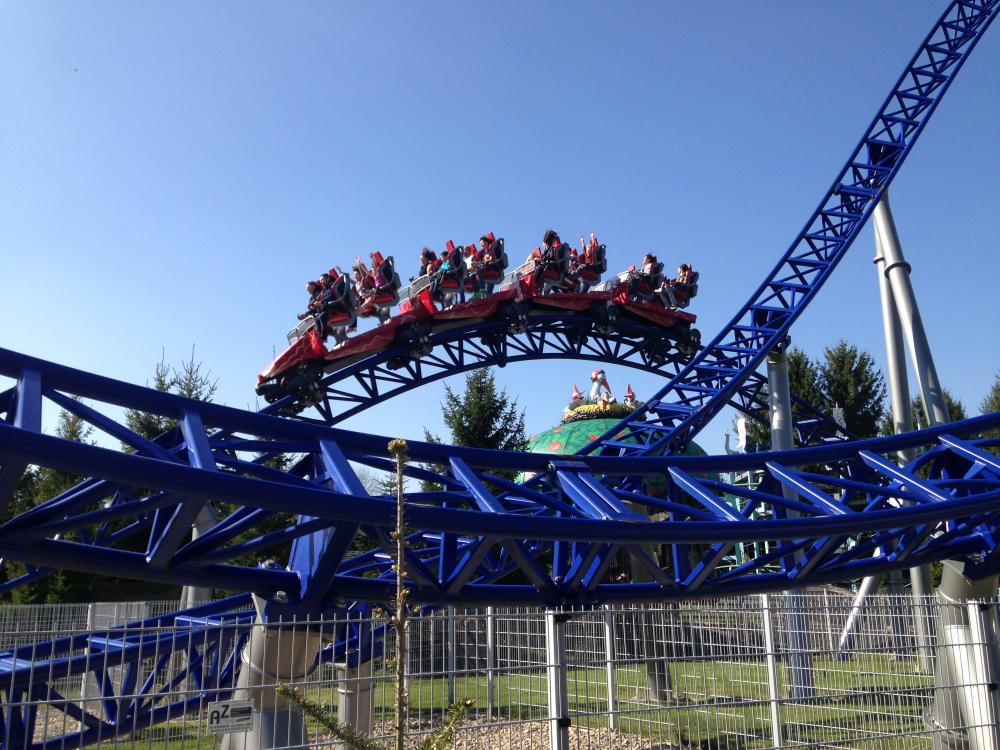 Other rides in Nigloland aren't 'quite' up the standard of Blitz, but they don't need to be. Euro-Sat has a little brother here for example and whilst not quite as good or as long, is a nice surprise. The log flume, I found very strange. It runs about nine boats in total and contains only one drop in a very short layout. Strange. I loved the powered coaster, I forced the others to ride a further two times. A few rides there were a bit dodgy such as the Jungle Cruise rip off or the Jurassic Park walkthrough which were a waste of time really, but in the context of the park are good fillers. The new drop tower which sticks out like a saw thumb was pretty terrifying if only for the sheer size of the tower. The drop had nothing on our Detonator, however its height was intimidating.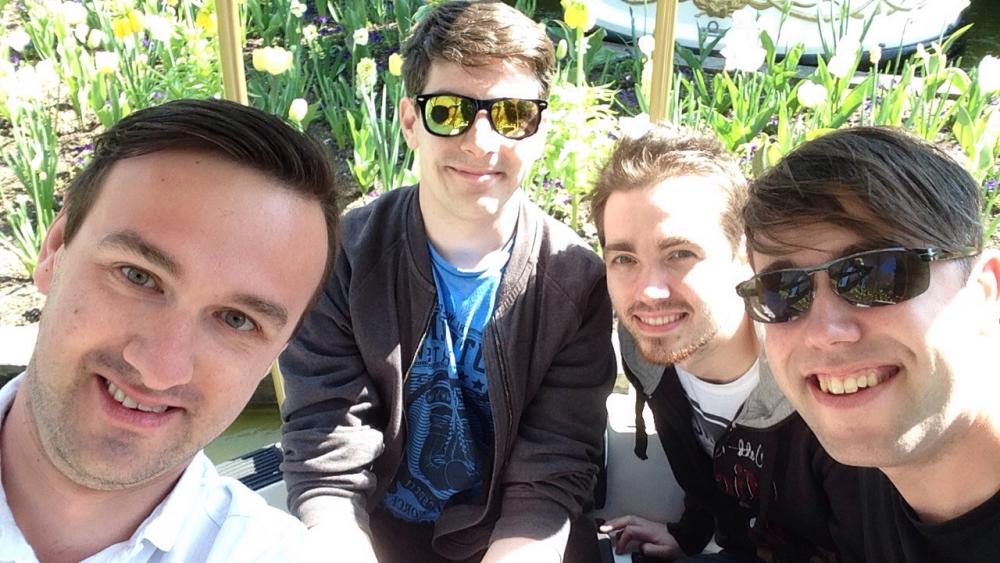 Park 3 - Holiday Park
The original intention was to visit Walygator for Monster and Anaconda. However when that decided to open three weeks later, we quickly diverted to Holiday Park in Germany. It's been eleven years since I last visited and I originally didn't really like Expedition Ge Force finding it over-rated and disappointing. My opinion on this has morphed slightly, however I think EGF is now severely outclassed by Shambhala, Alpina Blitz and Piraten. The ride was running one train and because of intamin related problems, it took ages to load. The restraints bite hard into taller people meaning the air time hills become more and more painful as it goes on. I'm 6 foot and was on the edge of pain. It was more enjoyable then I remembered but there's just no way that the ride is number one.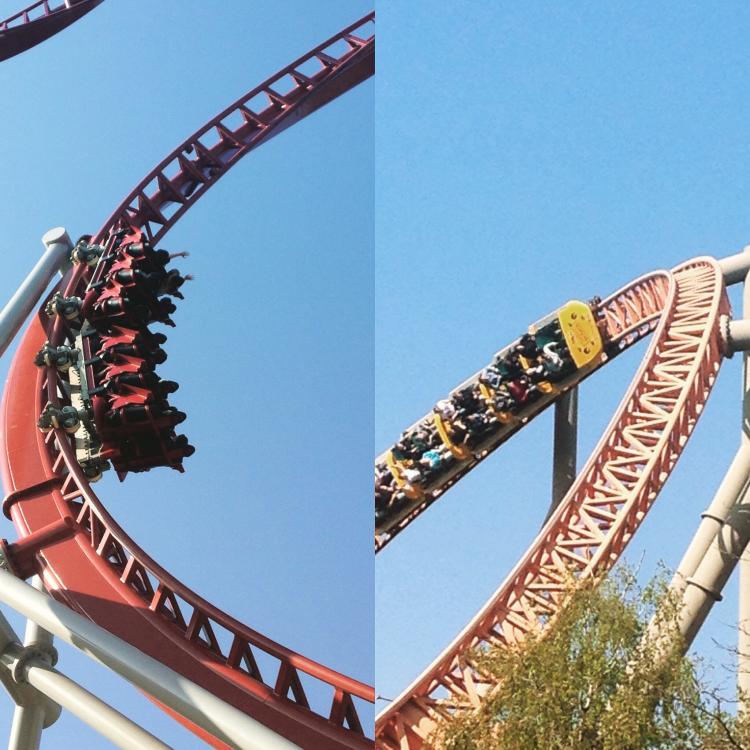 The new star of Holiday Park is Sky Scream. I liked it a lot. I'd been on Superman at Discovery Kingdom and it is pretty much exactly the same albeit, the theme is very different. Horror theme just doesn't work on this kind of rollercoaster, especially in glorious sunshine. Holiday Park suffers from a lack of family rollercoasters. It has two thrill machines and then everything else is slightly below par. An average omni-mover, a pretty good rapids and a stupidly wet log flume don't really make up for the lack of family support rides. The drop tower being themed to a teenager tv show was odd.
Phantasialand
Everyone knows this park is awesome, that goes without saying. I love the Baron hour extra ride time for guests at the end of the day, I love the hotel, I adore how cheap the ride photos and food are at at the park. I hate Winjas. The news of a launched flyer is welcome news. Kind of glad it isn't B&M as well.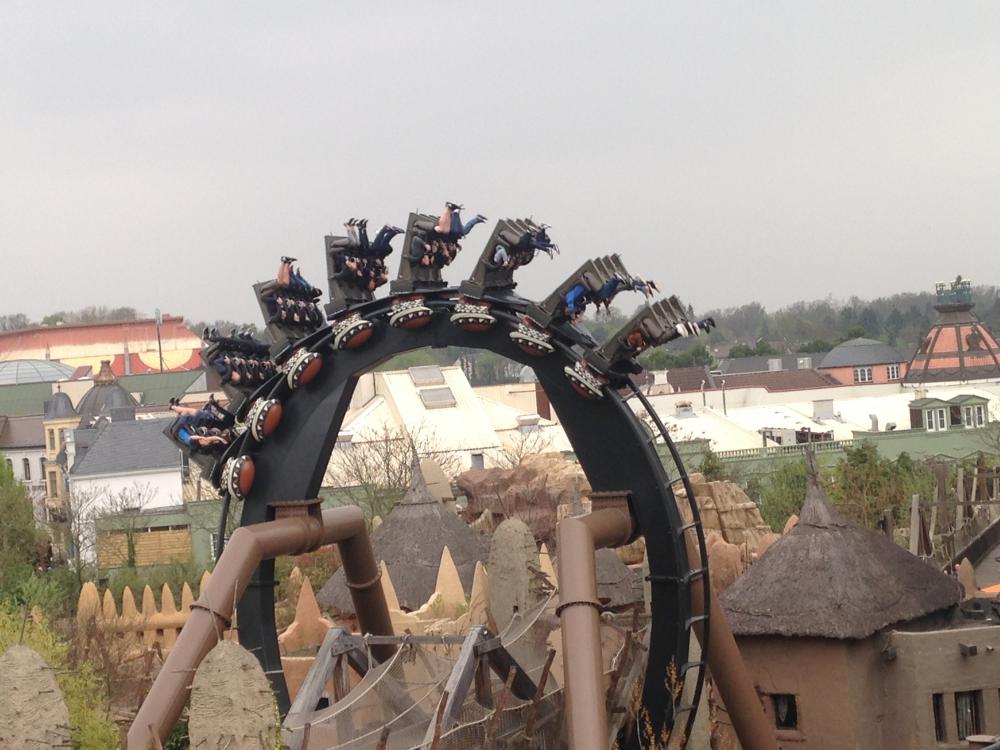 Fantastic views of Mamba from the hotel room
Movie Park
This place is weird. You can tell that it's had a change in direction with one half of the park being movie themed and the rest rides just chucked at pathways. The highlight by far was Van Helsing which isn't just a good ride, is a stand out Gerstlauer wild mouse. Some really forceful hair pins and great dips in a ride that really showcases the best of the company. It's theme was pretty decent too, although admittedly the head peeking out of the ceiling on the exit platform was more comedic then scary. The rest of the park is pretty poor though. Star Trek was desperately needed but not ready to open on our visit. The Vekoma SLC was Dan's first of this type, well deserving of a front row seat. Wasn't that bad but after Oz'Iris and Black Mamba, it doesn't come across well. The only photo I have of the day is Oswald at Disneyland Paris so that will have to do.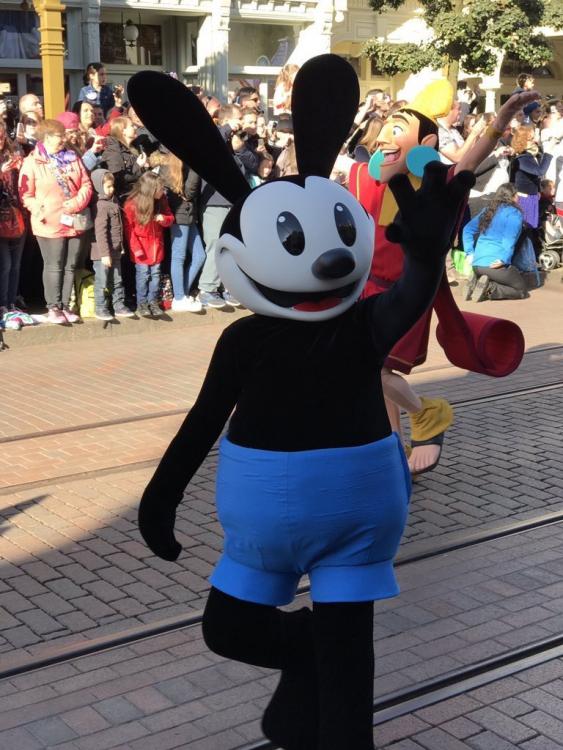 And finally Efteling 
When I was younger and in my theme park teenage years, there were three parks that I always wanted to visit because they sounded more magical then theme parky. They were Liseberg, Tivoli Gardens and Efteling. And I was finally ticking this off my list. The park was busy and queues for the big rides topped an hour. My obvious interest was Baron 1898 which I'll talk about later. Firstly, Flying Dutchman. What a great concept let down solely by the middling rollercoaster bit. The theming of Efteling is second to none and the atmosphere of the indoor bit is fantastic. I was slightly thrown off by the lift hill where I thought an obvious backwards bit was going to happen but didn't. Next, Volga Rock a rather extravagant Vekoma rollercoaster which I really enjoyed. My memory is hazy because of the sheer oddness of the trip. The fairy dark ride is fabulous. I was taken back by the sheer scale of the ride, the attention to detail of the sets is incredible. The Venom Madhouse requires you to know Dutch and well, we don't. Music was great though. Joris en de Draak, the parks racing woodies were both running one trains and to be honest, I didn't think it had anything on Wodan. I don't get the appeal of racing coasters to be honest, the rides motions get completely ignored by wanting to see where the other train has gone. And I hate losing.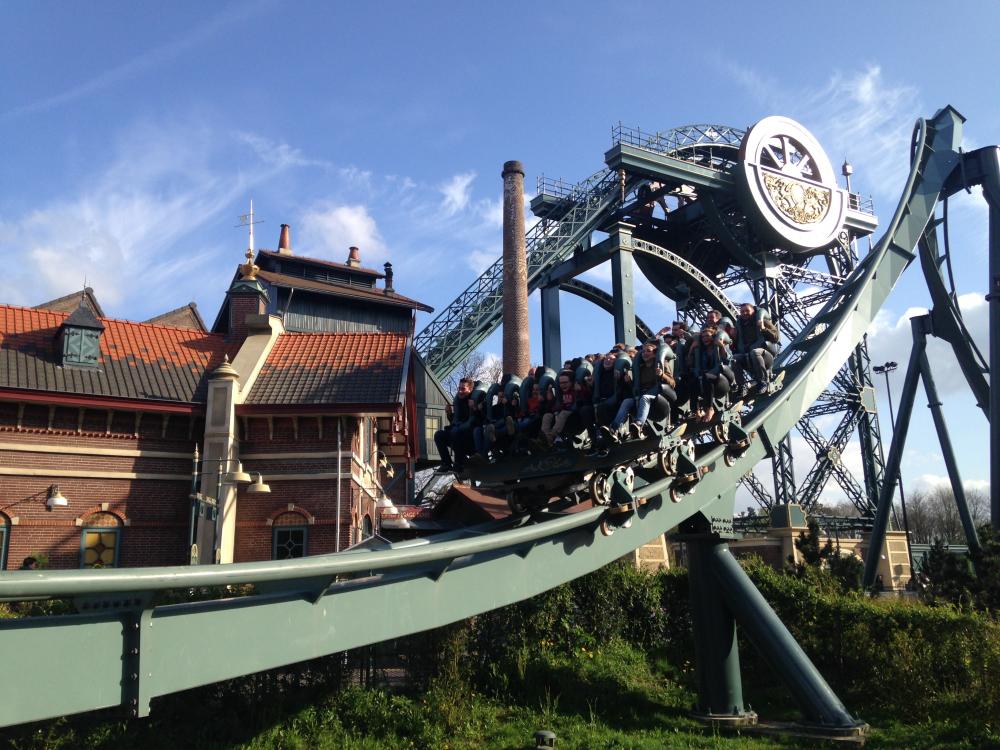 And finally, Baron. I thought this was a wonderful take on the dive machine concept. I like my rides to involve the people passing by so the little bell emanating from the lift hill when a train is about to descend is the kind of detail I love to see. The show rooms on this don't rely on a knowledge on the Dutch language enabling anyone to understand the story. The drop is rather nifty and whilst shorter then Oblivion has a similar impact. The zero g is good.The air time hill is terrible. There isn't a single bit of sensation as the train rises and falls over the track and fills like its there to increase ride length only. The ride also has a problem with capacity. It only has three trains and even with that there is massive stacking. Oblivion with its seven trains (in its heyday anyway) runs rings around Baron. In spite of this, 1898 is thematically far more interesting and engaging then Oblivion. The power of dive machines to grab attention is second to none.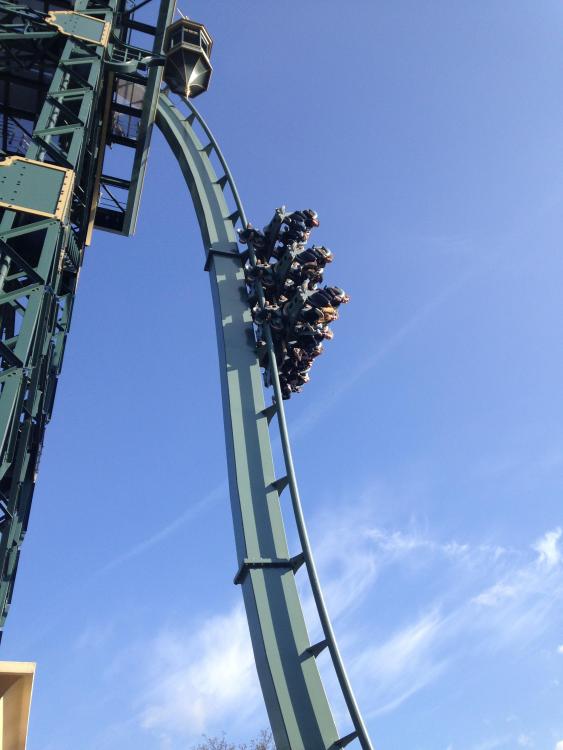 And with that the trip was over. Some of the top parks in Europe are only a couple of hours away from the UK so there really is no excuse not to go.
Next up was Thorpe Park which was absolutely dead. Where was everyone? This was my first time on Derren Brown and I have to say it was relatively enjoyable. It suffers from the Merlin problem that acting = shouting at guests and ordering them around. I loved the train concept and even fell for the bit where a tube train is thundering down the tunnel. We were lucky that there was no queue and we got batched in straight away. It's not worth a long queue but it is interesting that the ride length of Derren Brown is probably longer then every other ride at Thorpe put together.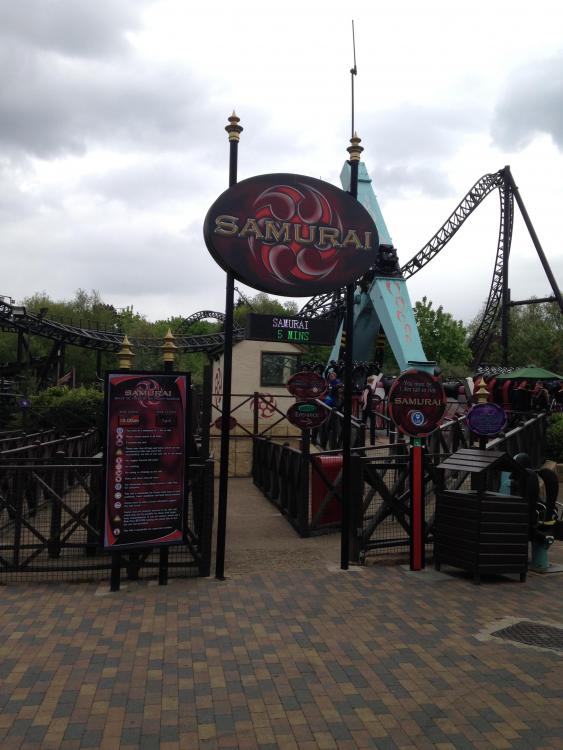 This is Samurai which I haven't ridden for about three years.
Next up was Disneyland Paris where we were by chance around for the reopening of Space Mountain as the shameless cash in, Hyperspace Mountain. I didn't like this one bit and the main problem is the clashing of themes. Star Wars on the Californian version is fine, that has a rather charmless theme as it is. The Jules Verne mixed with X-Wings and Death Stars doesn't work at all. Sadly this ride will be a lot more popular with visitors, equalling longer queues, meaning the original version from 1995, may now never return. On the plus side, the new trains are excellent albeit, slightly more restrictive then the old ones.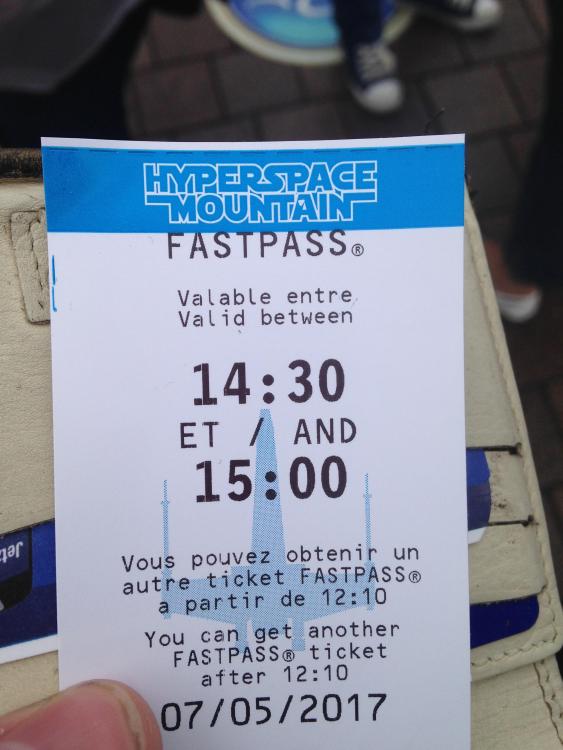 Other new features for the 25th include a new parade (which was a massive upgrade from the old one), a new firework show (which is a massive downgrade from Dreams) and new day time shows celebrating the magic of DLP.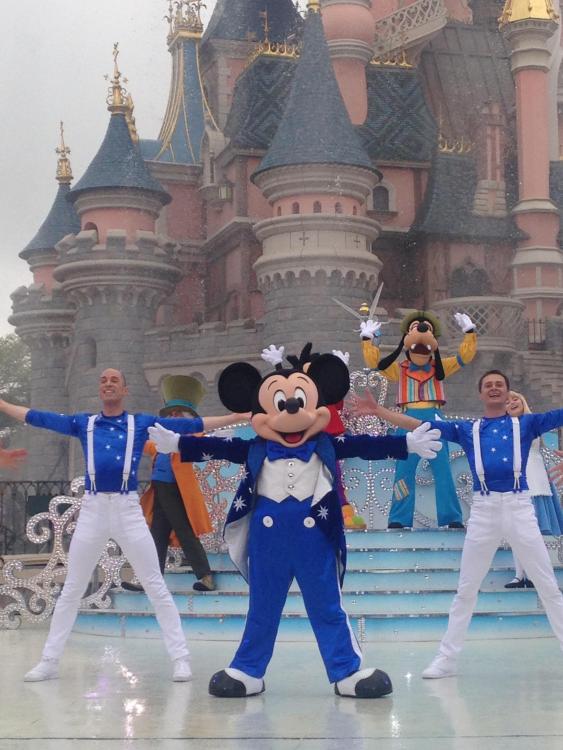 I forgot to mention Europa Park, but lets face it that place is just insanely incredible. It was the quietest I've ever seen it with being able to stay on Blue Fire three times in a row or walk on front row Wodan. New area Ireland is fine, the rather odd choice of theming a rockin' tug around a Titanic life boat is an interesting choice for a ride..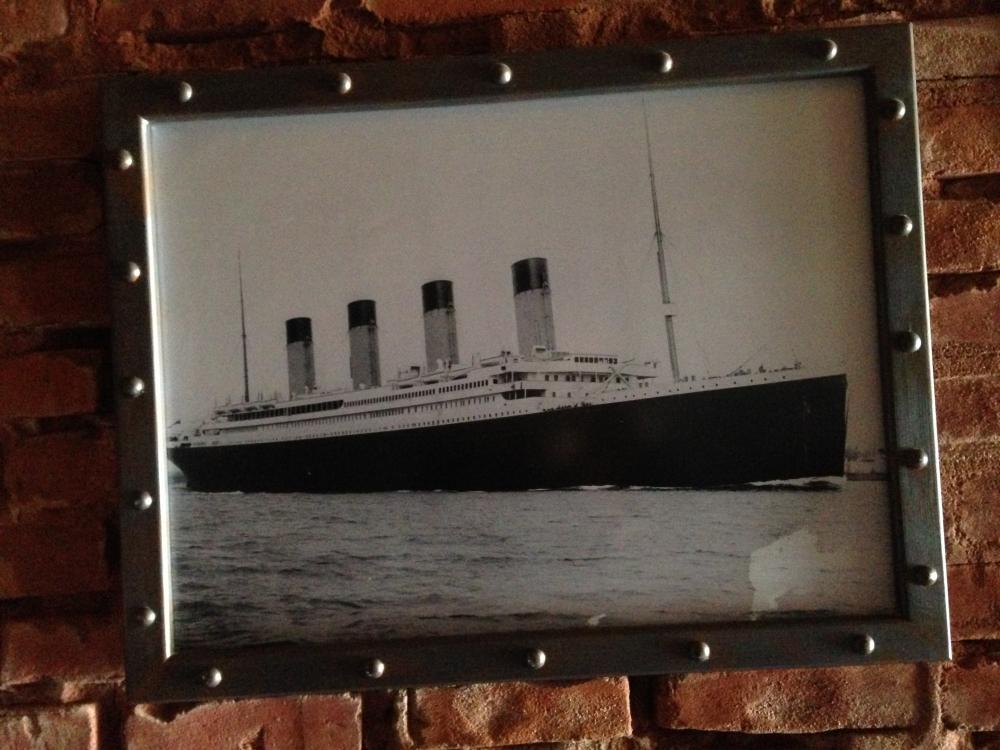 Blue Fire remains as incredible as always, surely one of the best rides ever built. It's on its 9th season but you couldn't tell it as it has not aged one iota. The drops with that level of smoothness make it one of the most consistent rides out there.
I apologise for this blogs length and well done if you even got half way. It's been a breezy six months and I'm so glad that my passion for theme parks have been reinvigorated. Nothing is like our hobby, the sheer escapism and joy from theme parks is unrivalled. And to end this length trip report, here's Scenic Railway at Margate which gave me chills.